Black Pepper - Kali Mirch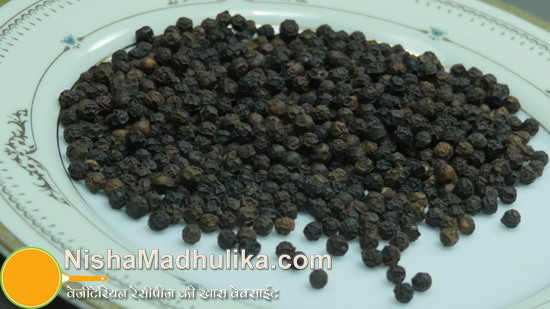 हिंदी में पढ़िए - काली मिर्च । Kaali Mirch | Black pepper
Black pepper
Black pepper is mostly used as a dry spice. Due to its black color and spicy taste is given the name of black pepper. It is small and round in appearance.it has thick stripes over it. Just like chili it is also used to make the recipe more spicy.It is also kept along on the table with salt in restaurants and hotels. It is one of the mist expoerted spice of India.
Other names of Black pepper
Black pepper is known by various other names in India. In Bengal it is known as Kalo Mirch or Gol Mirch. It is known as Milagu in tamil, Kare Manasu in kannad and gol mirch and Kalamari in Oriya.
Types of Black pepper
These days black pepper is soaked in water and the outer skin is removed
and turned to white. In various disciplines it is also given red and green color.
Culinary uses of Black pepper
Black pepper is used in recipes in various ways. It is used in Rajma, chole and other spicy sabzi. Black pepper powder is used in raita, chutney and salads. It enhances the taste of the dish. it can also be consumed during fasts.
Cautions while buying Black pepper
Black pepper can also be adulterated with many ingredients. Papaya seeds are mostly added to it. So whenever you black pepper, buy it from a trusted brand.
Where to buy Black pepper
You can buy black pepper at any grocery store, super mart. You can also purchase it online.
Use of Black pepper in our Recipes
Pizza
Pasta
Dahi ke sholey
Dal Papad
Manchurian
Masala Urad dal

Tags
Categories
Black Pepper - Kali Mirch
Nisha Madhulika
Rating:

5.00

out of

5