Bread Curd Fire Roll - Dahi Bread Rolls - Dahi ke Kabab Rolls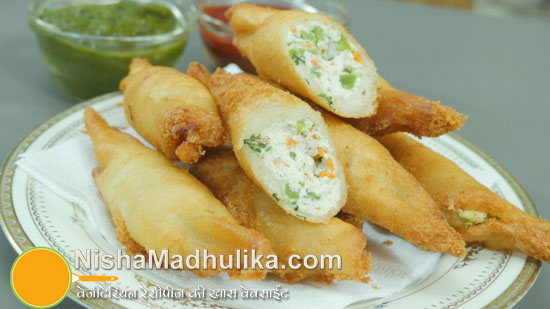 You can make it for breakfast , snacks or as a starter for any party. It is also known as Dahi bread roll.
हिंदी में पढ़िए - दही के शोले - Bread Curd Fire Roll - Dahi Bread Rolls - Dahi ke Kabab Rolls
Ingredients for Dahi ke kebab rolls:
White bread- 8 slice
Hung curd- 1 cup
Paneer – 100 gms
Carrot – ½ cup (finely chopped )
Capsicum – ½ cup (finely chopped )
Green coriander- 2 to 3 tbsp (finely chopped )
Green chili – (2 finely chopped)
Black pepper- ¼ tsp ( freshly ground)
Salt – more than ½ tsp (or to taste )
Plain flour -2 tbsp
Oil – For Frying
How to make Dahi bread rolls
Take 1 cup hung curd in a big bowl, grate the paneer in the same bowl. Then add veggies and spices such as finely chopped carrots, chopped capsicum,finely chopped green coriander, green chilies finely chopped and black pepper powder and more than salt or to taste. Mix all ingredients well.
Take 2 tbsp refined flour in a bowl, add some water to it and make thin slurry. Make sure you add water in small portion and dissolve the flour. Stir the flour until it dissolves completely.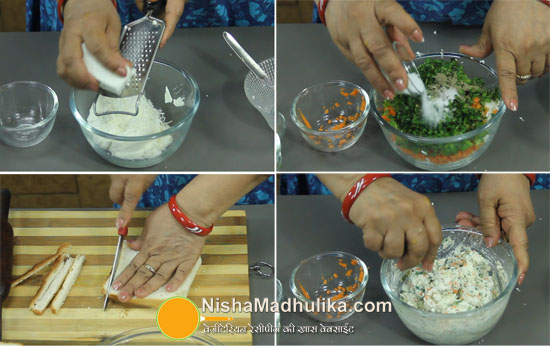 Take the cut bread slices with eges removed, then to roll them out, apply some water over it. Roll out from one side then turn it upside down, roll out a bit more.
Flip the rolled bread slice, keeping the wet side at the bottom. Layer it up with 1 tsp prepared stuffing and roll the bread. Apply the prepared slurry on all the edges so that the roll sticks well. Press it then roll it.
Take a polythene sheet, roll the prepared bread roll again using this polythene.Press the edges from both the ends with the edges folding in opposite direction from each other. Twists very gently, don't apply too much pressure. Likewise prepare all the rolls similarly. Take it off from the sheet and place these rolls over the plate.
Place a wok on flame, you need medium hot oil for frying the rolls. To check the oil, bring your hand over the wok and you will feel the warmth. Oil is heated well.Drop one roll into the wok. Fry these rolls until they get golden brown in color from all sides. Once golden brown take it off from oil. We are done with frying all the bread rolls. It takes 3 to 4 minutes for frying bread rolls at once.
Crispy and lip smacking dahi bread rolls are ready. Cut them in the center and serve.Serve these bread rolls with green coriander chutney, tomato sauce or any other chutney.
Suggestion:
If black pepper powder is not available, then take 10 to 12 black peppercorns and ground them coarsely.
Apply some water over it makes it convenient to roll out the bread. Also prevents oil from getting into the bread.
Roll out the bread nicely, prepare roll nicely.Stick both the edges nicely so that the stuffing doesn't spills out.While frying make sure that the oil is medium-high hot. If the oil is less heated then bread rolls will take time to fry and curd will spill out while frying.If the oil is too hot, then the bread will turn too brown on the top and will not come out too crispy.
दही के शोले - Bread Curd Fire Roll - Dahi Bread Rolls - Dahi ke Kabab Rolls

Tags
Categories
Bread Curd Fire Roll - Dahi Bread Rolls - Dahi ke Kabab Rolls
Nisha Madhulika
Rating:

5.00

out of

5