Moong Dal Crispy Chilla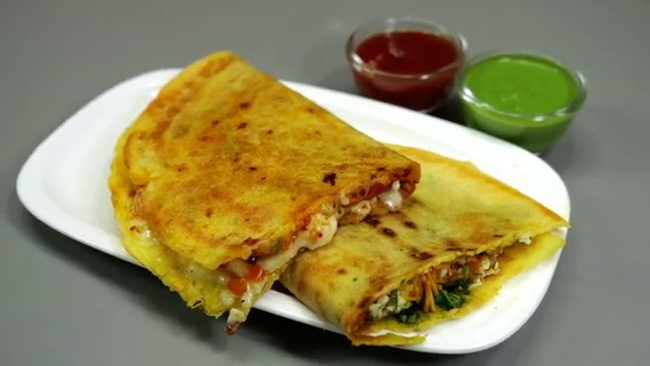 Today we are going to make Moong Dal's Crispy Chilla for the holidays. It is very easy to make and they are very tasty and crispy. We will make these with two types of stuffing whose taste you will like very much. So you too make crispy moong dal chilla with this easy recipe and enjoy the taste of it with your family.
Ingredients for Crispy Masala Veggie Paneer and Cheese Chilla
For Batter
Moong dal - 1 cup (200 grams)
Rice - 1/4 cup
Ginger green chilli paste - 2 tsp
Salt - 1 tsp
For Masala Veggie Paneer Chilla
Oil - 1 tbsp
Ginger - 1 tsp, grated
Green chilli - 1 tsp, finely chopped
Carrot - 1, finely chopped
Capsicum - 1, finely chopped
Salt - 3/4 tsp
Kashmiri red chilli - 3/4 tsp
Tomato - 1, finely chopped
Tomato sauce - 1 tbsp
Boiled potato - 2, grated
Ginger green chilli - 1 tsp
Salt - 1/4 tsp
Red chilli - 1/4 tsp
Coriander Leaves - 1-2 tbsp
Green chutney - 1 tsp
Paneer
Sev Namkeen
For Veggie Cheese Chilla
Schezwan sauce
Cheese
Coriander Leaves - 1-2 tbsp
Process of making the batter
Wash and soak 1 cup of moong dal and 1/4 cup of rice thoroughly in water for an hour. When the time is up, remove the water from both of them and put them in the mixer jar. Also, add 4 tbsp of water and grind it coarsely. Then take out in this bowl and put 2 tbsp of water in a mixer jar and take out the remaining paste.
Now in the same bowl add 2 tsp of green chilli ginger paste and 1 tsp of salt and mix it well. Beat the batter while stirring continuously for 1-2 minutes. Then put it down. In this way the batter will be ready.
Process of making Stuffing
Put 1 tbsp of oil in a pan and heat it. Put 1 tsp of grated ginger and 1 tsp of finely chopped green chilli in hot oil and fry it on high flame. When roasted, add 1 finely chopped carrot and 1 capsicum finely chopped.
Roast them for half a minute on high flame while stirring continuously. After roasting, add 3/4 tsp of salt and 3/4 tsp of red chilli powder and fry for half a minute while stirring continuously. Then add 1 finely chopped tomato (removing the seeds) and 1 tbsp of tomato sauce to it.
After mixing them well, turn off the flame and take out half of the stuffing in a plate and let it remain in half of the pan. After turning on the flame, grate 2 boiled potatoes, 1 tsp of ginger green chilli paste, 1/4 tsp of salt and 1/4 tsp of red chilli powder to the remaining stuffing. Mix them well and fry for 1 minute. Then turn off the flame and take it out on another plate.
Process of making Chila
Heat the tawa. Put some water on a hot pan, wipe it and reduce the flame to low. After stirring the batter a little, spread a spoonful of batter on the pan. Then intensify the flame and roast it till it turns slightly dark from below. When colour changes, spread ghee on it, then turn it over and roast it lightly.
After roasting lightly, turn it over, reduce the flame to low and spread it by pouring 1 tsp of green chutney on it. Then spread the stuffing on it. Then grate some cheese and put it on it. After this, fold the chilla by putting sev in it. Take off the chilla after lightly roasting it on both sides.
Then before spreading the next chilla, pour water and clean the tawa back. Then spread the batter on it. Make it in the same way, then spread schezwan sauce. Then spread potato stuffing on it. Then add some cheese and sev and fold the chilla.
Take it off by lightly roasting it from both sides. Make the rest of the chilla with both the stuffing in the same way. In this way crispy moong dal chilla will be ready, serve them with your favourite dip and enjoy their taste.
Suggestions
Either of these two can be made chilla.
Tomato sauce can also be used instead of schezwan sauce.

Tags
Categories
Moong Dal Crispy Chilla
Nisha Madhulika
Rating:

5.00

out of

5