Quick and Easy Chana dal Laddu Recipe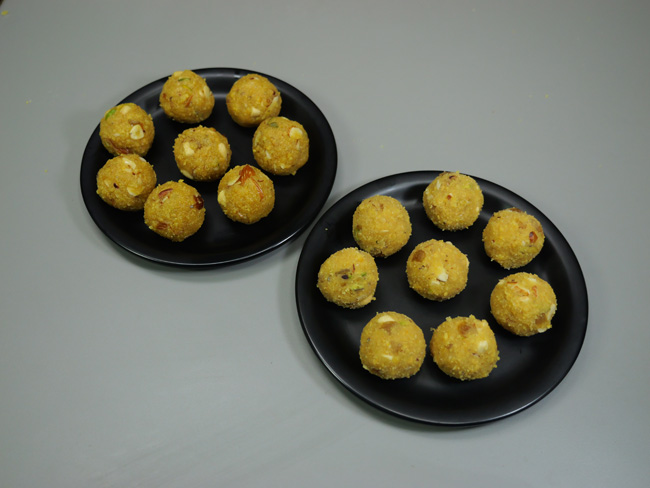 Making sweets at home for festivals is also good for health and at the same time, there is a different joy in tasting your own hand made sweets to the guests. That's why today we are going to make Chana Dal Ladoo. We will make these in two ways, one churma ladoo and one motichoor flavoured. So you too make Chana Dal Laddu with this easy recipe and enjoy their taste with your family.
Ingredients for Chana Dal Laddu
Chana Dal - 1 cup (200 grams) soaked
Ghee - 1 cup (1/2 cup will be left)
Almond Flakes - 2 tbsp
Cashews - 2 tbsp, chopped
Pistachio Flakes - 2 tbsp
Raisins - 2 tbsp
Cardamom - 5-6, coarsely crushed
Boora or powdered sugar - 100 grams
Sugar - 1/2 cup (100 grams)
Process of making Churma
Wash and soak 1 cup of chana dal thoroughly for 2-2.5 hours. After the time is up, remove all the water and put it in a mixer jar and grind it coarsely. The pulse has to be grinded only after adding 2 tbsp of water. Then take it out in a bowl.
Now put 1 cup of ghee in the pan and heat it. Ghee should be medium-high hot and the flame should be medium-high. In hot ghee, lift a little paste from the lentil paste and fry it to make it like pakoras. Fry as many pakoras as you can. Let them fry for 2 minutes, then fry them flip and fry till they turn golden brown.
After frying, take them out and fry the rest in the same way. Break them and keep them cool. After cooling, put them in a mixer and grind them. In this way churma will be ready.
Process of making Mixture for Laddu
Sieve the same ghee in a pan, add some ghee and heat it. Put 2 tbsp of almond flakes, 2 tbsp of cashews chopped and 2 tbsp of pistachio flakes in hot ghee. Fry them lightly while stirring continuously. After roasting, reduce the flame to low and add churma to it and fry it for 1-2 minutes while stirring continuously.
After roasting, turn off the flame and add 2 tbsp of chopped raisins and 5-6 cardamoms coarsely crushed. Mix them well and take out half the mixture on a plate and keep half covered in the pan.
Process of making Chana Dal Churma Laddu
Put 100 grams of boora with the mixture on the plate and mix it well. If it looks dry after mixing, then add 2 tbsp of ghee to it and mix it well. Then make as many big or small laddus as you want. In this way, Chana Dal Churma Laddu will be ready.
Process of making Chana Dal Motichoor Laddu
Take out the mixture from the pan on a plate. Then put 1/2 cup of sugar and 1/4 cup of water in the pan and cook till the sugar dissolves. Cook it for 2 minutes after the sugar dissolves completely. Then check if a wire is formed, turn off the flame and add the mixture to it and mix it well. After mixing, cover it and keep it for 5 minutes.
After 5 minutes, apply some ghee on your hands and bind laddus as big or small as you want. In this way, Motichoor Laddu of Chana Dal will be ready.
Suggestions
You can keep these laddus outside for 7 days and keep them in the fridge and eat them for 15-20 days.
Quick and Easy Chana dal Laddu Recipe

Tags
Categories
Quick and Easy Chana dal Laddu Recipe
Nisha Madhulika
Rating:

5.00

out of

5