Apple Coconut Burfi Recipe for Navratri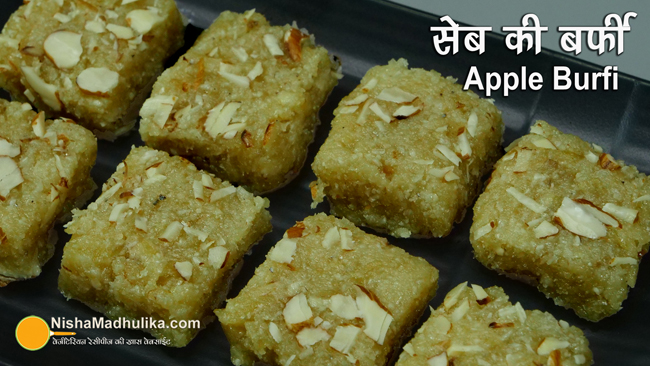 Navratri is the nine days long Hindu festival, where most of the devotees observe fast. During the nine days of fasting, if you crave sweets, then prepare apple coconut burfi in the Vrat food style. Let us get started!
Ingredients for Apple Barfi:
Apple - 3 (450 grams)
Desi Ghee - 1 tbsp
Sugar - 1.5 cups (300 grams)
Peanut - 1/2 cup (100 grams)
Desiccated Coconut - 1 cup (100grams)
Almond Flakes - 2 tbsp
Cardamom - 1 tsp, 12 coarsely ground
Apple Coconut Burfi Recipe:
Peel and grate 3medium size apples. Grate the apples finely and discard the core.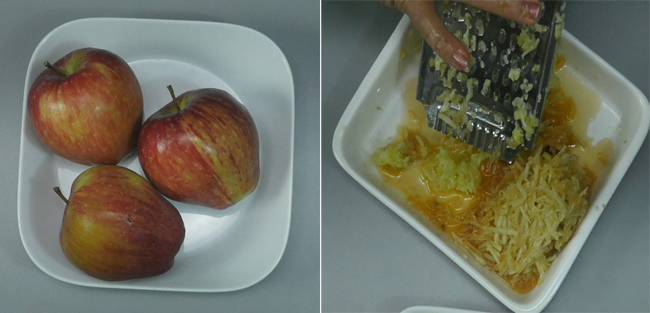 Heat 1 tbsp of ghee in a pan. Once the ghee melts, add the grated apples to the pan. Saute the apples over the medium flame while stirring constantly.
After 5 minutes, add 300 grams of sugar to the apples and cook the apples till the sugar dissolves completely. Meanwhile, we will grind the peanuts.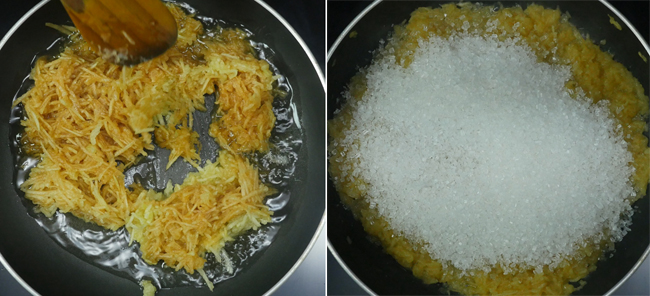 Put more than 1/2 cups of peanuts in the mixture jar and grind them coarsely. When the sugar dissolves completely, add peanut powder to the apple mixture and mix well.
Alternative: You can grind almonds instead of peanuts.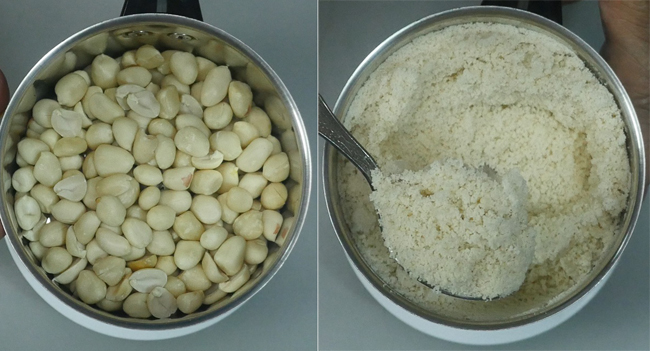 Add 100 grams of desiccated coconuts to the mixture and mix well. Cook the mixture over the low-medium flame till it attains the curdling consistency.
When the mixture starts getting thick, add 2 tbsp of almond flakes, 1 tsp of coarsely crush cardamom, and mix well.
Once the mixture attains the curdling consistency, transfer it to the greased burfi tray and spread the mixture evenly. Garnish the burfi with almond flakes and leave the mixture for 2 hours to set.

Once the mixture cools, refrigerate it. After 2 hours, heat the burfi tray for 10-12 seconds and cut the burfi into desired pieces. Transfer the burfi pieces to the serving tray. Apple's burfi is ready to be served.
एपल बर्फी, बिना मावा मिल्क पाउडर या चाशनी बनाये । Apple Coconut Burfi for Navratri | Vrat ka khana

Tags
Categories
Apple Coconut Burfi Recipe for Navratri
Nisha Madhulika
Rating:

5.00

out of

5