Rice Flour Masala Poori Recipe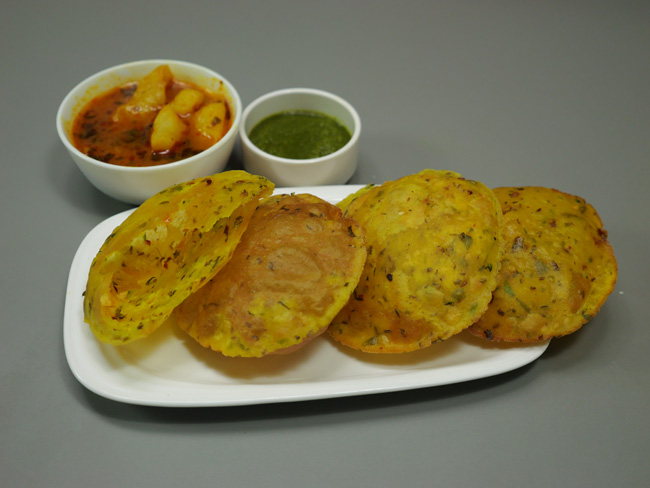 If there is some spicy and easy recipe to make on the day of festival or holiday, then the day goes out quite comfortably. That's why today we are going to make rice flour masala puri and potato tomato curry. It is very easy to make them and their taste will be amazing. You will taste the rice flour masala puri like kachoris. So you too make rice flour poori and potato tomato curry with this easy recipe and enjoy their taste with your family.
Ingredients for Chawal Ke Aate Ki Poori & Aloo Masala Sabzi
Boiled Potato - 3, Medium Size (275 g)
Rice Flour - 1 cup
Ginger - Green Chilli - 2 tsp, paste
Salt - 1 tsp
Turmeric Powder - 1/4 tsp
Cumin Seeds - 1 tsp
Carom Seeds - 1/4 tsp
Kasoori Fenugreek - 1 tbsp
Chilli Flakes - 1 tsp
Coriander Leaves - 1-2 tbsp
Oil - 1/2 tsp
For Aloo Masala Sabzi
Oil - 2-3 tsp
Cumin Seeds - 1/2 tsp
Coriander Powder - 1 tsp
Turmeric Powder - 1/2 tsp
Tomato - 2 (150 g)
Green Chilli - 1
Ginger - 1/2 inch
Kashmiri Red Chilli - 1/2 tsp
Fenugreek - 1 tbsp
Potato - Boiled Potato - 3 (250 g)
Salt - 3/4 tsp
Garam Masala - 1/4 tsp
Coriander Leaves
Oil for frying
Process of making Dough
In a bowl, grate 3 boiled potatoes with a fine grater. Then add 1 cup of rice flour, 2 tsp of ginger green chilli paste, 1 tsp of salt, 1/4 tsp of turmeric powder, 1 tsp of cumin (crushed), 1/4 tsp of carom seeds (crushed), 1 tbsp of kasoori methi (crushed), 1 tsp of chilli flakes and 1-2 tbsp of green coriander.
Knead the dough by mixing them well. The dough should neither be too hard nor too soft. After the dough is kneaded, cover it and keep it for 10 minutes.
Process of making Aloo Tamatar Sabji
Put 2-3 tsp of oil in the pan and heat it. Put 1/2 tsp of cumin seeds in hot oil and fry it lightly, as well as reduce the flame. Then add 1 tsp of coriander powder, 1/2 tsp of turmeric powder and tomato-green chilli-ginger (2 tomatoes, 1 green chilli and 1/2 inch ginger) paste in it.
Stir them lightly and turn up the flame medium. Then add 1/2 tsp of red chilli powder and mix it well and fry the spices. Fry the spices while stirring occasionally till the oil separates. When lightly roasted, add 1 tbsp of fenugreek (crushed) and fry it well.
When the oil separates from the spices, break 3 boiled potatoes and put them in it. Mix them with spices and turn up the flame to high and add 1.25 cups of water, 3/4 tsp of salt and 1/4 tsp of garam masala. Mix them well, cover and cook for 3-4 minutes.
When the gravy starts boiling, add green coriander and mix it well and cook for 1-2 minutes. Then turn off the flame and take it out in a bowl. In this way, aloo tamatar curry will be ready. Keep it covered.
Process of making Rice Flour Masala Puri
Take some oil in your hand and mash the dough. Then break its balls. Now heat oil in a pan, the oil should be medium-high hot and the flame should be medium-high. Take a ball and make a round shape by pressing it like a peda.
Then roll the puri slightly thick. After rolling, put the puri in hot oil. Press the puri lightly and make it puff up. When puffed up, flip the puri and fry till it turns golden brown on both the sides. After frying, take it out and fry the rest in the same way. Serve them with aloo tamatar curry and enjoy their taste.
Suggestions
Aloo tomato gravy can be made thick or thin as per your choice.
Rice Flour Masala Poori Recipe

Tags
Categories
Rice Flour Masala Poori Recipe
Nisha Madhulika
Rating:

5.00

out of

5