Gur Atta Papdi Recipe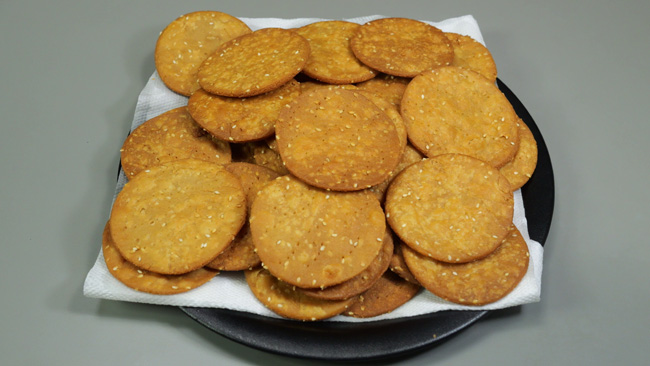 Everyone likes to eat jaggery biscuits or jaggery papdi. If this is homemade, then the taste becomes even stronger. That's why today we are going to make jaggery papdi. Children like its taste very much. It is prepared in a very easy way. It is very crunchy and tasty. So you too make jaggery papdi with this easy recipe and enjoy its taste with your family.
Ingredients of Gur Atta Papdi
Wheat Flour - 2 cups (300 grams)
Jaggery - 1/2 cup (100 grams)
Ghee - 1/4 cup
Sesame Seeds - 2 tbsp
Salt - 1/8 tsp
Ghee and oil for frying
Process of making Dough
Break 1/2 cup of jaggery into the bowl and add 1/2 cup of water. Cook while stirring for a while till the jaggery dissolves in the water. After the jaggery dissolves completely in the water, turn off the flame and cool it down a bit. Sieve it when it cools down a bit.
Now put 2 cups of wheat flour, 1/4 cup of ghee, 2 tbsp of sesame seeds and 1/8 tsp of salt in a bowl and mix it well. When mixed, add little jaggery water and knead the dough like a poori. If the water of jaggery becomes less, then add some water and knead the dough.
After kneading the dough, apply some ghee on the hand and mash it a little. Then cover the dough and keep it for 15 minutes.
Process of making Gur Papdi
Take some ghee on your hand and mash the dough lightly. Then cut the dough into 4 parts. Now take one part and keep the rest covered. Apply some ghee on the board and rolling pin. Mash the dough and give it a round shape like a peda. Then roll it out lightly.
After rolling, cut round papdi from it with the help of a glass or bowl. Take out the papdi and keep the remaining dough with the rest of the dough. Now take a papdi and roll it lightly. After rolling, prick it with a forked spoon.
Then spread a cloth and place papdi on it. Roll all the papdis in the same way and keep them on the cloth. Similarly make papdi from the rest of the parts as well. Put them under the fan and dry in air on both sides for 15 minutes each.
Process of frying Gur Papdi
Put half the ghee and half the oil in a pan and heat it. Ghee-oil should be medium hot and the flame should be low-medium. Put some papdis in hot ghee-oil for frying. Let them fry like this for 2 minutes. After frying lightly, turn them and fry them till they turn golden brown from both the sides.
After frying, take them out and fry the rest in the same way. In this way jaggery papdi will be ready. Serve them and enjoy the taste.
Suggestions
When frying papdi for the second time, reduce the flame to low and let the oil cool down a bit, then put it in the pan for frying.
After frying the papdis, spread them a little on a plate, as it becomes soft. In this way they cool down quickly.
After cooling down completely, store the papdi in any airtight container, you can eat them for 1 month.

Tags
Categories
Gur Atta Papdi Recipe
Nisha Madhulika
Rating:

5.00

out of

5