Meethi Koki Recipe | Sindhi Cuisine Special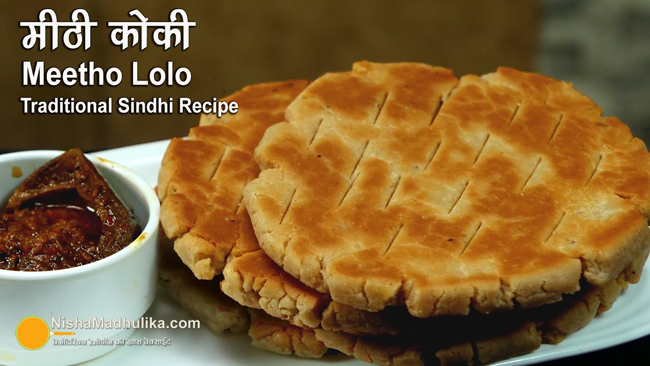 Meethi koki is a fabulous sweet flatbread prepared with whole wheat flour and sugar syrup. It's a special preparation straight from Sindhi cuisine.
You can prepare them at once and enjoy them for 20-21 days while refrigerating. So, let's get onto it.
Ingredients for Meethi Koki:
Sugar - 1/2 Cup (100 grams)
Water - 6 tbsp
Wheat Flour - 2 Cup (300 grams)
Desi Ghee - 8 tbsp
Cardamom - 5-6, coarsely ground
Meethi Koki Recipe:
To prepare Meethi koki, we will start with sugar syrup preparation. Add 1/2 cup sugar and 6 tbsp of water to a cooking vessel.
Turn on the flame and boil the water till the sugar dissolves completely. We don't need one-thread consistency syrup, just the sugar to dissolve in water.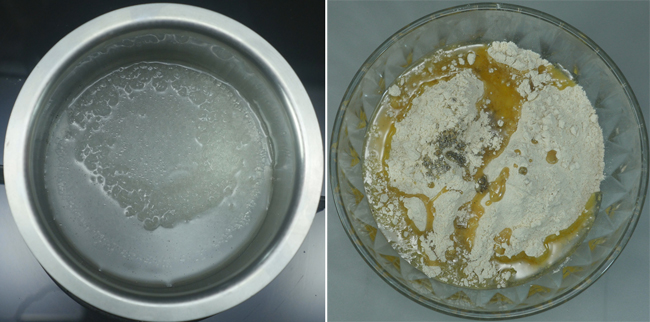 When the sugar dissolves completely, turn off the flame and allow the syrup to cool.
Meanwhile, let us start with dough preparation. Take 2 cups of wheat flour, add 5-6 coarsely crushed cardamom (or 1/2 tsp of cardamom powder), 4 tbsp of ghee as moyan, and mix well.
Alternative: You can use butter or oil instead of ghee.
Once the sugar syrup cools, pour it gradually into the flour and knead a stiff dough. Do not add the whole syrup at once. When the dough is ready, cover and set aside for 10 minutes.
After 10 minutes, apply a little ghee to your hand and knead the dough a little. Add 4 tsp of water to the dough as it will become too stiff once it puffs up.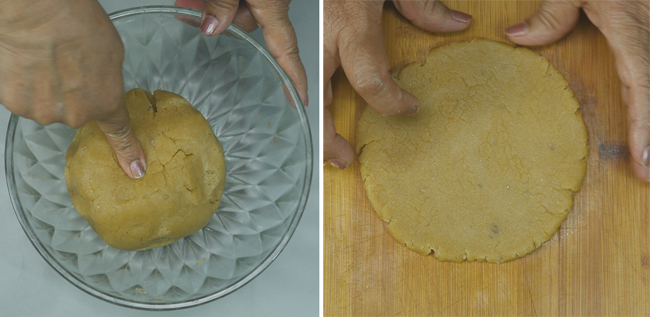 Divide the dough into 4-parts, take one portion, and cover the remaining. Roll the picked dough part into a smooth ball, press it with palms, and roll it into a thick sheet of width 1/2 cm.
Roll the sheet into 3 or 3.5 inches in diameter. Press the cracks with fingers. Now with a knife, mark cuts over the sheet so that it can fry up properly.
Heat a pan and spread a little ghee over it. Put the rolled koki over the pan and roast it for 2-3 minutes over low heat.
After 4 minutes, flip the koki to another side and roast that side till brown. Apply a little ghee over the roasted side and flip the koki again after a few minutes.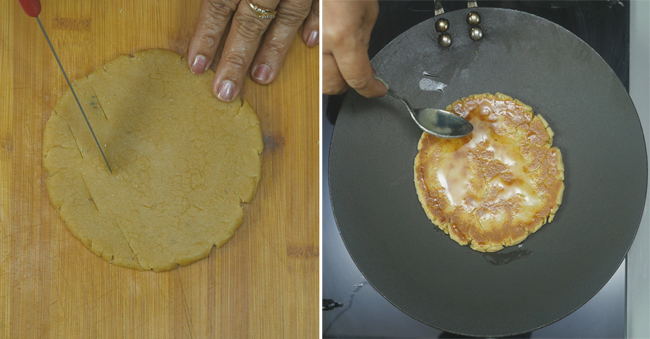 Suggestion: Do not cook the koki over high heat; otherwise, it will remain uncooked from inside.
After a minute, flip the koki again and roast till golden brown. Similarly, prepare koki from the remaining dough and roast. Each koki will take 10-12 minutes to cook.
Meethi kokis are ready to be served. Enjoy them with mango pickle or any of your favorite dip. Your kids will love them very much.
ट्रेडीशनल सिंधी रेसिपी - स्वीट कोकी - बिस्किट जैसी खस्ता । Sindhi cuisine, Meetho Lolo - Sindhi Koki

Tags
Categories
Meethi Koki Recipe | Sindhi Cuisine Special
Nisha Madhulika
Rating:

5.00

out of

5