How to make Dal ke papad - Moong Dal ke Papad Banane ki vidhi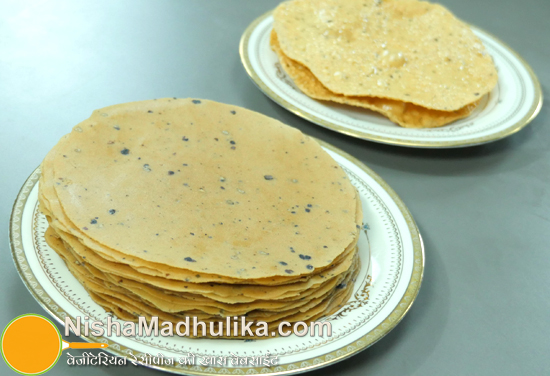 Various types of Papads taste really good. Let's make Dal Papad today.
हिंदी में पढ़िए - दाल के पापड़ - How to make Dal ke papad - Moong Dal ke Papad Banane ki vidhi
Ingredients for Moong dal Papad:
Urad dal flour – 1.5 cup (200 grams)
Moong dal flour – Less than ½ cup ( 50 grams)
Oil – 3 tbsp
Papad Khar- 2 tbsp ( 12 grams )
Black pepper – 1 tbsp
Salt- 1/3 tsp
Asafoetida- ½ pinch
Oil – for frying
How to make Dal ke papad
Take black pepper, crush it coarsely and soak it in ½ cup water for 15 to 20 minutes. After 15 minutes add papad khaar to the soaked black pepper and mix well.
To knead dough
Take Urad dal flour and place it in a big bowl. Add Moong dal atta, salt, asafoetida, 2 tbsp oil, Mix all ingredients well.Knead the dough with the black pepper water. Knead a stiff dough like that of a poori.Cover and keep the dough aside for 30 minutes.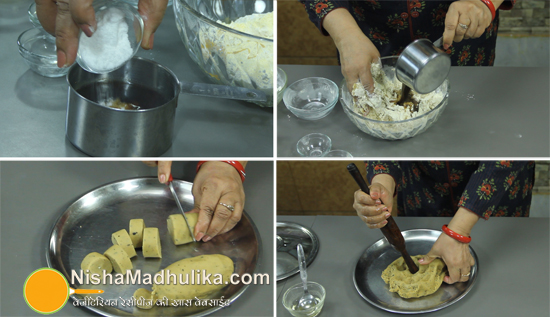 Grease your hands with little oil. As the dough stays hard knead it and make it smooth.Rather than kneading it with hand you can also press it with a rolling pin. Flip it over and press it constantly with a rolling pin to make it smooth and soft. We have smoothened the dough for 30 minutes and made it smooth.
Make a log of the dough. Divide it into two equal parts. Keep the diameter of the log 1 to 1.25 inch. Then break small lumps from the dough to make papad.Cut the log in ½ inch pieces.
Place the cut dough pieces in a large bowl and cover it, so that they don't dry up.
To roll out the Papad sheets
you can take a board or a rolling board. Take a piece of dough and grease it with a little oil. Grease the board with oil too so that the papad doesn't stick to the board.Press it to flatten, then roll it out very thin . Apply pressure on the edges and roll them out. Rotate the board and roll the papad thin.
 Pick the papad very cautiously and place it over a cloth. Likewise roll out the rest of the papads and place it over the cloth to dry. 15 Papads can be prepared with this much quantity of dough.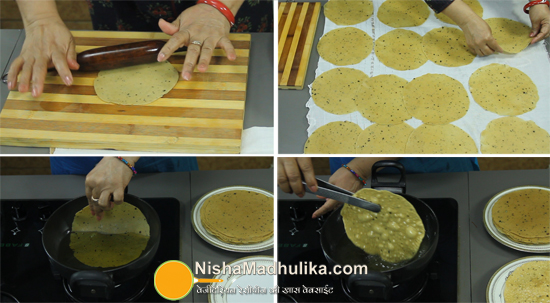 Dry the papad
under the fan or in a shady place. Make sure you flip them after an hour or so. So that the papad dry nicely on both sides. Once dry stack the Papads and place it in a container. Take them out the next day and dry them in sunlight for 10 minutes by flipping them at regular intervals then stack them.Tempting Papad is dried and ready. Stack them up and place in a container and use them for 5 to 6 months.
To fry the papad, Heat some oil in a pan. Oil should be sufficiently hot. Place your hand over the wok to check, if you feel the heat on hands means the oil is sufficiently hot. Make sure you keep the flame high. Place the papad into hot oil. Flip them with help of tongs. Take out the fried papad once it is slightly brown.Crunchy and crispy Papad is fried and ready. Relish this amazing papad anytime you wish to eat with meals. Take them out , fry them and enjoy it.
Suggestion :
You can add ¾ tsp baking soda to it instead of papar khaar too.
We have added Moong dal in ¼ th quantity of Urad dal. You can add ½ quantity of moong dal flour or you can add urad dal flour and moong dal flour in equal quantity. If desired you can make papad only from Urad dal flour too.
Crispy Potato Fingers | आलू सूजी फिंगर्स | Potato Rava Fingers Recipe

Tags
Categories
How to make Dal ke papad - Moong Dal ke Papad Banane ki vidhi
Nisha Madhulika
Rating:

5.00

out of

5