Pizza Recipe - Homemade Pizza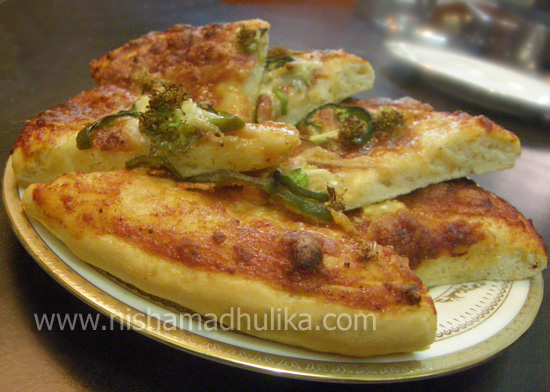 Pizza can be made with various different toppings and styles. You can buy half baked pizza base from the market and bake it with different toppings. But pizza made with Pizza Dough and Mozzarella Cheese is extremely tasty and worthy of efforts you put to make one.
हिन्दी में पढिये : Pizza Recipe - Homemade Pizza
Ingredients for Pizza Dough
Maida (All purpose flour) - 220 gms. (2 Cup)
Olive Oil - 2 table spoon.
Yeast - 1 tea spoon.
Sugar - 1 tea spoon.
Salt - 1/2 tea spoon.
Ingredients for pizza toppings
Pizza Tomato Sauce - 4 table spoon.
Tomato - 2
Capsicum - 1
Mozzarella Cheese - 50 gms.
Black Pepper - 1/4 tea spoon.
Azinomoto Powder - 1/2 tea spoon.
Olive Oil - 1 table spoon.
Pizza Dough
Yeast mixed with Maida flour (dough)  is prepared 2-3 hours in advance to make Pizza at home. You can prepare extra quantity of dough and store it in your refrigerator, which can be brought into use for the next 5-6 days. You can also store the dough in the freezer and whenever you want to make a Pizza, just take it out from the freezer and frost it to make a Pizza instantly.
Pizza Dough Recipe
Yeast is the main ingredient to make dough for Pizza Base. You can either use Dry Active Yeast or Fresh Home-Made Yeast.


Take luke warm water and fill it with 1 table spoon yeast till the top. Add sugar to it and cover the bowl for 2-3 minutes.
Sieve the Maida in a separate plate, add Olive Oil, and Salt to it. Mix them well. Knead the Maida mix thoroughly with the yeast water for about 5-7 minutes until it gets smooth. Grease the smooth dough with some oil and keep it away for about 2-3 hours covered with fresh clean towel. Place the bowl at a warm place. Within 2-3 hours the dough will rise up and get double in quantity. Pizza dough is ready to make Pizza.
Method - How to make Pizza
Take the Pizza dough and roll it with hands in a round shape. Dust it with a little dry Maida and roll it into 10 inch round disc on a rolling board. The Pizza base should be thick from the corners.
Wash and slice the Tomatoes and Capsicum into small pieces. Take out the seeds and stems from the Capsicum before slicing it.
Preheat the Oven at 220 Degree Celsius.
Spread some dry Maida on the Pizza baking tray and put the Pizza base in it. Top up the Pizza Base with Tomato Sauce leaving about 1 c.m space at the corners. Spread the Sauce evenly in all directions. Now place the Tomato slices and Capsicum slices at little distance from each other on the Tomato sauce, followed by spreading the grated Mozzarella Cheese over the vegetables in all directions. Sprinkle freshly grounded Black pepper, and Azinomoto powder over the Mozzarella Cheese. You can also spread little Oilive Oil on all the corners.
You can create the topping according to your taste and preferences. Just keep in mind that the vegetables should not be extremely moist, else the base will not get crispy.
Put the tray inside the preheated Oven and set the temperature at 200 Celsius for 20 minutes. Crispy and tasty Pizza is ready. Cut the Pizza into slices from the center and serve it hot.
Pizza Sauce Recipe
Ingredients to make Pizza Tomato Sauce
Tomato - 4-5
Salt - 1/4 tea spoon.
Black Pepper - 2 pinch.
Tulsi Leaves - 6-7
Olive Oil or Butter - 2 table spoon.
Method- How to make Pizza Sauce
Wash and cut the Tomatoes into small pieces and make a paste.
Heat Olive Oil in a small pan and put Salt, Tomato Paste, Black Pepper, Tulsi Leaves, and cook it till a thick paste is formed.  Pizza Tomato Sauce is ready.

Tags
Categories
Pizza Recipe - Homemade Pizza
Nisha Madhulika
Rating:

5.00

out of

5