Amla Recipes - Winter Special | Sardiyo ke liye khaas Amla Recipes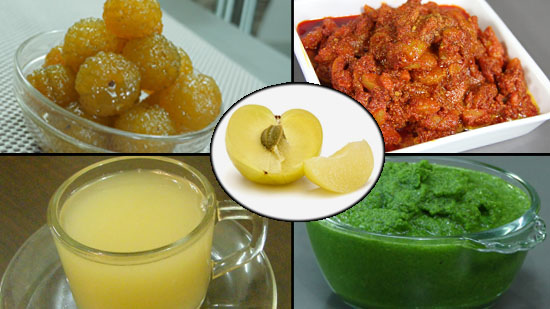 Gooseberry is a juicy treasure for all. It is rich in Iron and Vitamin c. It is very beneficial to use it during winters.Gooseberry is available in abundance from October to April. You can have it as a chutney, amla fry, soup etc. You can store goose berry in various ways such as Amla powdedr,amla pickle, amla murabba,amla sweet chutney,amla candy etc.
हिंदी में पढ़िए - आंवला रेसिपीज़- सर्दियों के मौसम के लिए विशेष । Amla Recipes - Winter Special | Sardiyo ke liye khaas Amla Recipes
Include these 10 recipes in your menu this season and stay fit.
Amla Murabba
Cooked in sugar syrup, this tastes amazing. Eating Amla murabba is considered really healthy. Even if you pinch your nose at gooseberry. I am sure you will relish eating it. It is an essential recipe for both kids and adults.
Amla sweet chutney
It is often seen that we are prone to illness specially during winters, so to improve immunity and restore health gooseberry is very helpful in such case. You will enjoy the taste of gooseberry sweet chutney. You can have it with poori , paratha or spread it just like jam. You can pack it in kids lunch box, i am sure they will finish off the lunch.
Amla juice
From december to april you can have fresh gooseberry juice. To have it even after the winter season passes. You can preserve and enjoy it. Having gooseberry juice improves digestion, bring glow to your skin and removes skin infections. Its also brings shine to your hair, and prevents greying. It has many benefits.
Amla Candy
Amla can be eaten in any form, it is very beneficial for our health. Rather than buying it out from the market try making it at home. You can easily make and give it to kids, who otherwise avoid eating it.
Andhra style Amla pickle
Andhra style Amla pickle is a very different kind of pickle it has a tangy spicy taste. You will not feel that raw taste in it. Do include it in your menu.
Amla jam
Jam is speciallyrelished by children. This can be prepared very easily. You can pack it in kids lunch box with chapati, poori and paratha. Kids will finish it off instantly.
Amla spicy candy
If you don't like sweet candy you can make it a bit spicy. This salty Amla candy is very benefecial for your health. You can add salt, black pepper and ginger powder to it and make it as desired.
Amla Ladoo
Having Amla ladoo in winters is very healthy. You can make these as desired, it gives freshness to you. It gives warmth to your body and also helps you in joint pain. Those kids who do not like it will also relish it.
Amla achar
Pickle lovers do include amla pickle in your menu. This gives you essential nutrients of gooseberry. It improves your immunity.
Amla chutney
Amla spicy chutney is really delicious. You can have this with kachori, pakora , samosa. Enjoy this chutney with your meals. It improves your digestion. Make it this winter and enjoy this recipe.

Tags
Categories
Amla Recipes - Winter Special | Sardiyo ke liye khaas Amla Recipes
Nisha Madhulika
Rating:

5.00

out of

5