Amla Murabba - Amla Murabba Banane ki vidhi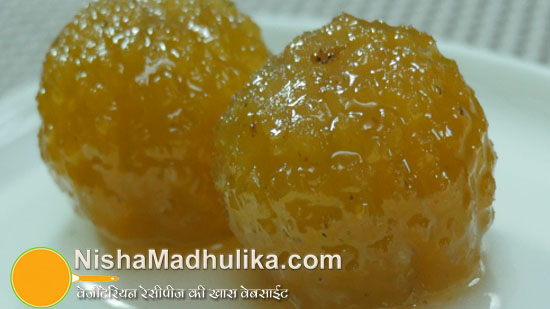 Special food of summer this amla murabba is super healthy and making it at home is really easy.
हिन्दी में पढिये : Amla Murabba - Amla Murabba Banane ki vidhi
Ingredients for Amla Murabba
Gooseberry- 1 kg
Sugar – 1.5 kg
Green Cardamom- 10 to 11
Black salt- 1 tsp
Black pepper Powder- ½ tsp
How to make Amla Murabba
Peel the cardamom and make powder.
Prick the gooseberries
Rinse the berries 2 to 3 times thoroughly and soak them in water for a day. After this, drain the excess water, rinse again and drain the water again. Take one gooseberry at a time and start pricking it at some distance bringing the fork deep inside it. Likewise prick remaining gooseberries as well. be very cautious while pricking.
Boil the gooseberries
Take enough water in a vessel to drench the gooseberries really well. Cover the vessel and place it on flame to simmer. When the water starts bowling add gooseberries to it and let it boil for another 2 minutes. After this, turn off the flame and keep the amlas covered for 5 minutes so that they get tender. After 5 minutes, remove the extra water.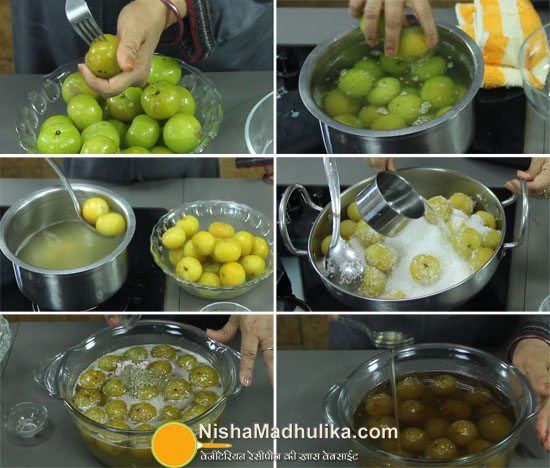 Prepare murabba
Add sugar, gooseberries and half water in the wok. Keep the flame medium to that sugar melts gradually. If we keep the flame high then the sugar starts turning brown. Mix the sugar to gooseberries and keep stirring the sugar at regular intervals and continue cooking for 25 minutes.
When the sugar gets thick, check its consistency. Take some drops of sugar in a bowl and let it cool down a little. Then take the syrup between your finger and thumb, stretch it apart and look for a long thread. Syrup has come to right consistency, murabba is ready.
Take out gooseberries in a vessel but let the syrup cool down a little and then transfer it to a glass vessel. After this add black salt, black pepper powder and cardamom powder. Amla murabba is ready but check it after 2 to 3 days.
After three minutes, amlas have thoroughly drenched in the syrup and have absorbed sugar nicely which have made them sweet. Due to excretion of syrup from gooseberries the syrup has turned thin in consistency. It has turned gooey like honey .i.e. it has reached right consistency. Amla murabba is ready.
Amla murabba is ready to be consumed and making it is really easy. Traditionally amla murabba is prepared with drenching the gooseberries in alum water for 2 days but the above mentioned method of making murabba is used for preparing it instantly and easily. It taste as delicious. Store amla murabba in any glass or food grade plastic container and relish eating for up to a year.
Suggestions
Take bigger and little ripe gooseberries for the murabba. Ripe murrabas are not completely green they remain little brown in color and they are little less tangy in taste. Ripe gooseberries are available in abundance during the month of December.
Instead of making sugar syrup we can mix the sugar to amlas and keep them aside for 4 to 5 hours. Amlas will release their juices and sugar will start melting.
If we add more water to the sugar then it takes time to melt. Therefore add water in right quantity.
Amla murabba can be cooked in steel vessel but it cannot be left in it for too long.
Avoid making murabba in Iron and aluminium vessels else it will get spoiled.
If after 3 days, syrup gets thin and is not gooey as honey then take out the murabba in a vessel and cook until it gets thick in consistency.
If the syrup is too thick then the murabba appears little hard. In such situation add 1 to 2 boiled water and mix well.
Don't make the syrup too thin or thick. If the chasni is thin then it will spoil quickly and if the syrup is too thick then murabba will appear too hard.
Use clean and dry spoon for taking out the murabba.
Amla Murabba - आंवला मुरब्बा - Amla Murabba Banane ki vidhi

Tags
Categories
Amla Murabba - Amla Murabba Banane ki vidhi
Nisha Madhulika
Rating:

5.00

out of

5