Andhra Style Amla Pickle recipe - Andhra Amla Pickle Recipe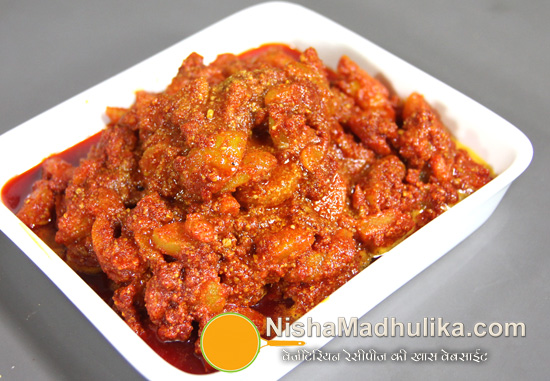 Andhra style Amla pickle has very unique and pleasing flavors. The tarty flavor of gooseberry cannot be sensed in this pickle. 
हिन्दी में पढिये : Andhra Style Amla Pickle recipe -  Andhra Amla Pickle Recipe
Ingredients for Andhra Amla Pickle
Gooseberry - 500 grams (12 to 14)
Sesame seeds oil - 1 cup
Yellow mustard - 4 tbsp
Sesame seeds - 4 tbsp
Salt - 4 tbsp
Red chilly powder - 4 tbsp (degi)
Turmeric powder - 1 tbsp
Fenugreek - 2 tbsp
Asafoetida - 1/4 tsp
How to make Andhra Amla Pickle ?
Wash the gooseberries thoroughly and dry them completely. Remove the seeds from amlas and chop each into 6 to 7 pieces. 
Prepare the masala:
Place sesame seeds in a wok and roast until they get puffy and there is slight change in the color. Take out the sesame seeds in a plate, add fenugreek seeds in the wok and roast for few 1 minute on low flame. With the moisture in spices goes away. Add mustard seeds to this and roast for half a minute, then take them out in a plate. 
Coarsely ground the sesame seeds. Also coarsely ground fenugreek seeds and mustard seeds as well. Add oil in a pan and heat sufficiently. When oil is hot, add chopped amla and saute for few minutes until they turn soft. Add asafoetida to the amlas first. Now add turmeric powder and salt. Also, add red chilly powder and mix all ingredients really well.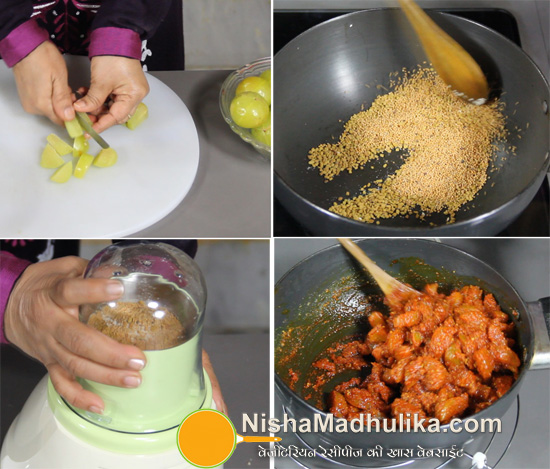 Amla pickle is ready, you eat this pickle even now but the real taste comes after 3 days when the berries absorb all the spices. When the pickles cools down completely, store it an air tight container and relish eating for up to a year. 
Suggestion:
You can use black mustard in place of yellow mustard. 
The container to used for storing pickle, wash it thoroughly with boiling water and place it under sunlight to dry. Any kind of moisture or dirt can spoil the pickle. Every time use a dry and clean spoon. 
For longer shelf life, add large amount of oil to the pickle so that its drenched in it completely. 
Andhra Amla Pickle Recipe Video

Tags
Categories
Andhra Style Amla Pickle recipe - Andhra Amla Pickle Recipe
Nisha Madhulika
Rating:

5.00

out of

5