Idli Dhokla Recipe - South Indian Idli Dhokla Recipe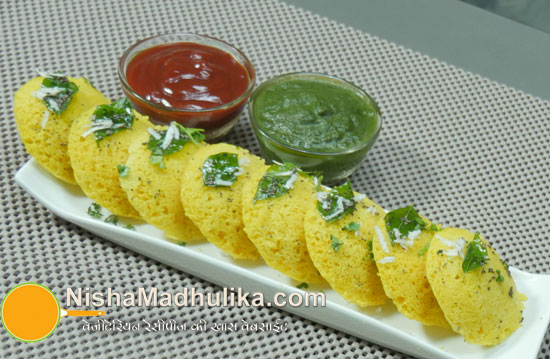 Idli dhokla appears like a idli but taste completely different from it. You can very easily prepare this idli dhokla anytime very easily and serve it instantly. 
हिन्दी में पढिये : Idli Dhokla Recipe - South Indian Idli Dhokla Recipe
Ingredients for Idli Dhokla Recipe
Chickpea flour – 1 cup (150 grams)
Semolina – ½ cup (75 grams)
Curd – ¾ cup
Fresh coconut – 2 tbsp (grated)
Green coriander – 1-2 tbsp (finely chopped)
Oil – 3-4 tbsp
Mustard seeds – ½ tsp
Curry leaves – 15-20
Sugar – 3 tsp
Eno fruit salt – ¾ tsp
Salt – more than 1 tsp or to taste
Ginger paste – ½ tsp
Lemon – 1
Turmeric powder – ¼ tsp
How to make South Indian Idli Dhokla Recipe
Sieve chickpea flour in a big mixing bowl. To it then add semolina and curd, followed by water and prepare a thick batter. Now to the prepare batter add salt, ginger paste and 2 tsp lemon juice. Mix everything really well. Also add 2 tsp sugar, 1/4 tsp turmeric powder and mix well. 
Keep the prepared batter aside for 10 minutes to set and get puffy. Add 2 cups of water in the vessel to be used for making dhokla and place it on flame for simmering. 
Clean the idli stand and grease each mold on it with some oil. 
Add eno fruit salt to the batter and mix everything well. Fill each mold with equal amount of batter and fix them nicely on the stand. Place this stand inside the vessel filled with water for steaming the idlis. Cover the vessel with a lid.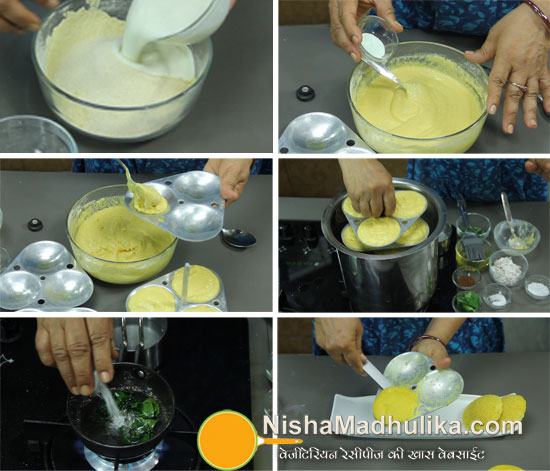 Keep the flame a little higher than the medium so that there is constant boil in the mixture. Steam the idlis for 15 minutes and then check them. To check the idlis, insert a knife inside the idlis. If the batter doesn't stick to the knife that means idli dhokla is ready. 
Turn off the flame, take out the stand from the vessel and let it cool down. Then separate out the idlis from the molds with running a knife all around the idli and place them on a plate.
Prepare the tempering:
Heat 2 to 3 tsp oil in a small pan. When the oil is hot, splutter the red mustard seeds. After this add curry leaves and saute them for a while. Now to it add 1/2 cup water, salt and some sugar. When you see gentle boil in the water, turn off the flame and pour this prepared tempering over the idli dhokla. Garnish with chopped green coriander leaves and grated coconut. Serve these lip smacking idli dhokla with tomato sauce, green coriander chutney, coconut chutney or any other sauce as per your taste. 
Suggestions:
The batter for making the dhoklas should not be too thick or too thin in consistency. 
Add eno fruit salt in the end to the batter. After adding eno fruit salt don't stir the batter too much as the air bubbles formed in the batter will escape and the dhokla will not come up fluffy. 
For making 12 idli dhoklas
Time - 30 minutes
Idli Dhokla Recipe - South Indian Idli Dhokla Recipe

Tags
Categories
Idli Dhokla Recipe - South Indian Idli Dhokla Recipe
Nisha Madhulika
Rating:

5.00

out of

5