Palak Dhokla Recipe - Spinach Dhokla Recipe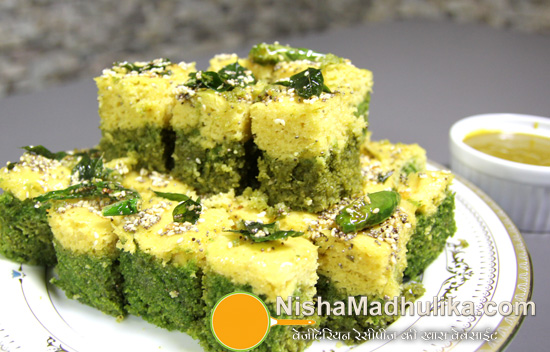 Spinach dhokla is really scrumptious and nutritious among other dhoklas. Spinach dhokla can be served in morning breakfast and during supper or whenever you feel like eating something light and healthy.
हिन्दी में पढिये : Palak Dhokla Recipe - Spinach Dhokla Recipe
Ingredients for Palak Dhokla Recipe
Semolina - 3/4 cup (150 grams)
Gram flour- 3/4 cup (150 grams)
Spinach puree - 3/4 cup
Curd - 1.5 cup (300 grams)
Oil - 4 tbsp
Green chilly - 2 (finely chopped)
Lemon juice - 2 tsp
Salt - 1.25 tsp
Eno fruit salt - 1.5 tsp
Curry leaves - 10 to 12 leaves
Red mustard seeds - 1/2 tsp
Green chilly - 2 to 3 (slit lengthwise)
Sesame seeds - 2 tsp
How to make Palak Dhokla Recipe
For making spinach puree, take 250 grams spinach and remove thick stalk from it. Wash twice thoroughly and place it in a sieve. Once water dries out, grind it in a mixture grinder to make a puree.
Prepare the spinach batter first. Take 3/4 cup curd in any vessel and add spinach puree to it. Also, add semolina, chopped green chilly and ginger (keep some for other batter) in this batter. Add 3/4 tsp salt and 2 tsp oil as well and mix really well. Add 1 to 2 tsp lemon juice in the batter. Cover and keep aside the batter for 15 minutes so that it ferments well and turns fluffy.
Add rest of the 1/2 cup curd in another vessel and mix gram flour into it. Mix the ingredients really well until all lumps dissolves and you get a smooth batter. Also, add green chilly, ginger, 1/2 tsp salt, 1 tsp oil and 1 tsp lemon juice in the batter and mix well. If the batter appears too thick then add 1 to 2 tbsp water into it. Make a better with consistency same as required for making pakoras. Cover and keep aside the batter for 15 minutes so that it ferments well and gets fluffy.
Take a vessel for cooking dhokla which easily fits into another vessel. Grease the vessel with some oil nicely.
Add 1 tsp eno salt in the spinach batter and mix well. The batter starts puffing up. Pour the batter in greased vessel and spread evenly.
Add rest of the eno salt in gram flour batter and stir well. Batter is getting fluffy. Pour this batter over the spinach batter in the vessel.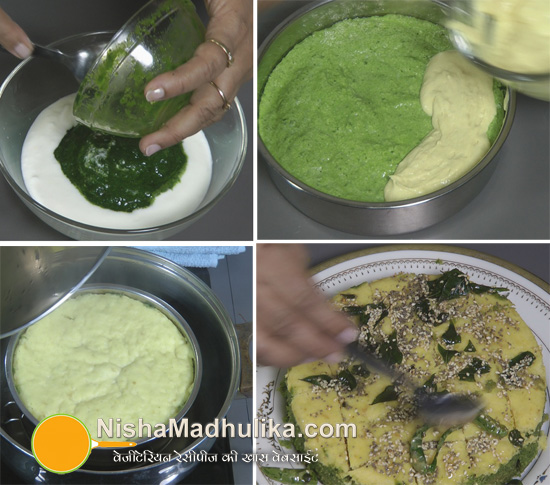 Now add 2 to 2.5 cup water in a bid vessel. After water starts simmering, place a net stand inside the vessel and on it place the utensil with dhokla batter. Cover the vessel with a lid nicely. Cook the dhokla on high-medium flame for 20 minutes.
To check the dhokla, insert a knife and it should come out clean. This means dhokla is ready. If the batter sticks to the batter, then cook the dhokla for few more minutes. After dhokla is cooked, take the dhokla vessel from the big vessel and allow it to cool for 10 minutes. With help of a knife, separate the dhokla from the vessel. Place a plate over the dhokla and flip it upside down and pat it. Dhokla is easily separated from the vessel.
Cut the dhokla in big or small chunks as per your preference. For making tadka, take some oil in a pan and heat sufficiently. Add red mustard seeds in the pan. After sauteing for while, add curry leaves, green chilly and sesame seeds as well. Saute for few more minutes and pour this tadka over the dhokla with help of a spoon.
Delicious and yummy spinach dhokla is ready. Serve spinach dhokla with chutney, tomato sauce or any other chutney as per your taste and relish eating.
Suggestion:
Make sure the batter for dhokla is not too thick or too thin.
Add Eno fruit salt in the end after doing all the preparations and don't whisk the batter for long.
Dhokla can also be prepared in pressure cooker with same procedure but make sure you remove the whistle from it's lid.
Other Dhokla Recipes:
Palak Dhokla Recipe video in Hindi

Tags
Categories
Palak Dhokla Recipe - Spinach Dhokla Recipe
Nisha Madhulika
Rating:

5.00

out of

5