Palak Namak Pare Recipe - Spinach Namak Pare Masala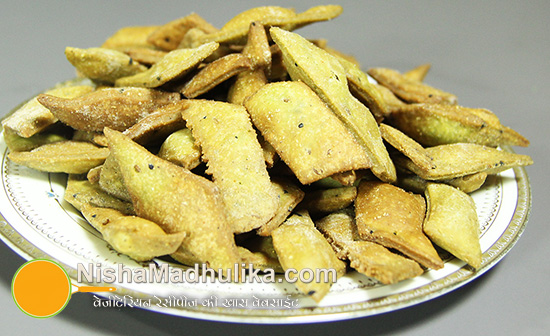 Namak pare made with spinach are crispy and tasty to eat. These can be prepared for any festival or anytime you feel like. 
हिन्दी में पढिये : Palak Namak Pare Recipe
Ingredients for Palak Namak Pare Recipe
Refined flour - 1 cup (125 grams)
Spinach puree - 1/3 cup
Gram flour - 1/4 cup (25 grams)
Semolina - 2 tbsp (15 or 25 grams)
Oil - for frying
Cumin seeds - 1/2 tsp
Red chilly powder - less then 1/4 tsp
Black pepper powder - less then 1/4 tsp
Salt - 1/2 tsp or as per taste
Kalonji (nigella seeds) - 1/2 tsp
Chaat masala - 1/2 tsp
Oil - less than 1/4 cup (40 or 45 grams)
Method for making Spinach Namak Pare
For making crispy spinach namak pare, firstly knead dough. For this take maida in any big bowl. Now also add gram flour, semolina, cumin seeds, nigella seeds(kalonji), red chilly powder, salt and oil. Mix all ingredients really well and add spinach puree as well. Now knead hard dough for making pooris. Cover the dough and keep aside for 10-15 minutes to set. 
Knead the dough again after 15 minutes. Take a little amount of dough and make a ball from it. With this much amount of dough, 6 ball can be prepared. Roll the ball until smooth. Grease the rolling plate and rolling pin with some oil so that dough doesn't stick to them. Roll the dough, making chappati with help of rolling pin. Now with help of pizza cutter, make 1/2 or 1/4 inch strips from rolled chappati. Now cut these strips diagonally, giving them a rhombus shape. Likewise prepare all namak pare.
Preheat oil in a wok. When oil gets medium hot, place one namak para into it. If it floats on the surface then oil can be used for frying namak pare. 
Now place namak pare in medium hot oil. Place as many namak pare as possible at a time. Fry until they turn golden brown in color from all sides and crispy. Keep the flame medium and low.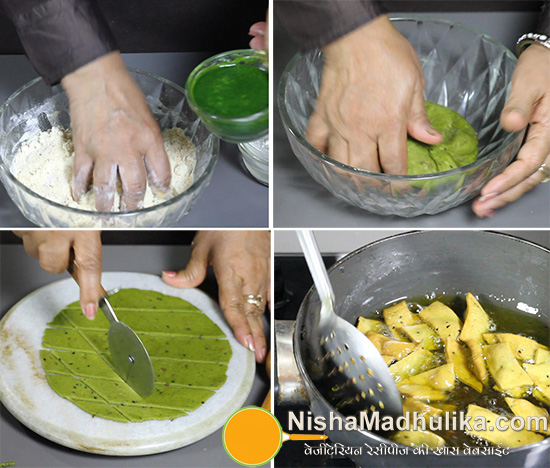 When namak pare turn golden brown in color, take them out in a plate. Likewise fry rest of the namak pare. It takes 5-6 minutes for frying namak pare at a time. Take out all namak pare on a plate covered with absorbent paper and sprinkle chaat masala over them. This will enhance the flavor of namak pare. 
With following the same procedure, you can also use green coriander puree for making green coriander namak pare. Allow to cool and store the namak pare in any container  and enjoy eating for up to a month. 
Palak Namak para Recipe video in Hindi

Tags
Categories
Palak Namak Pare Recipe - Spinach Namak Pare Masala
Nisha Madhulika
Rating:

5.00

out of

5