Besan Dhokla Recipe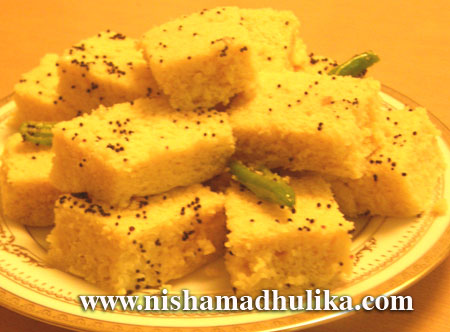 Besan Dhokla is very tasty to eat, very less oil is used while preparing it as it cooks in steam. If you are avoiding oily food then do try this recipe. You can also send Besan Dhokla in lunch boxes for the kids.
Dhokla is prepared in many ways, like Besan Dhokla, Rawa Dhokla, Sour Dhokla, Paneer Dhokla, Jhatpat Dhokla. We have made Rawa Dhokla and Jhatpat Dhokla earlier so today we will make Besan Dhokla.
हिन्दी में पढिये : Besan Dhokla Recipe
Ingredients of Besan Dhokla
For Batter
Gram flour(besan) - 200 grams (1 cup)
Turmeric powder - 1/6 tsp (if you want)
Salt - Add to taste(1 tsp)
Green chilli paste - 1 tsp (if you want)
Ginger paste - 1 tsp
Lemon juice - 1 tbsp (2 lemons)
Eno salt - 1 tsp
For Tadka
Oil - 1 tbsp
Rie - 1 tsp
Green chillies - 3 to 4 (cut vertically into 2)
Salt - 1/4 tsp(add to taste)
Sugar - 1 tsp
Lemon juice - 1 tsp
Green coriander - 1 tbsp (finely chopped)
How to prepare Besan Dhokla
Filter gram flour and keep in a utensil. Add little water at a time and stir to make a thick mixture, there should not be any solid particles in the mix. Add turmeric powder to it and mix.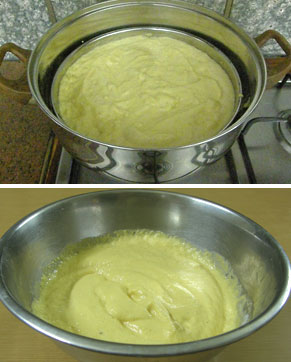 Cover gram flour mix and keep aside for 20 minutes allowing it to ferment.
Pour 2 small glasses of water in the utensil you will use to make Dhokla and place it on the gas to heat. Also keep a stand in the utensil on which you can keep a plate filled with gram flour mixture. Grease the plate with oil.
Put lemon juice, salt, green chilly paste, ginger paste in the gram flour mixture. Now put eno salt in it and stir the mixture with a spoon. As soon as air bubbles are appear in the mixture pour it in the plate and keep the plate on the stand. The water in the utensil has heated and you can steam coming out from it, Cover the utensil and cook Dhokla for almost 20 minutes on a high flame.
Dhokla is cooked(to test, poke cooked Dhokla with a knife, the mixture should not stick to the knife). Besan Dhokla is ready, turn off the gas and take out the plate with Dhokla from the utensil. Allow Dhokla to cool then separate it from the edges using a knife. Overturn the plate with Dhokla on another plate and take it out. Cut into desired shapes with a knife.
Apply Tadka :
Pour oil in a small pan, put Rie in hot oil. When Rie is roasted gently fry after putting green chillies, now add 100 grams water to these spices followed by salt and sugar. Turn off the gas once water comes to boil then mix lemon juice in it. Pour this Tadka over the Dhoklas with a spoon. Garnish with green coriander or grated coconut. Serve hot and fresh Besan Dhokla.
The same Dhokla is available in the market, but they use tartaric acid in place of lemon. You can also use this acid if you want. Tartaric acid is a white, transparent solid, while making these many Dhoklas , take a piece equal to 2 white(kaveli chana) seeds. Mix it in water and put in the Dhokla mixture. Prepare Dhokla in the given method.
Suggestion:
If gram flour mixture is either too thick or thin then Dhokla will not become spongy.
After adding eno salt to the mixture you keep stirring it for a long time then the air bubbles will escape and Dhokla will not become puffy.
Even if you keep the mixture for long without cooking after putting eno salt then Dhokla will not be puffy.
If the flame is low then also Dhokla will not become puffy.
Besan Dhokla Recipe video in Hindi


Tags
Categories
Besan Dhokla Recipe
Nisha Madhulika
Rating:

5.00

out of

5