Rajasthani Dal Puri Recipe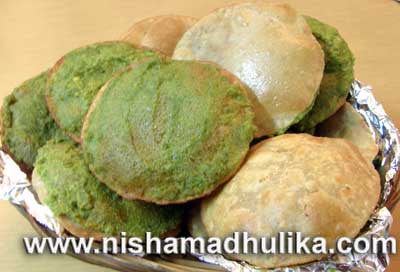 Rajasthani cuisine is no doubt has one of the great recipes in its list. Rajasthani Dal Poori is one of the most delicious recipes of Rajasthani cuisine. You can make this recipe on festivals like Holi. So today we will cook Rajasthani Dal Poori recipe
Dal Poori can be made in many different ways. You can make Dal Stuffed Poori (दाल भरी पूड़िया (Dal stuffed Poori) by stuffing dal mixture into the poori or you can make Dal Poori (बेड़मी पूरी (Bedmi Poori) by kneading the dal paste in the flour. But preparing Poori by applying the dal mixture over the poori has its own unique taste. These poori are crispy, extremely tasty and looks green from one side and brown from the other.
Read this recipe in Hindi - Rajasthani Dal Puri Recipe
Ingredients for Dal Poori Recipe
For Dough
Wheat flour - 400 gms (2 cup)
Curd - 2 table spoon.
Carom seeds - 3/4 table spoon.
Salt - 3/4 table spoon (or according to the taste)
Oil - 1 table spoon.
For Dal
Moon dal - 150 gms. (3/4 cup)
Green Chilli - 2-3
Coriander leaves - 1/2 small bowl (wash and chop)
Ginger - 1 inch long piece.
Coriander powder - 1 tea spoon.
Salt - 1/2 tea spoon (or according to the taste)
Oil - to fry the poori.
Method - How to make Dal Poori Recipe
Wash the moong dal with water and soak it for 2 hours. Wash the soaked moong dal once more and put it in the mixer along with green chilli, coriander leaves and ginger. Pour little water or no water and make a paste. Put coriander powder and salt into the paste and mix it well.
Sieve the flour in a bowl and put curd, carom seeds, salt and oil into it. Mix the ingredients well with the flour and knead it with water. Cover the dough and leave it for half an hour to set.
Take a small portion of the dough and roll it into a ball. Keep the ball on the rolling board and roll it to make a flat disc. Put 1 or 1 1/2 tea spoon of dal mixture on the poori and spread it evenly.
Heat oil in a pan. Take a tiny portion of the dough and put it into the oil to check whether it is heated appropriately or not. If the dough rises up in few seconds and starts to float the the surface, then the oil is perfectly heated to fry the poori. Now put the poori into the oil. The surface with the dal should be facing the pan while putting it in the pan.
When the surface turns light brown in colour and rises up, turn the side of the poori and fry till it gets brown from the other side too. Take out the poori from the pan and keep it on a plate over the napkin. Prepare all the pooris in the same manner.
Your Rajasthani Dal poori is ready. Serve it with matar aloo, matar paneer, or nay other dish of your choice.
This preparation is for 4 people.
Time taken - 45 minutes.

Tags
Categories
Rajasthani Dal Puri Recipe
Nisha Madhulika
Rating:

5.00

out of

5