Semiya Burfi Recipe | Vermicelli barfi Recipe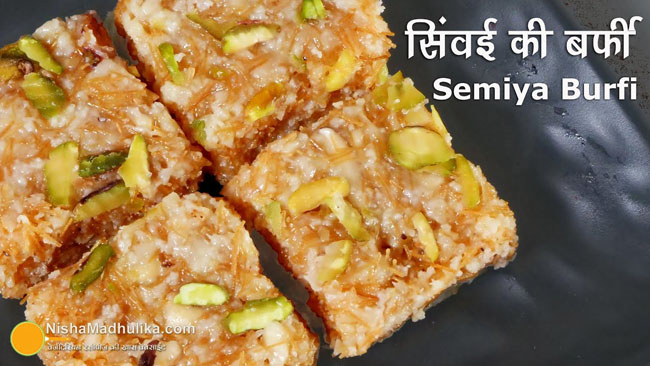 Semiya Burfi is a delicious sweet prepared with roasted Vermicelli and other general ingredients that are available in every kitchen. In today's recipe, we will not use condensed milk or Mawa, yet our Burfi will be luscious. So, let's get onto it.
Ingredients required for Semiya Burfi Recipe:
Vermicelli roasted - 100 grams
Clarified butter - 1 tbsp
Full Cream Milk - 1 litre
Desiccated Coconut - 1/2 Cup
Sugar - a little less than 1 Cup 200 grams
Cashews - 2 tbsp (chopped)
Cardamom Powder - 1 tsp
Almond - 2 tbsp (chopped)
Pistachio - 2 tbsp (chopped)
Semiya Burfi Recipe:
Take 100 grams of roasted vermicelli and finely break them. Take a pan and add 1 tbsp of ghee. Once the ghee melts, pour the Semiya in the pan. Keep the flame medium.
Roast the vermicelli while stirring them continuously. Roast the vermicelli slightly for 5 mins over medium flame. Once their colour changes and they are fragrant enough, take them out on a plate.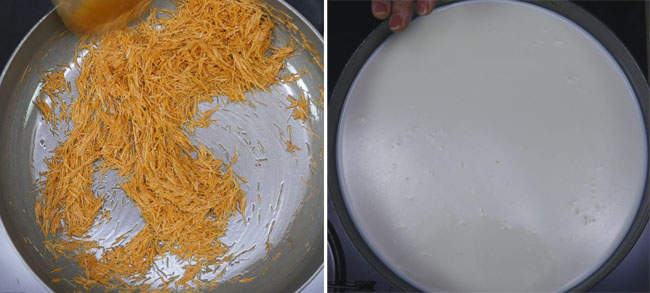 Add 1-litre full cream milk in a Kadhai. Boil the milk over high heat. Use a wider wok (Kadhai) as the milk gets thicker quickly in it. Stir the milk at an interval.
[After 5 minutes]
There is a boil in the milk, now stir the milk continuously to thicken it. While the milk is getting ready, we will ready the other ingredients as well.
Add ½ cup desiccated coconut in a pan and roast it briefly over medium heat. Don't overcook it. The coconut will get fragrant within 2 minutes of roasting. Pour the coconut on the roasted vermicelli plate.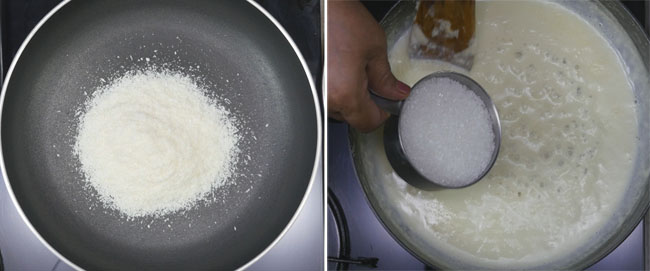 The milk has thickened. To make Semiya soft, keep the milk consistency a little pouring. Add 200 grams (less than 1 cup) of sugar in the milk. Cook the mixture while stirring till the sugar dissolves completely.
Once the sugar dissolves, add coconut and Semiya in the wok. Add 2 tbsp of finely chopped cashews, almond, and 1 tsp of cardamom powder. Mix and cook them briefly. Keep the flame low-medium.
Once the mixture attains the curdling consistency, you can turn off the flame. Take a tray to curdle the burfi and grease it with ghee. Then, pour the mixture in the tray and spread it evenly.
Use a ghee coated spoon to spread the mixture evenly. Garnish with finely chopped pistachios. Press the Pista with a spoon to fix them. Now, leave the burfi for 1 hour to get set.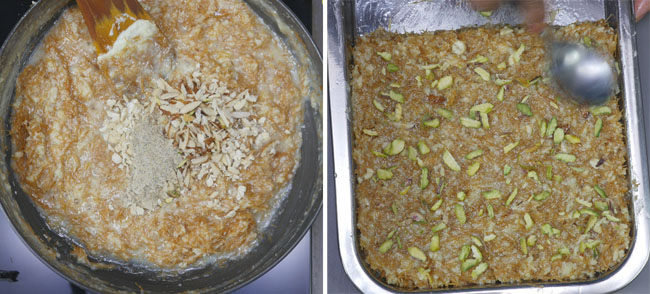 Alternative: Use almond or cashews instead of pistachio. This step is optional, as our burfi looks delicious even without garnishing.
[After an hour]
Cut the burfi into desired pieces. Semiya burfi is ready to be served.
Prepare this delicious dessert today at home and enjoy it with your family.
सिंवईयों की बर्फी, बिना मावा, कन्डेंस्ड मिल्क के । Semiya Burfi | Vermicelli barfi | sewai ki mithai

Tags
Categories
Semiya Burfi Recipe | Vermicelli barfi Recipe
Nisha Madhulika
Rating:

5.00

out of

5