Fruits Shrikhand | Yogurt with Fresh Fruit Mix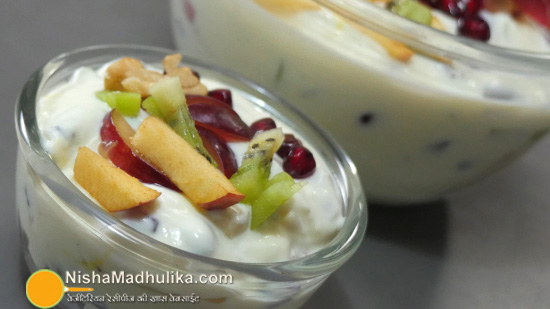 Mix fruit shrikhand is shrikhand which is consist of a wide variety of fruits
Ingredients Mix fruit Shrikhand
Hung curd - 2 cups
Apple - 1 (Finely chopped)
Grapes - 100 gms (Finely chopped)
Pomegranate seeds - 1
Kiwi - 1 (Finely chopped)
Walnuts - 7 to 8 (Finely chopped)
Powdered sugar - ½ cup (75 grams)
Green cardamoms - 2 to 3 (coarsely grounded)
Saffron milk - Saffron strands (7 to 8) + Milk (1 tbsp)
How to make mix fruit shrikhand
For the hung curd
Spread a cotton cloth on the strainer and place a bowl beneath it. Add 4 cups of the fresh curd over the cotton cloth, keep it aside for 1 to 2 hours and drain the whole water out if it. The thick hung curd has left over the cotton cloth.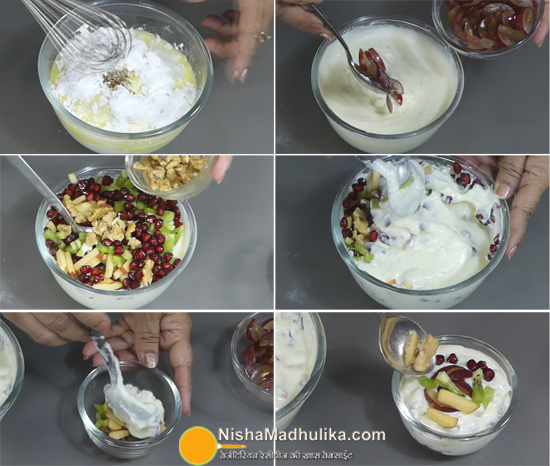 For the mix fruit shrikhand
Take 2 cups of hung curd in the bowl and add 1/2 cup of powdered sugar, 1 tbsp of the saffron milk, 3 coarsely grounded green cardamoms and whisk it for 2 to 3 minutes so that the hung curd becomes smooth. Mix the ingredients properly.
Add finely chopped grapes, apples, kiwi, 2 to 3 tbsp of pomegranate seeds, 2 to 3 tbsp of finely chopped walnut in the hung curd. Mix all the ingredients. Store it in the refrigerator for an hour and serve it.
Take a bowl to serve and add some fruits in it. Add Shrikhand over it and garnish it with the fruits. Delicious shrikhand is ready to be served.
Suggesions
Use only fresh curd for the hung curd.
You can add the fruits according to your taste
You can increase or decrease the amount of sugar powdered.
Fruits Shrikhand | ताज़ा फ्रूट्स श्रीखंड बनाने की विधि । Yogurt with Fresh Fruit Mix

Tags
Categories
Fruits Shrikhand | Yogurt with Fresh Fruit Mix
Nisha Madhulika
Rating:

5.00

out of

5