Gur ke Sev | Besan ke Sweet Sev | Sweet Murukku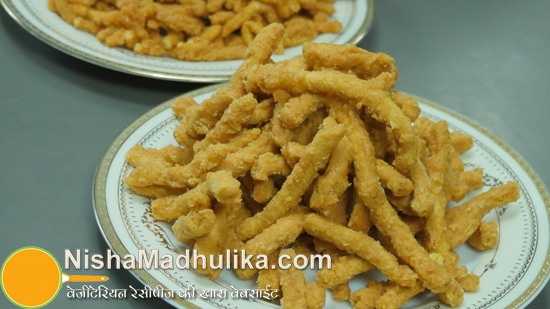 Here is a winter special sweet snacks. Make it once and keep it for 2 months.
हिंदी में पढ़िए - गुड़ बेसन के सेव । Gur ke Sev | Besan ke Sweet Sev | Sweet Murukku
Ingredients for Sweet Murukku
Chickpea flour - 2 cup (200 gms )
Jaggery - 1.5 cups (300 gms) (crumbled )
Ghee - 1 tsp
Oil - 2 tbsp & for frying
How to Make Besan ke Sweet Sev
Take 2 cups chickpea flour, pour 2 tbsp hot oil in it. Add water in small portions and make a soft dough.Grease your hands with oil and smoothen the dough.Cover and keep it aside for 15 to 20 minutes to set. 1/2 cup water is used to knead this dough.
After 20 minutes,dough is set.Meanwhile turn on flame, put oil to heat for making sev.Take the sev making machine and jali with biggest holes. Attach the jali to the machine.Take out the piston of the machine. Put the dough in it. Close the machine.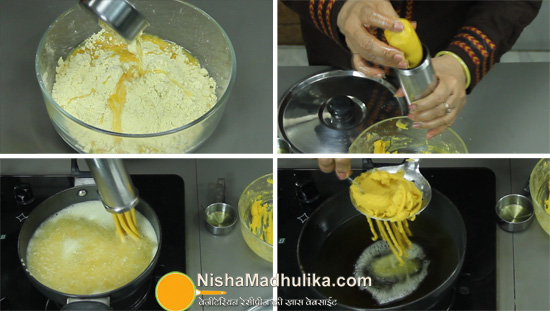 Check the oil by dropping a little dough in it. Oil is hot. Put as much sev to fry, as they fit in the wok. Break it with spoon. When the foam over the oil settles.
Flip and fry until golden brown. Take these out.Hold the ladle on the edge of the wok,so that extra oil drains back to the wok. Put the sev in a plate.
To make sev with ladle.
Take big slotted ladle.Keep the dough over the ladle.Then press with hands or with spoon. Fry as previous ones.
To make jaggery syrup
Add 1 tsp ghee to the pan add 1 cup crumbled jaggery to it and melt it on low flame.
Reduce flame. Break and put the sev in jaggery. Turn off flame. Stir and coat.
Take out in a plate. Stir and let it cool. Separate the sev. Meanwhile put the leftover jaggery to melt. Prepare the other sev likewise. Turn off flame.
Make these unique Gur sev anytime and enjoy it during winters. When completely cool, place in a container. You can eat it for 2 months.
Suggestion:
Adding oil to the dough makes the sev more crispy.
While you coat the first batch of jaggery, keep the jaggery on low flame,so that it doesn't cool instantly If the jaggery cools it doesn't coat well over the sev.
When you make dough,it should be soft, so that the sev turns out to be crisp.While frying make sure the oil is rightly hot.only then they will be fried well and puffy.
Gur ke Sev | गुड़ बेसन के सेव । Besan ke Sweet Sev | Sweet Murukku

Tags
Categories
Gur ke Sev | Besan ke Sweet Sev | Sweet Murukku
Nisha Madhulika
Rating:

5.00

out of

5