Mango Coconut Burfi - Aam aur Nariyal ki Burfi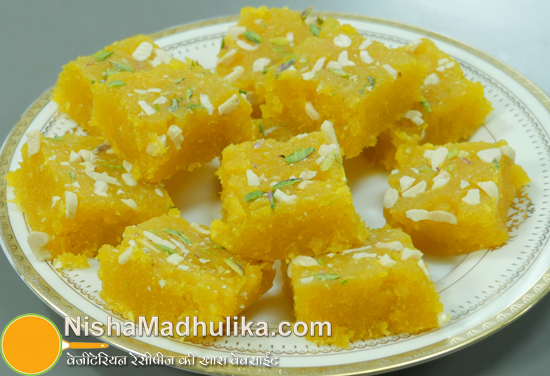 Mango is available in abundance during summer season. You can make shakes , lassi etc with mango. Make yummy Mango Nariyal Barfi today.
हिंदी में पढ़िए - Mango Coconut Burfi - आम नारियल की बर्फी - Aam aur Nariyal ki Burfi
Ingredient for Aam aur Nariyal ki Barfi
Ripe Mango – 2 (500 gms)
Desiccated Coconut – 2 cup (200 gms)
Sugar – 1 cup (200 gms)
Corn flour – 2 tbsp
Cashew – 8 to 10 (finely chopped)
Pistachios – 10 to 12 (finely chopped)
How to make Mango Coconut Barfi
Take 2 Mangoes. Peel the mangoes, and then cut the pulp from it. We have taken safeda mango for it.
Put the mango chunks in the mixer jar, add 2 tbsp corn flour, add 1 cup sugar. Grind all things well.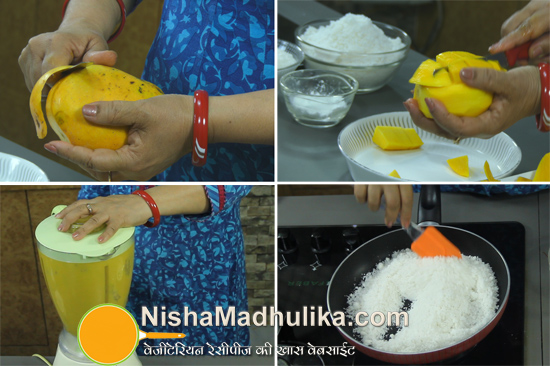 Add dessicated coconut to the pan and roast for a minute or so while stirring constantly until it turns fragrant. We have roasted it for 2 minutes. Once roasted transfer it to a plate.
Add ground mango, sugar and corn flour mixture into the pan. Turn on the flame. Cook the mango mixture until it gets dense and there is change in color.
Add the desiccated coconut to the mango pulp and mix well. Reduce the flame. Make sure you cook it until it reaches the desired consistency required for setting the barfi. Turn off the flame.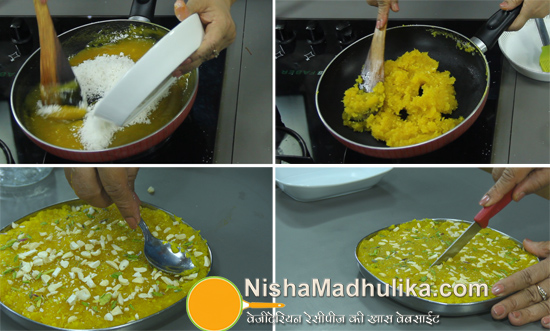 To set the Barfi grease the plate with some ghee. Transfer the barfi mixture to a plate and even it out using a spoon. Grease the spoon with some ghee as well to easily even out the barfi.
To garnish the barfi add finely chopped cashews and finely chopped pistachios. Press down the dry fruit with a spoon so that it sets inside the barfi. Keep the barfi aside for 1 hour to set.To separate out the chunks from plate, heat it from the bottom over the flame for a while. Cut the barfi in big or small size chunks as per your preference. Super luscious and tempting mango coconut barfi is ready. This super delicious mango coconut barfi can be stored for up to 15 to 20 days if kept in refrigerator.
Suggestion :
For making the barfi take mangoes which don't consist of threads. We have taken safeda mango. You can also take alphonso or dussehri mangoes too.
For garnishing the barfi we can use any other dry fruit. You can melon seeds, finely chopped almonds or any other dry fruit as desired to garnish.
We have taken 2 tbsp cornflour to set the barfi. You can add ½ cup milk powder or ½ cup cashew powder instead.
Mango Coconut Burfi - आम नारियल की बर्फी - Aam aur Nariyal ki Burfi

Tags
Categories
Mango Coconut Burfi - Aam aur Nariyal ki Burfi
Nisha Madhulika
Rating:

5.00

out of

5