Paneer Parantha Recipe Cheese Paratha Recipe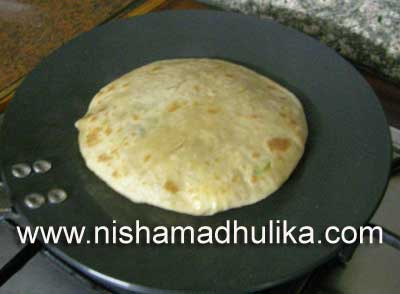 Lets make Stuffed Paneer Paranthas today. I am sure your family will definitely like them.  Paneer Paranthas are crispy, tasty, and nutritious.
इस पोस्ट को हिन्दी में पढिये
Cheese Paratha recipe in Hindi - Paneer Paratha recipe in Hindi
Ingredients for Paneer Paratha Recipe
Wheat Flour - 300 gms.
Paneer - 200 gms.
Green Chilli - 2 (finely chopped)
Ginger - 1 inch long piece (grated)
Coriander leaves  -  1 table spoon.(chopped)
Coriander Powder - 1 tea spoon.
Red Chili Powder - 1/4 tea spoon (less than half a tea spoon)
Salt - according to the taste.
Oil or Ghee.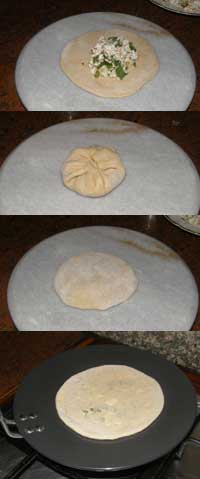 Method- How to make Paneer Paratha Recipe
Seive the flour and add 1 tea spoon salt, 2 tea spoon oil and knead it with luke warm water.
In a separate bowl grate the paneer and add green chilli, ginger, coriander leaves, red chilli powder, coriander powder, salt in to it and mix them well. The paneer mixture is ready to stuff the paranthas.
Now take a small portion of the dough (equal to the size of a lemon) and make a ball from it. Dust it with dry flour and roll it into 3 inch disc. Put the 2 tea spoon paneer mixture on the disc, spread it evenly on the roll and fold the disc from the edges. Roll it again with the help of the flour dust into 6-7 inches disc.
Heat the pan and put the parantha on it.  Apply Ghee on the both the sides and pour some on the corners. Keep on turning the sides until it turns brown from both the sides.  Prepare all the Paranthas in the same manner. Spread the paper napkin on the plate before putting the parantha on it.
Serve the hot crispy Stuffed Paneer Paranthas with Aloo Matar Recipe, Curd, Chutney or Pickle.
Paneer Paratha Recipe in Hindi Video in Hindi

Tags
Categories
Paneer Parantha Recipe Cheese Paratha Recipe
Nisha Madhulika
Rating:

5.00

out of

5