Stuffed Idli Recipe - Aloo Stuffed Idli - Potato Masala Stuffed Idli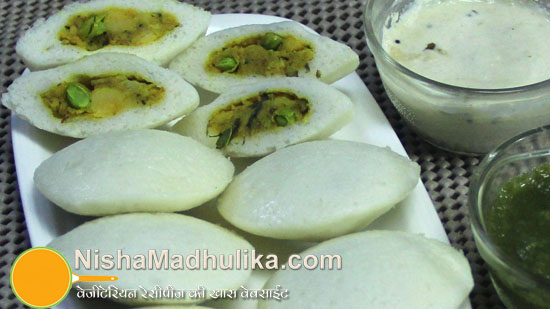 Stuffed masala idli prepared with a roasted potato-peas masala is easy to make and also tastes super scrumptious. Serve this delectable stuffed idli with chutney or have it as it is. You can not only pack these idlis in lunch for kids but also these can be packed along if you are travelling long.
हिन्दी में पढिये : Stuffed Idli Recipe - Aloo Stuffed Idli - Potato Masala Stuffed Idli
Ingredients for Potato Masala Stuffed Idli
Idli batter - 1 bowl
Boiled potatoes - 2 (100 grams)
Green peas - 1/4 cup
Green coriander - 2 tbsp (finely chopped)
Oil - 2 tbsp
Green chilly - 1 (finely chopped)
Ginger - 1/2 inch piece (finely chopped)
Curry leaves - 8 to 10
Turmeric powdeer - less than 1/4 tsp
Coriander powder- 1 tsp
Salt - 1 tsp or to taste
Red mustard seeds - 1/2 tsp
Red chilly powder - 1/4 tsp
Garam masala - 1/4 tsp
Mango power - 1/3 tsp
How to make Aloo Stuffed malsala Idli
Prepare the stuffing:
Start with preparing the masala for making these stuffed idlis. Peel the boiled potatoes and crumble them.
Heat 2 tsp oil in a pan. When the oil is heated well, splutter red mustard seeds first. After this add curry leaves, finely chopped ginger, finely chopped green chilly and saute for a while.
Now to the roasted masala add coriander powder and turmeric powder. Saute the spices for a while and to it add green peas. Saute until green peas turn tender. When the peas get soft, add crumbled potatoes to the masala and mix nicely. Then add mango powder, garam masala, red chilly powder an 1/2 tsp salt and mix everything really well.
Stuffing is done and ready. Transfer it to a bowl and let it cool down. Mix some green coriander to the stuffing as well.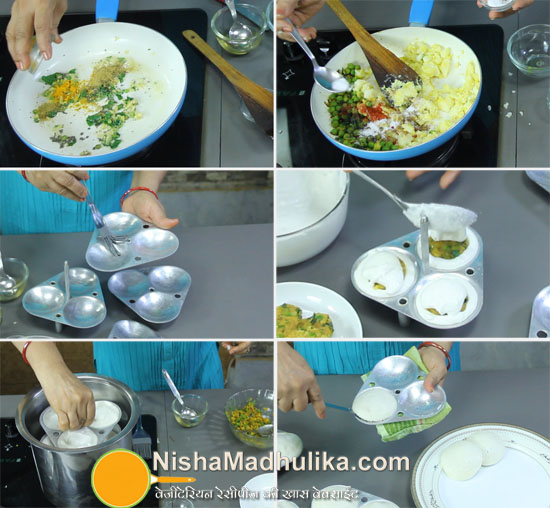 Prepare the Idlis
Take a pressure cooker or a vessel and heat 2 cups of water in it. Grease each mold on the idli stand.
Mix some salt to the idli batter and mix nicely (after adding salt to the batter make sure you don't whisk it too much as the air bubbles escape from the batter and idlis don't get spongy).
Pinch small lumps from the stuffing and make small balls for stuffing the idlis.
Now pour some idli batter on each mold and place a stuffing over it. Press it downwards very gently and cover up the stuffing with some more idli batter. Likewise, fill all the molds on the idli stand.
Arrange the molds on the idli stand. When the water starts simmering, place the idli stand inside the vessel. Cover the vessel well and now steam the idlis for 10 to 12 minutes on medium flame. After this, check the idlis.
After 12 minutes, check the idlis now. Idli is done and ready, turn off the flame. Take out the idli stand from the vessel and separate out the molds. Let them cool down a little.
When the idlis cool down a little, separate them out from the mold with running a knife around them and place the idlis on a plate.
Piping hot and mouth drooling potato stuffed masala idli is ready. Serve theses delectable stuffed idlis with green coriander chutney, coconut chutney, peanut chutney or any other chutney as per your taste and preference.
Aloo Stuffed Idli - Potato Masala Stuffed Idli

Tags
Categories
Stuffed Idli Recipe - Aloo Stuffed Idli - Potato Masala Stuffed Idli
Nisha Madhulika
Rating:

5.00

out of

5