Golgappa Puri Recipe / Pani Puri Recipe / Puchka gupchup Recipe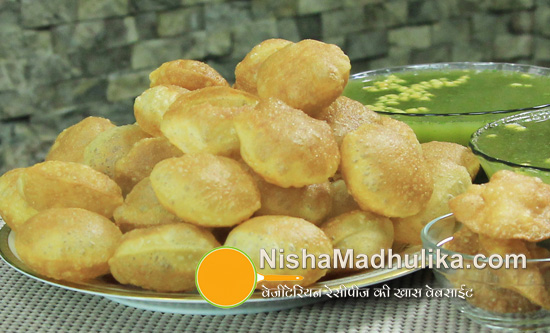 We all drool when see tangy-masala water and golgappas stuffed with boiled potatoes-peas. These tempting gol gappas are prepared with semolina and wheat flour as well. Gol gappas prepared with wheat flour are light in weight as compared to sooji gol gappas. It is not at all difficult to make these puffed and crispy gol gappas. Why don't you try it yourself?
हिन्दी में पढिये : Golgappa Puri Recipe / Pani Puri Recipe
Ingredients for Golgappa Puri Recipe
Wheat flour – 1 cup (150 grams)
Semolina – 3 tbsp (30 grams)
Oil – for frying
How to make how to make puri for golgappa or pani puri
 For making atta gol gappas, knead the dough first. For this take flour in a bowl and mix semolina into it. Now ad water in small parts and knead stiff and tight dough.
Cover the dough with a wet cloth and keep aside for 30 minutes. After 30 minutes, remove the cloth and grease your hands with some to knead the dough again until smooth. Keep kneading for up to 4 to 5 minutes to make it really smooth.
Now cover the dough with a wet cloth again and keep aside for 30 minutes. After half an hour, knead the dough again for 3 to 4 minutes until smooth. Wrap again and keep aside for half an hour. Knead the dough again for 4 to 5 minutes to make it smooth.
Dough for making gol gappas is now ready, divide it into small portions. Grease your hands with some oil and roll the lumps into flat dough balls. Cover these dough balls.
Take two muslin cloth and drench in water. Squeeze out the water nicely. Spread one cloth and place the rolled gol gappas over it. Take one dough ball at a time, place it on rolling place and roll out into 2 inch diameter round poori. Place this rolled gol gappa over the cloth and cover with the other wet cloth. Similarly roll out each dough ball, place them on cloth and cover with the other one.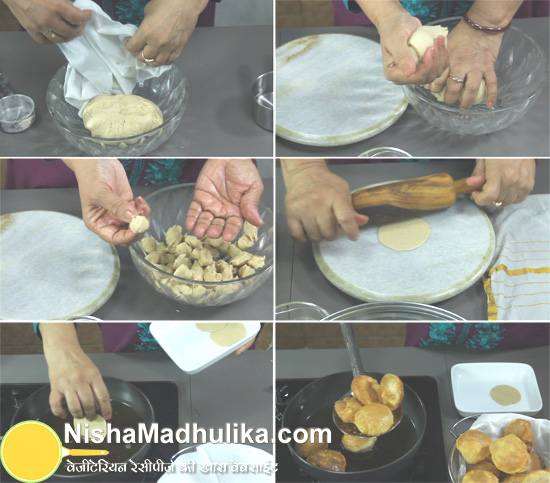 Keep the gol gappas covered for 15 to 20 minutes and then fry them.
Heat enough oil in a wok. When the oil is heated well, place as many pooris as possible and press them gently with ladle to puff them up. Fry until the gol gappas turn golden brown and crispy. Drain out the fried gol gappas in a sieve kept above the plate. Likewise prepare all the gol gappas. The excess oil drain out in the plate kept below the sieve.
When the gol gappas cool down, stuffed them with potato stuffing and serve them with tempting sweet-sour water.
Suggestions:
The dough for gol gappas should be really stiff and smooth.
Make sure you roll out the pooris evenly. They should not be thin at center and thick at the corners. If this is the case then the gol gappas will not puff up.
Press the gol gappas with ladle to puff them up.
For 60 to 70 gol gappas
Related Recipe:
Golgappa Puri Recipe / Pani Puri Recipe / Puchka gupchup Recipe


Tags
Categories
Golgappa Puri Recipe / Pani Puri Recipe / Puchka gupchup Recipe
Nisha Madhulika
Rating:

5.00

out of

5