Samo Rice Poori for Vrat - Sama ke chawal ki Poori recipe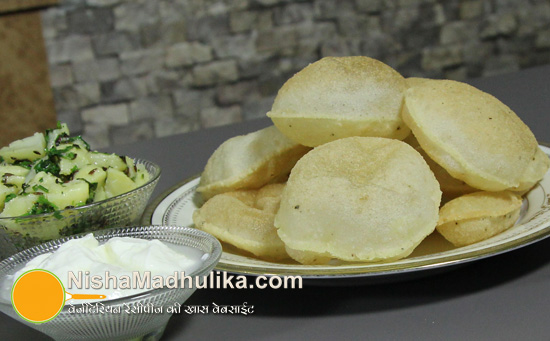 Samo rice kheer, pulao chakli or poori are some of the meals consumed during fasts (vrat). Today we are making samo rice poori for fast which has a scrumptious taste.
हिन्दी में पढिये : Samo Rice Poori for Vrat - Sama ke chawal ki Poori recipe
Ingredients for Sama ke chawal ki Poori
Samo rice - 3/4 cup (125 grams)
Sendha Salt - 1/3 tsp
Black pepper - 1/4 tsp (freshly grounded)
Oil - 1 tsp
Oil - for frying
Samo Rice Poori for Vrat
Wash the samo rice and soak them in water for 2 hours. Drain out the excess water and grind the rice finely, without adding water. If needed, add 1 to 2 tsp water to grind.
Place a pan over flame and add the rice paste into it. Stir constantly for 1 to 2 minutes on medium flame and roast well. Cook the dough until it gets thick in consistency.
Take out the flour in a bowl and allow it to cool down slightly. Now add 1 tsp oil, sendha salt, black pepper and knead the dough until smooth and soft. Dough for making pooris is now ready.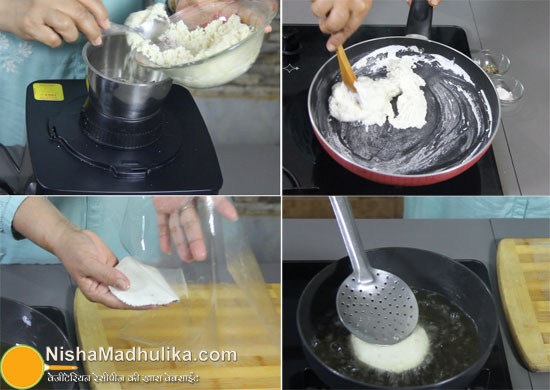 Make small lumps from the dough and cover them, so that they don't dry up. Heat enough oil in a wok for frying the pooris. Meanwhile, take one lumps, grease your hands with some oil and roll giving it a round shape. Place the dough ball over a polythene sheet and roll out very gently in round shape. Now lift this poori and place it in the oil for frying.
Fry the pooris on high flame. Press the poori with a ladle so that it puffs up. Fry until poori turns golden brown in color and take out the fried ones in a plate. Similarly, make pooris from rest of the lumps as well. Samo rice poori for fast is ready. Serve piping hot samo rice poori with aloo sabzi, coconut chutney prepared especially for fasts and raita or curd and relish eating.
Suggestion:
Finely ground the rice.
Use a non stick wok for sauteing the rice paste as it can be roasted very easily in it without sticking to the pan.
Make sure that while rolling out the poori, keep it slightly thick.
For 10 to 12 pooris
Time - 35 minutes
Samo Rice Poori for Vrat - Sama ke chawal ki Poori recipe

Tags
Categories
Samo Rice Poori for Vrat - Sama ke chawal ki Poori recipe
Nisha Madhulika
Rating:

5.00

out of

5