Sooji Golgappa - Rawa Panipuri Recipe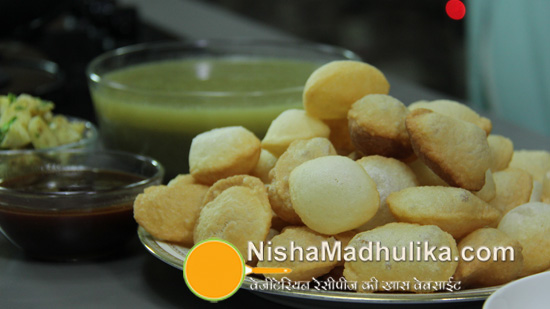 We all start drooling whenever we hear of Pani Puri. These are also known as gol gappas, puchkas or puchkis. Gol gappas are prepared with wheat flour and semolina. The taste of gol gappas prepared with semolina have a different taste then those made with wheat flour. 
हिन्दी में पढिये : Sooji Golgappa - Rawa Panipuri Recipe
Ingredients for Suji Golgappa
Semolina - 1.25 cups (200 grams)
Oil - 1/4 cup (70 grams)
Oil - for frying
How to make Suji Golgappa
For making pani puri from semolina. knead the dough from it. For this take semolina with fine granules. Take semolina in a big bowl and add oil into it. Mix really well. 
Add lukewarm water in the semolina little by little and knead a soft dough, even softer then dough required for making chapatti. Cover the dough and keep aside for 20 minutes to set. The dough puffs up. 
Dough is ready, take some oil in a wok and place it on flame for heating. Take half the amount of dough and place it on rolling plate. Knead it really well until it gets smooth and soft. Within 3 to 4 minutes, the dough gets smooth.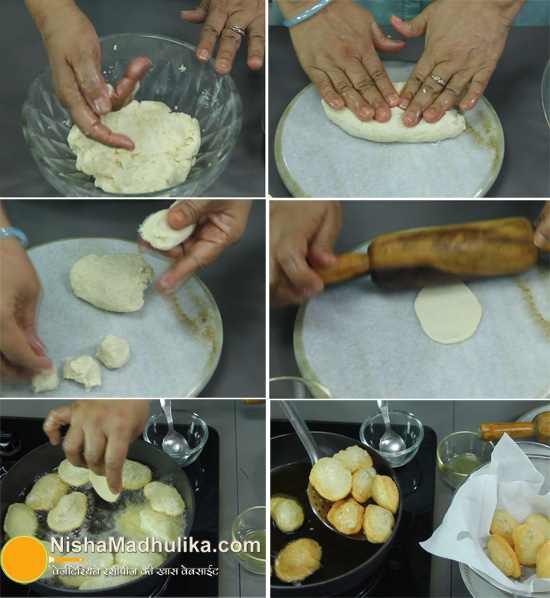 When the dough is smooth enough, grease your hands with some oil and make small lumps from it. Roll giving them a round shape. Place one dough ball on the rolling plate and press it gently. Roll out the dough ball thickly with help of a rolling pin. 
When the oil is hot, sufficiently, place the rolled poori into it and meanwhile make another one. The pooris start floating on the surface. Place as many pooris as possible in the wok. Now keep tossing and pouring oil over the pooris with help of a ladle and fry until they turn golden brown in color. Take out the fried pooris in a sieve, kept above the plate. Likewise fry all the pooris. The excess oil drips off in the plate kept below the sieve. Poori for pani poori is ready. 
Pani for Golgappa
आवश्यक सामग्री - Ingredients for Panipuri Pani
Dry mango chunks - 50 grams
Green coriander 50 grams or 1 cup
Green chilly - 6 to 7
Black pepper - 1/2 tsp
Black salt - 2 tsp
Salt - 1/2 tsp
Roasted cumin powder - 1 tsp
Dry mint - 1 tsp or fresh green coriander leaves - 2 tbsp
Ginger paste - 1 tsp or 1 inch piece
How to make golgappa Pani
Wash the mango chunks thoroughly and soak them in water for 3 to 4 hours so that they get soft. Place the chunks in mixture jar and grind to make paste. Strain the paste and place it in a bowl. Discard the leftover. 
Place mint leaves, green chilly, black pepper, ginger paste, black salt, mint powder, roasted cumin powder, salt and some water in a mixture jar and grind to make a paste. 

Add coriander-mint paste in mango pulp, followed by some water and mix well. Scrumptious water for gol gappas is ready. You can also add gram flour boondi into it. 
To serve gol gappas, peel the boiled potatoes and chop in small chunks. Add roasted cumin powder, salt and some green coriander into it. Also, prepare sweet chutney as well. 
Store the semolina pani puri in a air tight container and relish eating for up to 10 to 15 days. Whenever you want to eat gol gappas, just take them out from the container and serve. 
Suggestion:
Knead soft and smooth dough from the semolina . If you see cracks in the dough balls while rolling that means the dough is not smooth or the dough is too tight.
Rolling out the dough balls thickly, very gently by applying very little pressure. Pooris if kept thin will not puff up. 
The oil for frying the gol gappas should be heated sufficiently. 
For 40 to 45 gol gappas
Time - 50 minutes
Sooji Golgappa - Rava Panipuri Recipe Video in Hindi


Tags
Categories
Sooji Golgappa - Rawa Panipuri Recipe
Nisha Madhulika
Rating:

5.00

out of

5