Chena Kheer Recipe - Channar Payesh Recipe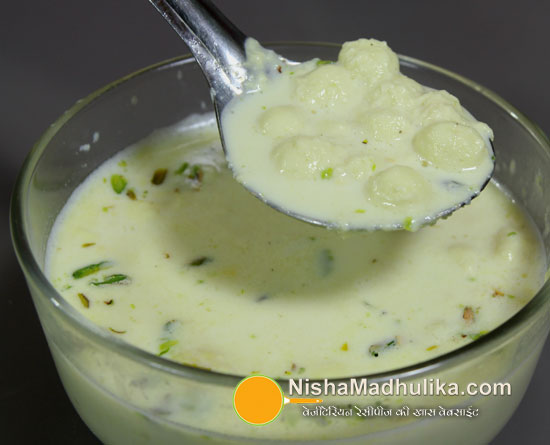 Chena kheer is a traditional recipe which is prepared by adding small Bengali rasgullas in thick saffron milk. You can prepare this mouth watering recipe for any special occasion.
हिन्दी में पढिये : Chena Kheer Recipe - Channar Payesh Recipe
Ingredients for Chhena Kheer Recipe
Full cream milk – ½ liter (for making chena)
Full cream milk – 1 liter (to thicken it up)
Sugar – 1 cup (225 grams)
Powdered sugar – ¼ cup (40 to 50 grams)
Lemon – 1 (big size)
Saffron – 15 to 20 threads
Green cardamom – 4 to 5
Pistachios – 7 to 8
How to make Channar Payesh Recipe
Take two vessels separately for making chena and thickening up the milk.
Prepare chena:
Take lemon juice and add water in same quantity.
When milk starts simmering, take it off flame and allow it cool. After 3 to 4 minutes, add lemon juice little by little and keep stirring constantly. When milk coagulates completely, chena and water appears separately then stop adding lemon juice into it. Strain the chena over a cloth and pour cold water over it to remove the sourness. Lift up the cloth from all sides and squeeze out the excess water. Chena for making rasgullas is ready.
Thicken up the milk:
For kheer, when milk starts simmering, reduce the flame and cook until it thickens. Keep stirring the milk at regular intervals so that it doesn't stick to the bottom of the pan. When milk thickens up, add cardamom powder, saffron threads and powdered sugar.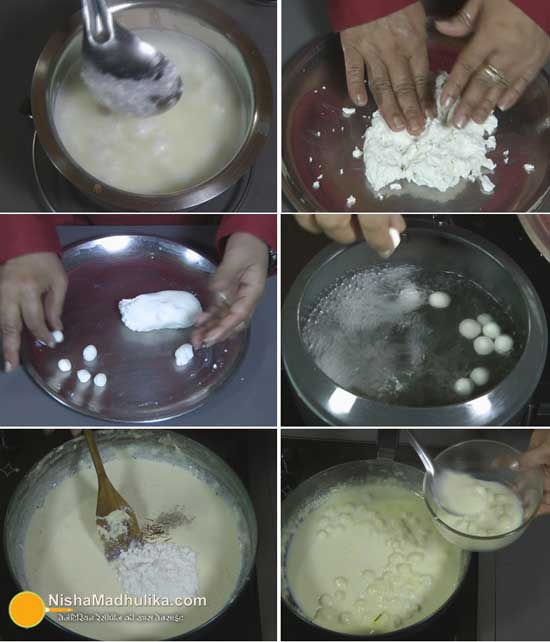 Make balls from chena:
Take chena in a plate and knead for up to 5 to 6 minutes until smooth. Make small lumps from the chena and roll giving them round shape. Place these chena balls on a plate. With this much quantity 60 to 65 chena balls can be prepared.
Take sugar in a pressure cooker, add 2.5 cups of water and cook on flame until sugar dissolves in water and it starts simmering.
When syrup starts simmering, place the chena balls into it, close the pressure cooker with lid. After one simmer, reduce the flame and cook for 10 to 12 more minutes on low flame. Turn off the flame now.
When all the steam escapes, take out the balls from pressure cooker and allow them to cool down. Now add these balls to milk and cook on low flame for 5 to 6 minutes.
Kheer is ready, take it out in a plate and garnish with some pistachios. Place this chena kheer in refrigerator for 1 to 2 hours and allow it to cool. Serve chilled and relish eating.
Suggestion:
Cow mil is best for making chena but you can even use fresh buffalo milk as well. In case you don't find fresh milk then amul full cream can also be used.
For 4 to 5 members
Time – 70 minutes
Chena Kheer Recipe - Channar Payesh Recipe

Tags
Categories
Chena Kheer Recipe - Channar Payesh Recipe
Nisha Madhulika
Rating:

5.00

out of

5