Instant Kalakand Sweets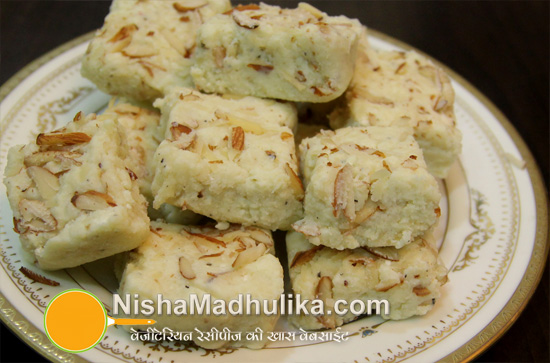 Making kalakand with traditional method is really time consuming. For this, we take milk in equal quantity in two separate vessels and place them to simmer on flame. One portion of milk is used to make khoya and the other one is used to make paneer. Both these ingredients are mixed together to make kalakhand. But for making kalakand instantly, get ready made khoya and paneer from dairy, roast them, add sugar and make kalakand instantly. 
हिन्दी में पढिये : Instant Kalakand Sweets
Ingredients for Instant Kalakand Sweets
Mawa (khoya) - 250 grams (approx 1 cup)
Paneer - 250 grams (approx 1 cup)
Ghee - 2 tsp
Powdered sugar - 200 grams (1 cup)
Green cardamom - 5 to 6 (peel to make powder)
Almonds - 10 to 12 (thinly sliced)
How to make Instant Kalakand Sweets
Take a wok with heavy bottom and 1 tsp ghee into it. When ghee melts, grease the wok with it nicely. With doing this, mawa doesn't stick to the wok while roasting. Crumble the mawa and place it in wok. Stir constantly and roast on low flame until mawa melts completely and releases good aroma. 
Now crumble paneer and add it to the mawa. Stir constantly until mawa and paneer blend into each other nicely. Roast until they get dry .i.e. roast them for 6 to 8 minutes. After roasting them, take off the wok from flame and allow the mixture to cool.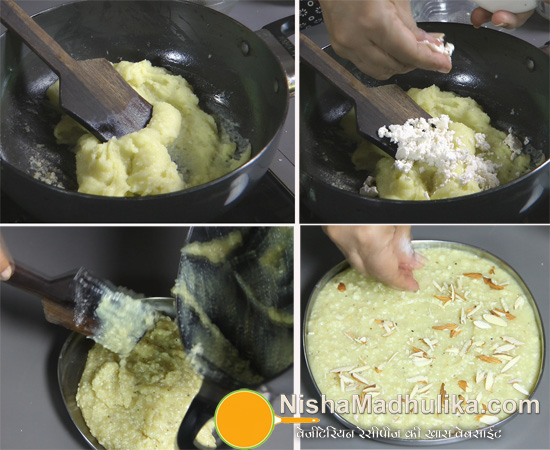 When mixture cools, make sure its this much warm that you can feel that the mixture is roasted. Now add powdered sugar and cardamom powder into it. Stir nicely and mix well. Grease any plate or tray with some ghee. Pour the mixture over greased plate and spread it evenly. Sprinkle some almonds and press them gently with a spoon. Place the kalakand in refrigerator to set, within 2 to 3 hours kalakand sets completely. 
Once set, cut the kalakand in any shape and size . Delicious kalakand is ready, serve and relish eating. Store rest of the kalakand in any airtight container and consume within 3 to 4 days. 
Suggestion:
Make note of few things while making kalakand. The mawa and paneer mixture, allow it to cool. If you'll add powdered sugar in piping hot mixture, then sugar melts and mixture gets thin in consistency. It gets difficult to set the kalakand. If mixture gets too thin in consistency, then add 1/2 cup milk powder into it and mix well. Set the kalakand in another plate. 
If the mixture gets too cool and then you add sugar to it then the mixture can dry up and it gets difficult to set the kalakand. If the mixture breaks or is too dry then place it in slightly warm wok and roast it again. Mixture should get slightly wet. Set it in a greased plate, kalakand will be set easily. 
Instant Kalakand Recipe video in Hindi

Tags
Categories
Instant Kalakand Sweets
Nisha Madhulika
Rating:

5.00

out of

5