Khatta Mitha Mix Chivda Recipe – Khatta Meetha Mixture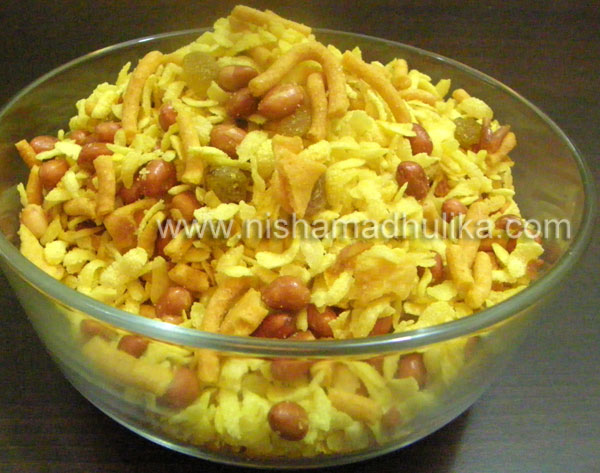 Poha mixture usually taste delicious but mix sweet-tarty poha namkeen taste more scrumptious. Those who don't like eating spicy, they love this mixture. Kids, love eating this tempting sweet-tarty mixture alot.
हिन्दी में पढिये : Khatta Mitha Mix Chivda Recipe – Khatta Meetha Mixture
Ingredients for Khatta Mitha Mix Chivda
Poha - 200 grams
Peanuts - 200 grams
Oil - for frying poha
Turmeric powder - 1/3 tsp
Sugar - 2 tbsp
Salt - 1/4 tsp
Tartaric powder - 1 small chunk (bigger than one chana)
Raisins - 20 to 25 (remove stalk)
Gram flour sev - 100 grams
How to make Khatta Mitha Mix Chivda
Heat some oil in the pan. When oil is hot sufficiently, add poha into it and fry on low flame. Stir constantly with help of a laddle. It puffs double in size but remains white in color. Place the fried poha over a sieve, so that excess oil drains out completely. Likewise fry all poha.
Place peanuts in left over oil and fry until they turn brown in color.
Mix sugar, salt and tartaric acid in a grinder and ground to make fine powder.
बचे तेल में मूंगफली के दाने डालिये, ब्राउन होने तक तल कर निकाल लीजिये.
Take 1 tbsp oil in a wok and heat sufficiently. When oil is hot add turmeric powder, reduce the flame to minimum and add poha into it. Keep stirring constantly until it gets yellow in color nicely. Poha appear astonishing when tun yellow in color. Take out the poha in a plate and let them cool.
When poha cools completely, add gram flour sev, peanuts and raisins. Now add powdered sugar masala and mix really well. Sweet-tarty mixture for kids is ready.
Store this tantalizing mixture in any air tight container once cool completely and relish eating for up to 2 months.
Khatta Mitha Mix Chivda Recipe Video in Hindi

Tags
Categories
Khatta Mitha Mix Chivda Recipe – Khatta Meetha Mixture
Nisha Madhulika
Rating:

5.00

out of

5