Lavang Latika recipe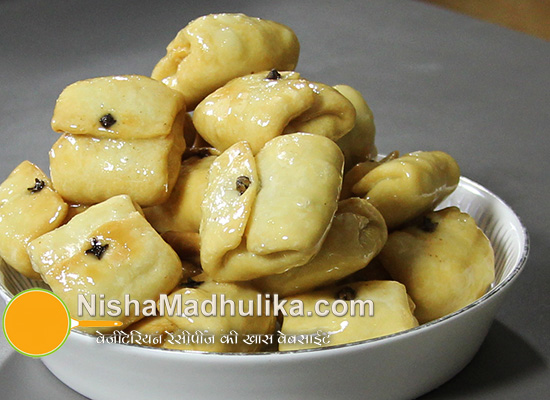 Lavang Latika is a traditional recipe of Bengal prepared especially on festivals. This tantalizing dish coated with sugar syrup and crusty from outside but stuffed with mawa and dry fruits and with a clove on top is loved by all. 
हिन्दी में पढिये : Lavang Latika recipe
Ingredients for Lavang Latika
For Kneading Dough
Refined flour - 2 cup (250 grams)
Ghee - 1/4 cup (60 to 65 grams)
For Stuffing 
Mawa - 3/4 cup (150 grams)
Powdered Sugar - 2 tbsp (30 grams)
Cashews - 10
Almonds - 10
Green cardamom - 4
Clove - 20 
For Sugar Syrup
Sugar - 1 cup (250 grams)
Green cardamom - 4
Ghee - for frying
How to make Lavang Latika recipe
For making lavan latika, take flour in a bowl and add ghee into it. Add little water at a time and knead stiff dough same as required for making pooris. For kneading this much quantity of dough, more than 1/4 cup of water is required. Cover the dough and keep it aside for 20 minutes to set. 
Prepare the stuffing
Take mawa in wok and roast on medium flame until gets slightly brown in color. Keep stirring constantly. Take out the roasted mawa in a plate.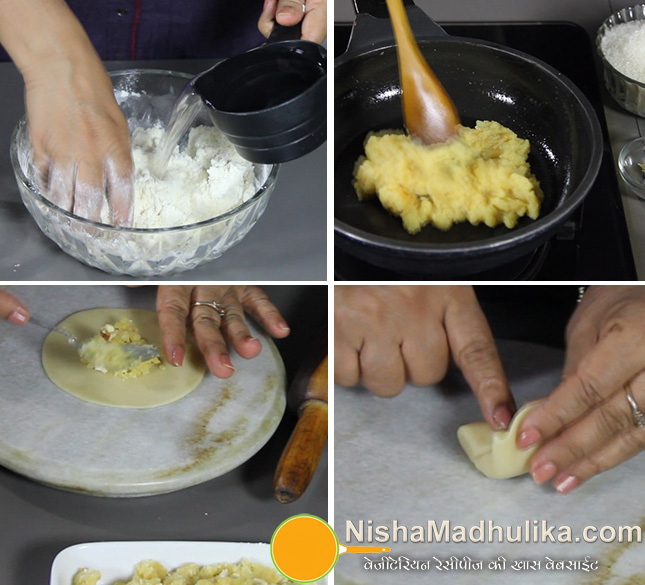 Prepare the Lavang Latika
Chop cashews and almonds in small pieces and make powder of green cardamom. 
Add powdered sugar, finely chopped cashews, almonds and mix everything really well. After the dough is set, knead the dough again and make small lumps from it. Take one dough ball and flatten it with your palm and then roll out in to a poori with 2.5 to 3 inch diameter. Now place 1 tsp stuffing over the poori and lift it from all sides. Now place one clove over the top to seal it and place it in a plate. Like wise prepare all lavang latika. With this dough approx, 20 to 21 lavang latika can be prepared.
Take ghee in a wok and place it over flame for heating. When ghee is medium hot, place 4 to 4 lavang latika in to it and fry them on low flame until they get golden brown in color from all sides. Take out the fried lavang latika in a plate. Likewise prepare all lavang latika.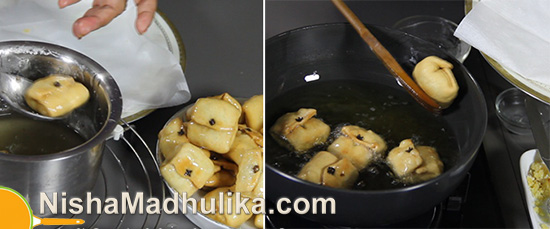 Prepare the Sugar Syrup
Take 1 cup sugar in any vessel and add 1/2 cup water into it. Place it over flame for making the sugar syrup. 
When sugar dissolves in water, cook for 2 more minutes. Take 1 to 2 drops of sugar syrup in a plate and with help of thumb and index finger. It should be sticky and gooey in consistency. Turn off the flame and allow the sugar syrup to cool. Place all the fried lavang latika in to it and soak them for 1 minute so that they soak the syrup and taste better. Take them out in a plate. 
Lavang latika is now ready. These can be consumed for up to 1 week and for 15 days if kept in frigid. 
Suggestion:
Dough should not be too soft or too stiff. 
Don't over stuff the lavang latika and make sure you stick them properly. They should not splatter.
Fry lavang latika over low flame. 
You can prepare stuffing for lavang latika with dry fruits, pistachios, walnuts, coconut or any other ingredient, as per your taste.
For 20 to 21 lavang latika
Time - 70 minutes
Lavang Latika recipe Video in Hindi

Tags
Categories
Lavang Latika recipe
Nisha Madhulika
Rating:

5.00

out of

5