Surti Locho Recipe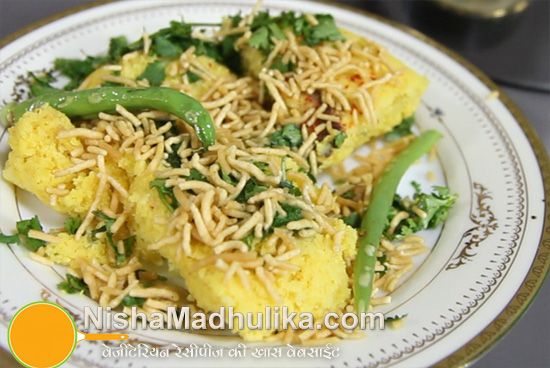 Cook with less oil, steam baked, served with spicy desi chutney, chilly and sev famous and special Gujarati traditional street food surti locho is out of the world. Prepare it for breakfast or supper or whenever you like eating.
हिन्दी में पढिये - Surti Locho Recipe
Ingredients for Surti Locho
For surti locho batter:
Chana dal – 1 cup
Urad dal- 1/3 cup
Poha – 1/3 cup
Oil – 2-3 tbsp
Green chilly – 1-2
Ginger paste – 1 tsp or 1 inch baton (grated)
Asafoetida – 1-2 pinch
Turmeric powder – less then ¼ tsp
Black pepper – ¼ tsp
Red chilly powder – ½ tsp
Eno fruit salt – 1 tsp
Salt – 1 tsp (as per taste)
For serving surti locho:
Green coriander chutney – ½ bowl
Green coriander – ½ bowl
Green chilly – 4-5
Lemon - 1 (juice)
Fine sev – 1 bowl
How to make Surti Locho
Clean the chana dal and urad dal. Wash thoroughly and soak in water separately for 5-6 hours. Take out rest of the water from soaked lentils. Wash poha in water 10 minutes before bringing it in use. Firstly coarsely grind the chana dal. Take water as per requirement. Take out grind lentil in a big bowl.
Finely grind the urad dal. Add the soaked poha into it as well and grind finely. Take out the urad dal and poha mixture in same bowl and mix all ingredients really well. Add ginger, asafoetida, turmeric powder, green chilly, salt and half the amount of red chilly powder. Mix all ingredients nicely. Also add 2 tsp oil in the batter (the consistency of batter should be similar with dhokala batter). If batter appears to be thick add 2-3 tbsp water into it.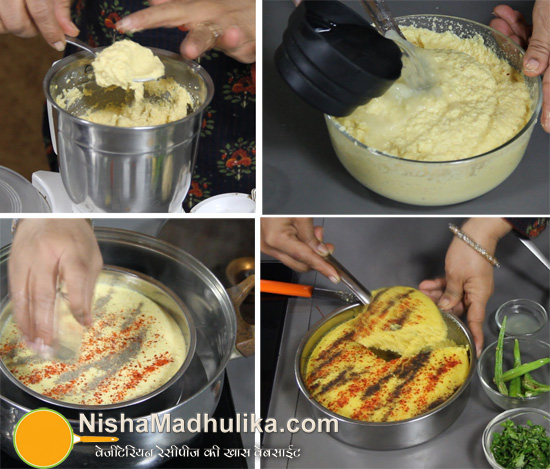 For making surti locho in steam take any steamer or any utensil in which other utensil can be placed. Take 2 cup water in big utensil and place it on flame for heating. Place a wire stand in it for keeping other utensil on it.
Grease the container with oil to be used for making surti locho. After doing all preparations add eno fruit in the batter and mix. Pour the mixture in container. Pat the container on the surface so that mixture gets even. Sprinkle red chilly and black pepper on the top of mixture.
When water and steam starts forming, place the batter filled utensil on the wire stand. Cover the big utensil and cook surti locho for 20 minutes in steam. Surti locho appears to be puffy and cooked. Insert a knife, if batter doesn't stick to knife then surti locho is ready.
How to serve Surti Locho
Take out piping hot surti locho in a plate with help if a spoon. Splatter the surti locho from center and spread ii thinly. Place 1 tsp oil all around, 1 tsp lemon juice, 1-2 tsp chutney, green coriander and 2-3 tbsp sev. Serve green chilly too. Surti locho plate for serving is ready.

Tags
Categories
Surti Locho Recipe
Nisha Madhulika
Rating:

5.00

out of

5