Chinese Dosa Recipe - Noodle Stuffed Dosa Recipe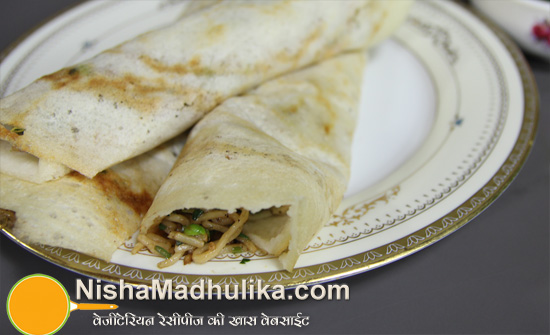 South Indian dosa and veg noodles stuffing - these days fusion street food is attaining loads of attention. Kids and young generation love it. Try making it yourself and you will surely like it.
हिन्दी में पढिये - Chinese Dosa Recipe - Noodle Stuffed Dosa Recipe 
Ingredients for Noodles Stuffed Chinese Dosa
Dosa batter - 2-3 cup
Noodles - 1 cup (boiled)
Cabbage - 1 cup (finely chopped)
Green coriander - 2-3 tbsp (finely chopped)
Oil - 2-3 tbsp
Paneer - ½ cup (cut into small chunks)
Capsicum - ¼ cup (finely chopped)
Green peas - ¼ cup
Green chilly - 1-2 (finely chopped)
Ginger - ½ inch baton (grated)
Lemon juice - 1 tsp
Black pepper powder - ¼ tsp
Salt - ¾ tsp (as per taste)
How to make Noodle Stuffed Dosa
Stuffing for Chinese Springs Dosa
Take 1 tbsp oil in pan and place it on flame for heating. When oil gets heated add ginger, green chilly and sauté for while. Also add green peas and sauté for 1 minute. Add capsicum and cabbage as well and sauté for 1-2 minutes. Cook until vegetables get tender but remain bit crunchy. Now add paneer, noodles, black pepper, soya sauce, lemon juice and green coriander. Mix all ingredients nicely. Stuffing is now ready.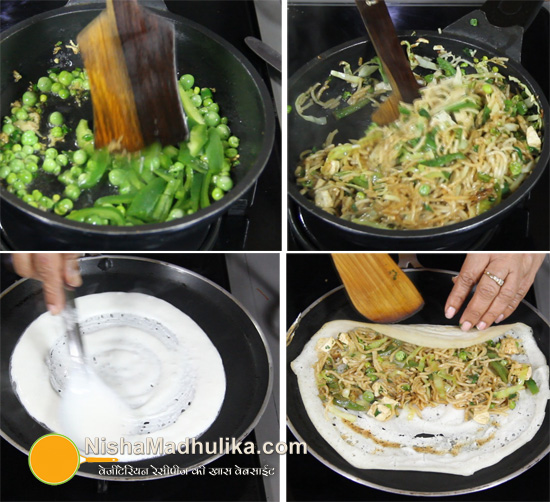 How to make dosa:
If dosa batter is thick add little amount of water. The batter should have pouring consistency. Place a non stick tawa on flame and preheat it. Spread some oil on the tawa and clean it with help of a napkin paper. There should be less amount of oil on the tawa. Pour 1-2 tsp batter on the tawa and spread thinly in round shape.
Spread oil all around the dosa, roast until it gets golden brown from beneath. Layer 1-2 tsp of stuffing on the dosa. When dosa gets brown from beneath roll it and place it on plate or serve directly.
Before making other dosa, clean the tawa with wet muslin cloth. This will also make tawa bit frigid. Similarly spread dosa on the tawa. Like wise prepare all dosa.
Serve piping hot dosa with peanut chutney, coconut chutney or green coriander chutney and sambar.
Suggestion:
You can use any vegetable for making stuffing like French beans or cabbage.
While spreading dosa keep the tawa frigid as it helps in making dosa easily. 
Chinese Dosa Recipe video - Noodles Stuffed Dosa Recipe video

Tags
Categories
Chinese Dosa Recipe - Noodle Stuffed Dosa Recipe
Nisha Madhulika
Rating:

5.00

out of

5