Apple Eggless Cake in Microwave Recipe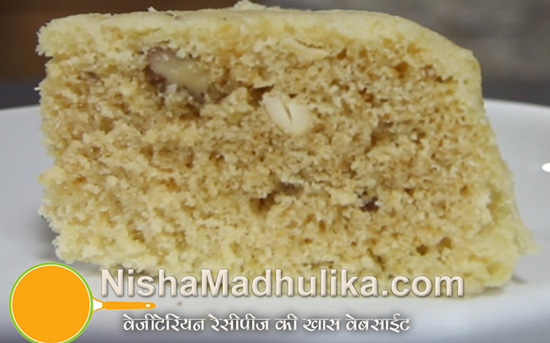 Cakes are often made in oven with nice brown crust. It takes 40-60 minutes for baking cake in oven. But cake in microwave can be prepared in 5-7 minutes. The only point to take in note is cake baked in microwave doesn't get brown crust and remains bit juicy. It is very much pleasing in taste. Today we will make eggless apple cake in microwave.
हिन्दी में पढिये - Apple Eggless Cake in Microwave Recipe
Ingredients for Eggless Apple Cake in Microwave
Maida - 1 cup
Apple - 1
Butter - ½ cup
Sugar - ½ cup
Cashew nut - 2 tbsp
Walnuts - 2 tbsp
Baking powder - 1 tsp
Baking soda - ¼ tsp
How to make Eggless Apple Cake in Microwave
Firstly prepare apple sauce. Peel apple and grate them finely. Place the grated apple in pan and add sugar into it. Stir after every 1-2 minutes and cook on medium flame until sugar dissolves completely and gets thick consistency. Apple sauce is now ready; let it get frigid at normal temperature.
Prepare batter for cake: add baking powder and baking soda in maida and mix all ingredients nicely. For this strain the mixture twice with help of a sieve.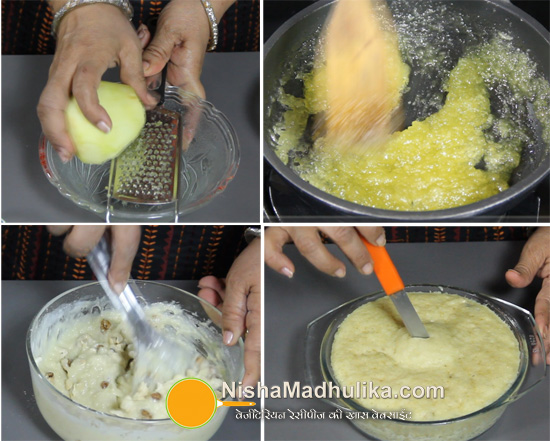 Take melted butter in any utensil. Add apple sauce in butter and whisk until it becomes fluffy. Add half the amount of milk and mix well. Also add maida mixture into it. Add some more milk and whisk the batter really well. Batter for making apple sponge cake is ready.
Take a microwave safe bowl. Grease the bowl from all corners. Place a batter paper in the bottom of bowl and grease it as well. Pour the cake batter in container. Pat the container on surface so that batter gets even.
Place the container in microwave and bake for 4-5 minutes. Take out the cake and check after two minutes. For this insert a knife in cake, if the batter doesn't sticks to knife that means cake is ready. But if the batter sticks to knife, then bake the cake for 1-2 more minutes and check. Cake is ready now.
After cake gets frigid, separate it from bowl after running knife all around the corners. Place a plate on top of the container and flip it. Cut into pieces and serve. Store it in an air tight container and enjoy eating for up to 10-12 days.
Suggestion:
While making cake batter, make sure the batter is not too thick or too thin in consistency.
There should not be any lumps in the batter.
While baking cake in microwave, bake it for few minutes first and then check. Repeat the process until cake is baked.
If you want, garnish the cake with thinly sliced apple pieces.
Apple Eggless Cake in Microwave Recipe Video

Tags
Categories
Apple Eggless Cake in Microwave Recipe
Nisha Madhulika
Rating:

5.00

out of

5