Kothimbir Vadi Recipe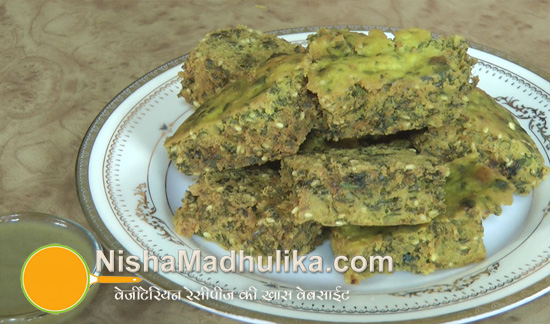 Kothambir vadi is prepared in various ways but people prefer eating kothambir vadi cooked in steam. Gram flour, coriander leaves and sesame seeds mixture is cooked in steam like that of dhokala and then sliced and fried. This ways kothambir vadi turns out to be more delicious.
हिन्दी में पढिये - Kothimbir Vadi Recipe
Kothimbir Vadi Ingredients
Gram flour - ½ cup
Rice flour - 2 tbsp
Green coriander leaves - ½ cup (finely chopped)
Sesame seeds - 1 tbsp
Lemon juice - 1 tbsp
Oil - 1 tbsp
Ginger - 1 inch piece (grated) (1 tsp ginger paste)
Green chilly - 1 (finely chopped)
Red chilly - less then ¼ tsp
Turmeric powder - less then ¼ tsp
Salt - 1/3 tsp (as per taste)
Garam masala - less then ¼ tsp
Baking soda - ¼ tsp
Kothimbir Vadi Preparation
Firstly add gram flour in any utensil, also add rice flour. Add little water at a time and stir until all lumps get dissolved. Add some more water and make a thick batter.
Add green coriander, ginger paste, green chilly, red chilly, turmeric powder, salt, garam masala, lemon juice and 1 tbsp oil in the batter and mix. Roast sesame seeds and add in the mixture and mix all ingredients nicely. Mixture is now ready.

For steaming: cook the mixture in pressure cooker. Add 2 cup water in cooker and place any net or utensil so that mixture filled utensil can be placed easily on top of it. Take any flat utensil with a diameter of 6-7 inch which can be placed in pressure cooker easily. Grease cooker with oil.
Add baking soda in prepared mixture; don't stir constantly just mix the baking soda. The moment mixture becomes puffy stop stirring. Even the mixture by banging it on the surface.

Place the utensil filled with mixture in the pressure cooker and cover it with help of lid. Remove the whistle. Keep the flame to a point that water constantly keeps boiling and steam is generated. Cook mixture in steam for 15 minutes. Mixture is ready; for checking insert a knife in mixture it comes out clean. Steamed mixture for kothambir vadi is now ready.
When mixture cools down completely; take out the mixture and cut into any size or shape as per your preference. Take oil in a pan and place it on flame for heating. Gently place the pieces in heated oil and fry until they turn golden brown in color. like wise fry all pieces.
Piping hot and crispy kothambir vadi is ready. Serve with green coriander chutney or tomato sauce and enjoy eating.
Kothimbir Vadi Recipe video in Hindi

Tags
Categories
Kothimbir Vadi Recipe
Nisha Madhulika
Rating:

5.00

out of

5