Poha Cutlet Recipe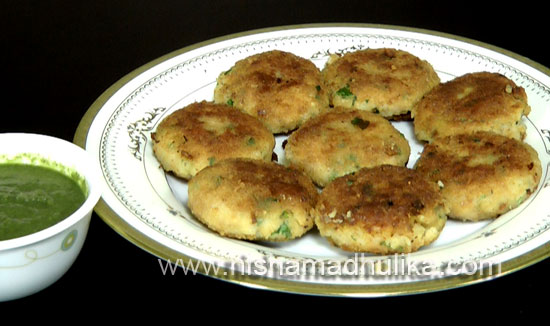 We often make salty or sweet sour poha (rice flake), cutlets made out of poha also turn out to be very tasty. They can be consumed in morning or evening or can also be served in any party.
Ingredients for Poha Cutlet
Poha (Beaten Rice or Rice Flacks) - 1 cup
Boiled potato - 2
Salt - 3/4 tsp (to taste)
Red pepper - 1/4 tsp
Ginger - 1 inch piece (grated)
Green chilies - 2 (finely chopped)
Green coriander - 2-3 tbsp, finely chopped
Bread- 3
Corn flour - 2 tbsp
Black pepper - less then 1/4 tsp
हिन्दी में पढिये - Poha Cutlets Recipe in Hindi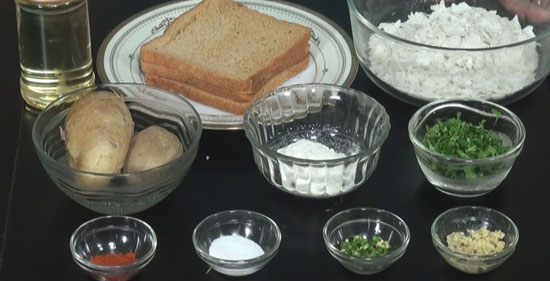 How to make Poha Cutlet
Firstly soak poha (beaten rice) in a sieve for 5 minutes. Peel the potatoes and grate or mesh them with a spoon finely.
Mix meshed potato with soaked poha. Add ginger, salt, red pepper, 1/2 tsp salt and green coriander and mix them thoroughly . Knead the mixture with hands and prepare it like dough. Batter is ready for making cutlets.
Add 1/4 cup water into the corn flour and prepare a thin mixture. Add the rest of salt and black pepper and stir well .
Break the bread and put it in grinder. Bread crumbs are ready.
Take out little mixture in a small quantity as that of a lemon and give it a shape of ball. Press it to give a shape of cutlet. Dip the prepared cutlet in the mixture of corn flour. After dipping it into the mixture place them in bread crumbs. Press the cutlet from all the sides (so that the crumbs stick to the cutlet nicely) place them on the plate.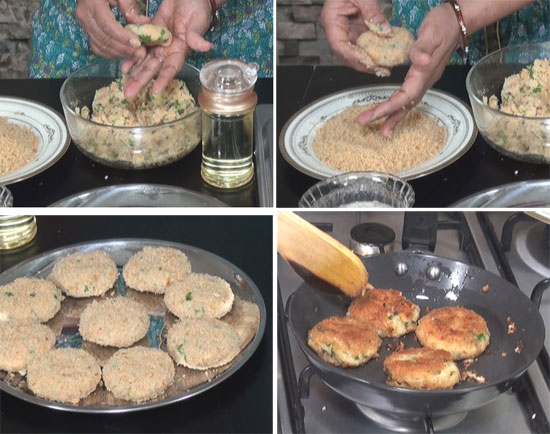 Prepare cutlets from the entire mixture. Leave the cutlets as it is for 15 minutes so that they get fermented.
Deep fry or shallow fry the cutlets.
To shallow fry pour 2-3 tbsp oil in a frying pan or tawa to heat it up(use of non stick pan and tawa is preferable). After the oil is heated, put as many cutlets as possible in the pan. Keep them so that they get roasted well. If you feel the oil is less,pour more oil on the cutlets.
Cook cutlets on medium flame and turn them over and over again until they become brown. Cook all the cutlets in the same way.
Crispy and tasty poha cutlets are ready. Serve with green coriander chutney (sauce) or sweet chutney (sauce).
Poha Cutlet Recipe video in Hindi

Tags
Categories
Poha Cutlet Recipe
Nisha Madhulika
Rating:

5.00

out of

5