Pav Bread Recipe - Pav Bhaji Bread recipe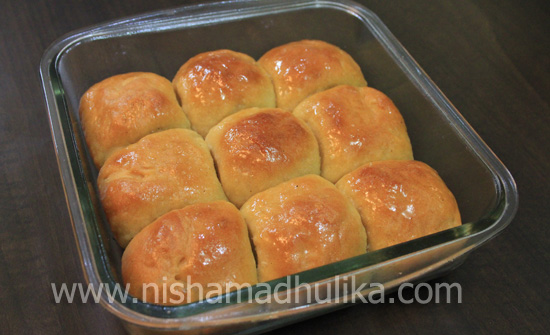 Pav Bread can be used in Bada Pav Recipe(Pav Bada Recipe) and Pav Bhaji Recipe (Pav Bhaji Recipe). You can also eat it in the breakfast with Jam (Jam), Chutney or Butter. If you do not find Pav Bread in the market, then you can even bake it at home and eat whenever you like. Home made Pav Bread is more fresh, soft and tasty.
इस पोस्ट को हिन्दी में पढिये.
How to make Pav Bread -  Pav Bread Recipe in Hindi
Ingredients for Pav Bhaji Bread
Maida (all purpose flour) - 250 gms. (2.5 cup)
Ghee or Oil - 2 table spoon.
Salt - 1/2 tea spoon.
Sugar - 2 tea spoon.
Milk - 1/2 cup.
Dry Yeast - 2 tea spoon.
Method - How to make Pav Bhaji Bread
Boil the milk and put dry yeast, sugar into it and let it cook for 10 minutes in a covered pan. Also take 1/2 cup luke warm water in a separate pan.
Seive the maida and salt in a separate bowl. Add ghee or oil into it, mix it well and knead it with yeast - milk solution. You can use luke warm water for kneading the dough incase the milk solution is not enough. Knead the dough for 5-6 minutes, flip it, turn it and knead it into a smooth elastic dough and stops to stick in hands. 



Take a deep tray and grease it with little Oil. Put the dough into it, cover the bowl with a clean towel and  let it sit for 2-3  hours in a warm place until the dough gets rise up and double in size. Punch the dough with hands and press it to set down.
Divide the dough into 9 equal portions and make 9 balls from it. Grease a square baking dish and each ball with hands. Place these balls into the dish at a distance. Cover the dish and leave it for 1 hour.
Its time to bake the Pav now.  Preheat the oven at 210 Centigrade. Place the baking dish in the oven at 200 centigrade for 20 minutes.  Now check the Pav after baking it for 20 minutes. If you see a light brown crust on the Pav. then bake it for another 5 minutes at 180 centigrade.
You can apply some butter on the Pav to make the crust smooth and fresh.
Pav Bhaji Bread is ready. You can serve it fresh with butter or Jam or use it with  Pav Bada or Pav Bhaji.

Tags
Categories
Pav Bread Recipe - Pav Bhaji Bread recipe
Nisha Madhulika
Rating:

5.00

out of

5