Fried Poha Namkeen/Poha Chivda Namkeen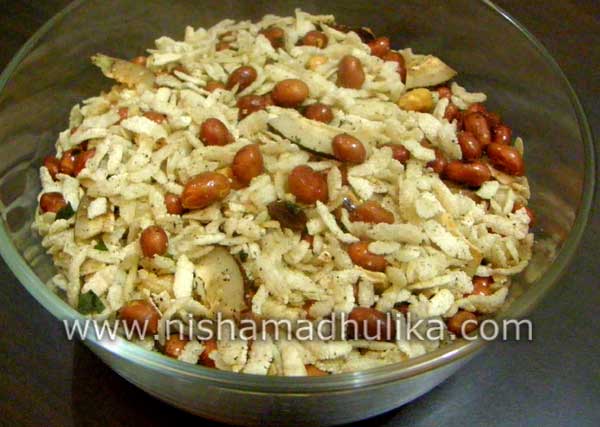 Poha Namkeen is tasty for sure and can also be easily prepared at home. Make Poha Chivda Namkeen and store, you can eat it anytime with tea or give it to your kids if they are a  little hungry, they will surely love it.
Fried Poha Namkeen is made in two ways:
1. You can deep fry the Namkeen: if you want to make Namkeen by frying Poha then it is better touse fat grains of Poha.
2. You can also shallow fry Poha and prepare the Namkeen, you should use thin grains of Poha for this.
- Ingredients for Poha Chivda Namkeen
Poha/Chivda (beaten rice) - 200 grams ( 2 cup)
Groundnuts(peeled) - 200 grams  (1 cup)
Ripe Coconut - 2 inch long piece (cut into thin strips)
Salt - add to taste(1/2 tsp)
Black Pepper - 1/2 tsp
Chat masala - 1/2 tsp
Oil - 100 grams (1/2 cup)
- How to make Chivda Poha Namkeen
Get fat grained Poha from the market, clean it properly.
Pour oil in a frying pan(kadhai) and heat, put almost half of the Poha in hot oil, lower the flame. Stir fry Poha till they double in size but their color remains the same. Take out fried Poha and keep them in a strainer to remove excess oil. Similarly fry the remaining Poha.



Now put the coconut pieces in the same oil and fry till they turn light brown then take them out. Fry groundnuts in remaining oil till they turn brown.
Heat 1 tbsp oil in the pan, roast curry leaves, then turn off the gas. Add black pepper, salt and Chat masala. Put fried Poha, coconut, ground nuts together in a bowl and mix all these ingredients well. Poha Namkeen is ready.
After Poha Chivda Namkeen cools off completely fill it in an air-tight container and eat for 2 months whenever you feel like..!!
Fried Poha Namkeen video in Hindi

Tags
Categories
Fried Poha Namkeen/Poha Chivda Namkeen
Nisha Madhulika
Rating:

5.00

out of

5