Kalakand Recipe – Kalaland Burfee. Milk Cake Recipe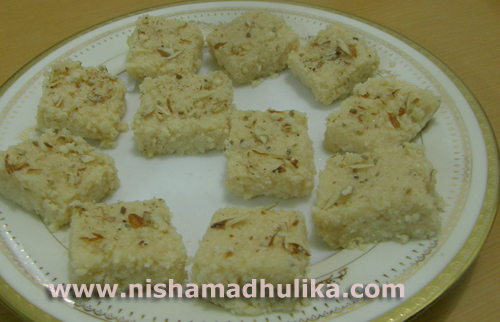 Kalakand can be made either with condensed milk or by using milk powder. But to get the traditional taste of the recipe you can prepare it by using full cream milk. Kalakand Burfee is very tasty and infact easy to prepare. So let's make Kalakand Burfee today.
इस रेसीपी को हिन्दी में पढिये - Kalakand Recipe in Hindi (Milk Cake Recipe)
Ingredients for Kalakand Burfee
Milk - 2 ltrs.
Vinegar or lemon juice  - 1 table spoon.
Sugar - 100 gms. (1/2 cup)
Pistachios - 10-12 (beat it into fine powder)
Almonds - 5-6 (beat it into small pieces)
Method - How to make kalakand burfee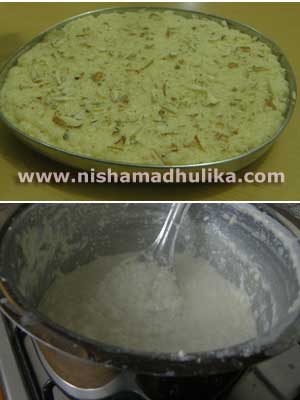 Take 2 deep heavy  vessel and pour 1 ltr. milk in both the vessels. Put the vessels on the stove and let the milk in both the vessels boil. Put lemon juice in one vessel. Once the chenna separates from the milk sieve the mixture with a clean cloth and strain the excess water.
The milk being boiled in the other vessel should be boiled till it reduces to half. Keep on stirring the milk with a spoon at short intervals so it doesn't stick at the bottom of the pan. The consistency of the milk will become extremely thick once it is reduced to half.
Now add chenna to the milk and stir it continuously. Cook the mixture till it gets thick and looks like mawa. Add sugar to it and stir the mixture. Cook it till the mixture reaches the consistency of making a burfee.
Take a tray and grease it with little oil. Pour the mixture into the tray and let it set. Garnish the mixture with beaten pistachios and almonds.
Do not use Vark (silver lining) to decorate your sweets ever. It is not considered good for health.
Your Kalakand Burfee is ready. Cut it into desired shape and size and serve to your family members and guests. You can also store it in a air-tight container and consume it within 6-7 days of preparation.
Sweets made with mawa have short shelf life and incase of Kalakand Burfee it is shorter. But the taste of the sweets is so delicious that you and your family members will hardly leave any piece to be stored.
Kalakand Recipe – Kalakand Burfee Video in Hindi

Tags
Categories
Kalakand Recipe – Kalaland Burfee. Milk Cake Recipe
Nisha Madhulika
Rating:

5.00

out of

5