Raw Mango Panna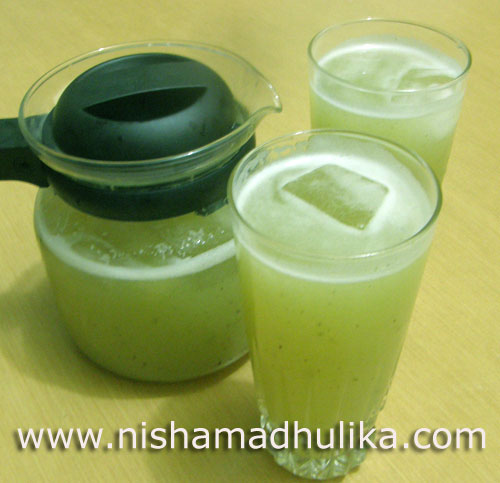 When summers are too hot and you're are really fed up with it, then what you usually do?
Few of the most favorite traditional Indian mocktails for summers are Mango panna (Aam ka panna), Bel squash (Bel ka Sharbat), Falsa squash (False ka Sharabat), Lemon juice  (Lemon Shikanjavi), water melon juice  (Water Melon Sharbat) and Thandai (Thandai Drink). These are easily available in market but with fake colors and taste, which stand no where against the traditional Indian homemade mocktails. To save yourself from scorching heat and to maintain the temperature of your body, Mango panna is really effective. Making mango panna is really easy. So, come let's make Mango panna today. 
Read this Recipe in Hindi - Raw Mango Panna Recipe in Hindi
Ingredients for Raw Mango Panna
Raw mangoes - 2-3 (medium sized)
Cumin powder (bhuna jeera powder)
Black salt - 1 table spoon (as per your taste)
Black pepper - 1/4 small table spoon
sugar - 100 gm (1/2 cup)
Mint leaves - 10 leaves
How to make Raw Mango Panna
There was a time when people cooked their food on the stove. At that time, they put raw mangoes in the ash of stove to grill them for its panna. Today, they boil them and grind them. You should peel them before to boil instead to put out its pulp after boiling.
Wash raw mangoes and peel them. Cut them and throw their kernels away. Put this mango pieces in a cup of water and boil it. Then, put this boiled pulp in the mixer and add sugar and black salt in it.
Mix one litre water in it and sieve it. Mix black pepper and jeera powder in it. Your raw mango Panna is ready. Decorate it with mint leaves and put ice cubes at the time of serving.
For 8 to 10 glasses
Time - 25 minutes
Mango Panna Recipe video in Hindi


Tags
Categories
Raw Mango Panna
Nisha Madhulika
Rating:

5.00

out of

5