Quick Recipe of Aloo Vada Chaat using little oil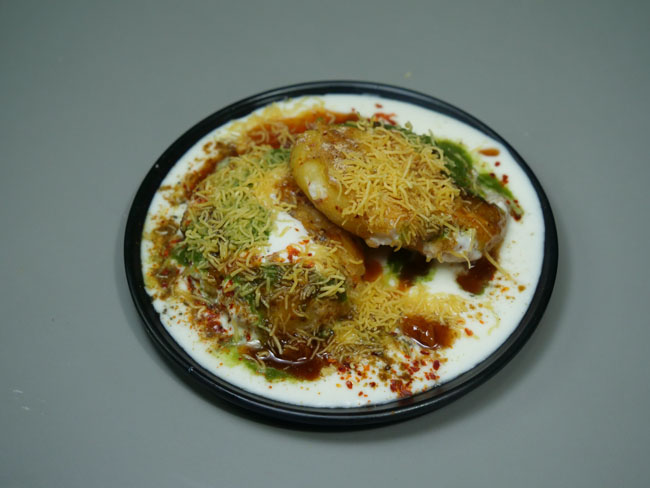 Today we are going to make Aloo Vada Chaat special for snacks or for a kitty party at home. We will prepare it very quickly by making it in very little ghee or oil. Its taste is very wonderful and it can be prepared with very few ingredients. So you too make Aloo Vada Chaat with this easy recipe and enjoy its taste with your family.
Ingredients for Dahi Vada Chaat
Boiled Potato - 6
Cornflour - 4 tbsp
Salt - 1/2 tsp
Red Chilli - 1/2 tsp
Chaat Masala - 1/2 tsp
Ghee - 2 tsp
Curd - 2 cups
Black Salt - 1/3 tsp
Powdered Sugar - 2 tsp
Red Chilli
Chaat Masala
Black Salt
Cumin Powder
Sev
Sweet Chutney
Green Chutney
Process of frying the Potatoes
Peel 6 boiled potatoes and keep them on a plate. Then in a bowl add 4 tbsp of corn flour and 2 tbsp of water and mix it well. When it dissolves, add ½ tsp of salt, ½ tsp of red chilli and ½ tsp of chaat masala and mix it well.
Now put 2 tsp of ghee in the pan and heat it on the flame. Take a boiled potato and press it on the palm and give it the shape of a vada. Then after stirring the cornflour mixture thoroughly, dip the potato in the batter and coat it.
Put the dipped potatoes in hot ghee and press the rest in the same way, coat them in the batter and keep them in a pan. Turn the flame to low-medium and fry them from both the sides till they turn golden brown. Fry the rest in the same way and prepare it.
Process of making Aloo chaat
Put 2 cups of curd in a bowl and churn it well. Then add ⅓ tsp of black salt and 2 tsp of powdered sugar and mix it well. Now put two fried potatoes on a plate and pour curd on it. Then put some roasted cumin powder, black salt, chaat masala and red chilli on them.
Then put some green chutney, sweet chutney and some sev on it. In this way, potato chaat will be ready. Similarly prepare the rest of the plates. Serve these and enjoy the taste with your family and guests.
Suggestions
Fry the potatoes on low-medium flame till crispy from both the sides.
Quick Recipe of Aloo Vada Chaat using little oil

Tags
Categories
Quick Recipe of Aloo Vada Chaat using little oil
Nisha Madhulika
Rating:

5.00

out of

5