Rava Dhokla Recipe – Instant Rava (Semolina) Dhokla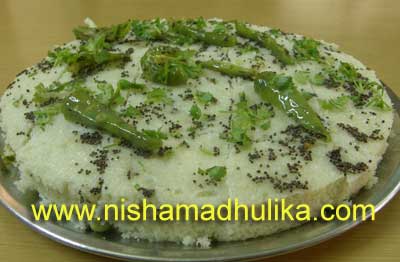 If you're tired with oily breakfasts, then try rawa dhokla (Semolina Dhokla). It's cooked in steam and almost negligible oil is used. It also takes very less time to prepare. Let's make Rawa Dhokla today.
इस पोस्ट को हिन्दी में पढ़ें
रवा ढोकला
Ingredients for Rava Dhokla Recipe
Semolina (Sooji) – 200 gm (2 small bowls)
Curd – 200 gm (2 small bowls)
Water – 100 gm (1 small bowl)
Salt – one small spoon (as per taste)
Green Pea – half small bowl (peeled)
Cauliflower – half small bowl (cut finely)
Ginger – 1 inch long piece (cut finely)
Edible soda – ¾ small spoon
For Tadka
Oil – 1 tablespoon
Black mustard seed – 1 small spoon
Green chili – 2 to 3 (halved length wise)
Water – Half small bowl
Salt – 2 pinch (as per taste)
Sugar – 1 small spoon (if you want)
Lemon – 1 small size (take out the juice)
Coriander – 1 tablespoon
How to make Instant Rava (Semolina) Dhokla
Stir the curd in a grinder. Mix the semolina in the curd. There should not be any lumps. Mix the vegetables and salt in the curd, properly with a stirring spoon. Leave the mixture covered for half an hour.
Let's make the Dhokla in a big plate, the mixture is ready.
Keep the utensil on a burner and fill it with 2 small glasses of water. Keep a net stand in this water. We will place the big plate on this stand.
Make the big plate greasy with oil. Stir the edible soda in the mixture of dhokla. Spread the mixture on the plate. Keep the plate on the stand and cover the utensil. Cook dhokla on high flame for 20 minutes. (To test weather dhokla is cooked, insert a knife into the dhokla, if the mixture doesn't stick to the knife, then dhokla is cooked). Turn off the burner.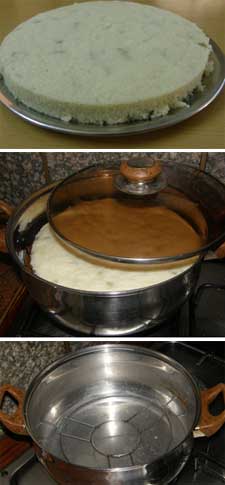 Take the plate out of the utensil. After cooling, take out the dhokla, with the help of a knife, in a plate. Cut it into pieces of any size that you prefer.
Put one tablespoon oil in a small frying pan and heat it. Put the black mustard seed in the frying pan. After they stop making the cracking sounds, fry the cut green chili in it, till the green chili turns light brown. Now mix water, salt and sugar in the frying pan and when they boil, then turn off the burner. Mix lemon water in this mixture. Now put this tarka with a spoon on each piece of the dhokla. Garnish with coriander.
The all time favorite rava dhokla is now ready to serve and eat along with coriander chutney or peanuts chutney.
Note: Normally vegetables aren't used in making dhoklas, but because they make the dhokla tastier and healthier we have added vegetables. If you want you can make the dhokla without vegetables also.
Other Dhokla Recipes:
Rava Dhokla Recipe Video in Hindi

Tags
Categories
Rava Dhokla Recipe – Instant Rava (Semolina) Dhokla
Nisha Madhulika
Rating:

5.00

out of

5