Special Steamed Aloo Muthia Recipe with less oil and amazing taste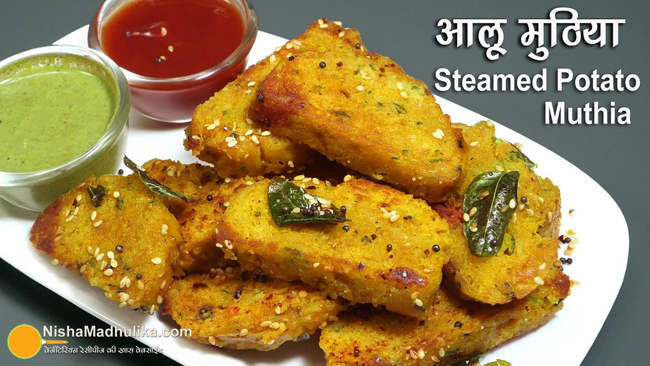 Having a light, tasty and healthy breakfast is very beneficial for health. But it takes a lot of time to make something like this in the morning. Also, there are some healthy dishes which people do not like to eat because they lack taste. That's why today we are going to make Aloo Muthia, it is also gluten free and you can make it once and eat it for 3 days. So make more than one and keep it in the fridge, when the food is to be eaten, after heating or putting tadka on it, eat it.
Ingredients for Aloo Muthia
Potato - 2 (175 g)
Rice Flour - ½ cup (75 grams)
Gram Flour -½ cup (65 grams)
Curd - ½ cup
Ginger - 1 inch, grated
Green Chilli - 2, finely chopped
Cumin Seeds - ½ tsp
Turmeric Powder -½ tsp
Salt - ¾ tsp
Coriander Leaves - 2-3 tbsp
Baking Soda - ¼ tsp
Oil - 1.5 tbsp
Black Mustard - ½ tsp
Sesame Seeds - 1 tsp
Curry leaves - 10-12
Salt - ¼ tsp
Red Chilli - ¼ tsp
Process of making batter for Muthia
Peel and grate 2 medium potatoes. Put water in a bowl and add grated potatoes to it. Now wash them thoroughly with water and squeeze them and keep them in a bowl. In grated potatoes add ½ cup (75 g) of rice flour, ½ cup (75 g) of gram flour, ½ cup of curd, 1 inch of grated ginger, 2 finely chopped green chillies, ½ tsp of cumin, ½ tsp of turmeric, ¾ tsp of salt or as per taste and 2 tbsp of green coriander. Mix them well and make a soft dough and keep it covered for 10 minutes.
After the time is up, add ¼ tsp of baking soda and mix it well. If the dough seems too thin, then you can add some rice flour to it and if it is too thick then you can add some curd. In this way the batter for Muthia will be ready.
Process of Steaming Muthia
Put water in a pot and heat it. Meanwhile, grease a coarse sieve (which should come on the pan and cover completely) with some oil. Take some oil in hand, take the batter and give it the shape of a big thick roll and keep it on a sieve. Keep the rest in this way, remember to keep them at a light distance because they will cook and swell.
Now when the water comes to a good boil, keep the sieve on the pan, cover and cook them for 15 minutes on medium-high flame. When the time is up, the muthias will be cooked well, take them out and cool them down. When cooled well, cut them into small, thin pieces of about ½ cm. In this way, muthia will be ready, you can eat them by keeping them in the fridge for 3 days. Serve hot when the food is ready.
Process of making tadka for Muthia
Put 1.5 tbsp of oil in a pan and heat it. Put ½ tsp of black mustard seeds in hot oil and let it crackle. When it crackles, add 1 tsp of white sesame seeds and 10-12 curry leaves and stir it a little and spread the tadka all around in the pan. Now put as many muthias in it as needed to be served and take them out after roasting them from both the sides for 1-1 minutes. Tadka muthias are ready, serve them with green and red chutney and enjoy their taste.
Suggestions
You can also add cumin seeds instead of white sesame seeds.
Muthias can be served with green and red chutney without adding any tadka.
Special Steamed Aloo Muthia Recipe with less oil and amazing taste

Tags
Categories
Special Steamed Aloo Muthia Recipe with less oil and amazing taste
Nisha Madhulika
Rating:

5.00

out of

5