How to make Sabudana Barfi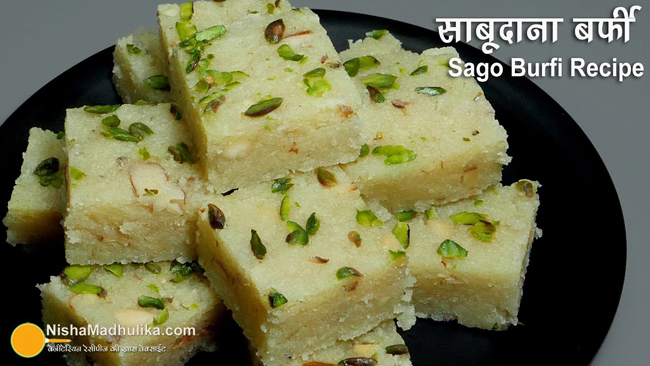 If something like barfi is made sweet for fasting, then the taste of the mouth becomes good. We often get to eat a few sweet dishes in the fast, but today we are adding one more dish to these dishes, sabudana barfi, it is very tasty and full of dry fruits. Very few ingredients will be required in this and very soft barfi will be ready.
Ingredients for Sabudana Barfi
Sabudana - 1 cup (185 grams)
Milk - 3 cups (750 ml)
Sugar - ¾ cup (150 grams)
Ghee - ¼ cup (50 grams)
Almond Flakes - 1 tbsp
Cashew - 1 tbsp chopped
Process of frying Sabudana
Put 1 cup (185 grams) of medium sago on a damp cloth and wipe it well. Now put the cleaned sabudana in the pan and fry it on low-medium flame for 10 minutes while stirring continuously. If the color of the sago changes slightly, take out two or three sago, if they are crispy enough, take them out and cool them. After cooling, grind the roasted sago in a mixer, then filter them and take them out in a bowl.
Process of making milk and sugar mix for Barfi
Cook 3 cups of full cream milk in a pan till it boils on a very high flame. Boil while stirring till it becomes slightly thick. The milk has to be cooked for about 20 minutes and keep stirring continuously so that the milk does not stick to the bottom.
When the milk is cooked well, add ¾ cup of sugar and keep stirring till it dissolves. After the sugar dissolves completely in the milk, turn off the flame and keep the pan on the side.
Process of making batter for Barfi
Put ¼ cup of ghee in a pan and heat it. When it becomes hot, add sago powder to it and fry it on low flame while mixing it well in ghee. After a slight aroma comes from the sago, add 1 tbsp of almond flakes and 1 tbsp chopped cashew nuts and fry it. As soon as its color starts changing slightly, reduce the flame to low and add boiled milk to it. Now keep stirring the mixture till it leaves the ghee, then add 5-6 ground cardamom to it and mix it well. Batter for making barfi will be ready.
Process of making Barfi
Grease the plate with ghee and take out this mixture to set on that plate. With the help of a spoon, make the mixture even and put chopped pistachios on top and keep it in the fridge for two hours. After the time is up, the mixture will solidify well. Then with the help of a knife cut it into the shape of your choice, in this way sweet and delicious sago barfi will be ready. Enjoy its taste.
Suggestions
If you have plain cream, then instead of milk, take a cup of cream and add half a cup of milk and let it come to a boil.
You can take any dry fruits of your choice or you can leave them as well.

Tags
Categories
How to make Sabudana Barfi
Nisha Madhulika
Rating:

5.00

out of

5