Dodha Barfi Recipe | How To Prepare Dodha Barfi From Sprouted Wheat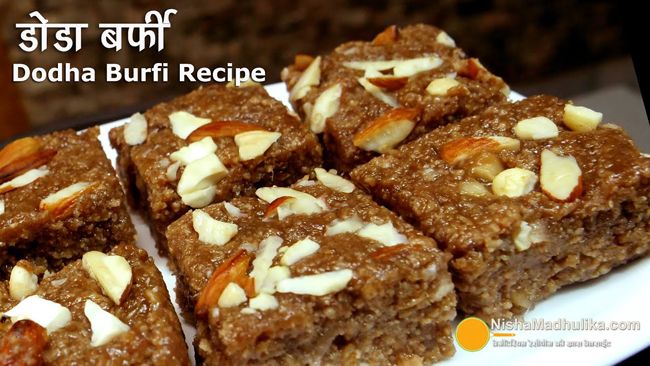 Dodha Barfi is a traditional Indian sweet, which has a grainy and chewy texture, loved by kids and adults alike. It is mainly popular in Delhi and Gurgaon. You easily prepare it at home with sprouted wheat.
Ingredients for Doda Barfi
Sprouted Wheat - 1 Cup
Curd - 1/4 Cup
Full Cream Milk - 1 Litre
Sugar - 1/4 Cup (55 grams) (for glucose syrup)
Lemon Juice - 3 - 4 tsp (for glucose syrup)
Salt - 1/2 pinch (for glucose syrup)
Brown Sugar - 1/2 Cup (90 grams)
Coconut - 1/2 Cup, grated
Cashews - 1/4 Cup
Cardamom - 1/2 tsp
Nutmeg Powder - 1/4 tsp
Milk - 1 tbsp
Cocoa Powder - 1 tsp
Desi Ghee - 1/4 Cup (60 grams)
Dodha Barfi Recipe
For Dodha Barfi, the main ingredient is sprouted wheat. So, how do we sprout wheat?
Wash and soak the wheat grains overnight. Lay a cotton cloth over a strainer, wrap the soaked wheat in the cloth and wet the cloth with water. Keep a bowl over a plate and place the strainer over the bowl. Leave the wheat for 2 days and sprinkle water over the cloth after a day.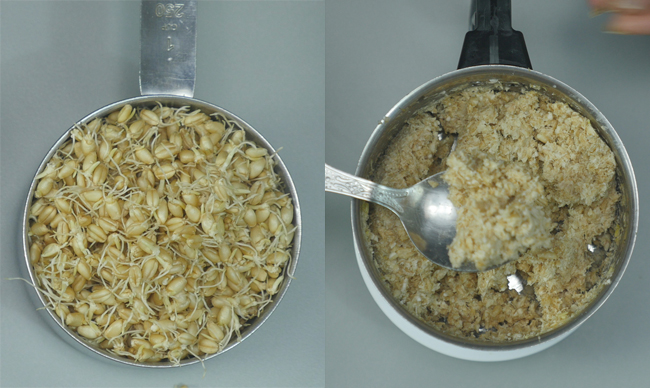 [After 2 days]
Add 1/2 cup of sprouted wheat to the food processor and grind coarsely without adding water or milk. Pulse, check, stir, and pulse again to get coarsely ground wheat.
Transfer the ground wheat to the Kadai, add 1/4 cup of fresh curd, and mix well. Add 1-liter full cream milk to the Kadai and cook it over low-medium heat. Ensure to stir the mixture every so often.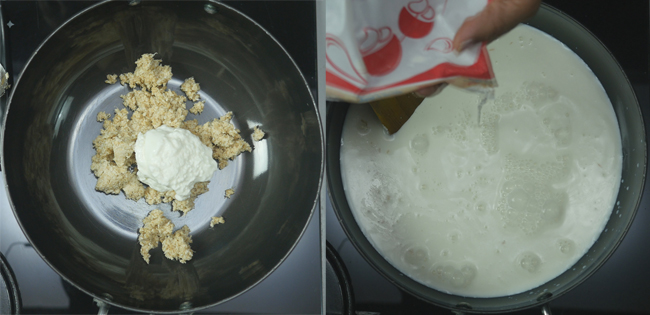 The milk has turned sour, now cook it till becomes dense. Stir the mixture every so often and keep the flame low-medium. Meanwhile, prepare glucose syrup.
Suggestion: If the milk does not turn sour, then add 2-4 drops of lemon juice.
Add 1/4 cup of sugar, 1/2 cup of water to a vessel, and cook over the low-medium flame till the sugar dissolves. Once the sugar dissolves, add 1/2 pinch salt and 2-3 drops of lemon juice. Check the syrup.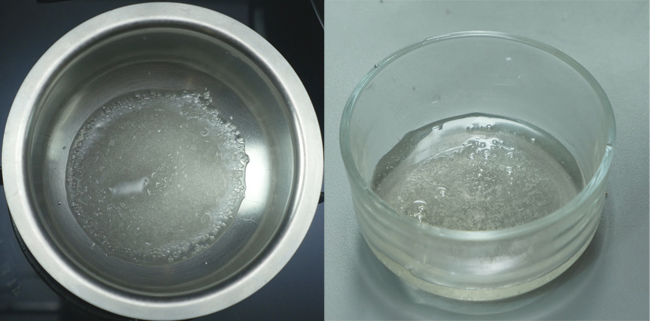 Pour the syrup back into the vessel and the last drop will fall as a wire or thread. Another way to check, pour a little syrup into cold water, collect the syrup and try making a ball. If you can easily make a ball, then the Glucose syrup is ready.
Add 1/2 cup of brown sugar after the wheat mixture gets dense. Mix 1/2 cup of grated coconut, 1/4 cup of chopped cashews, 1/2 tsp of coarsely ground cardamom, and 1/4 tsp of nutmeg powder in the mixture.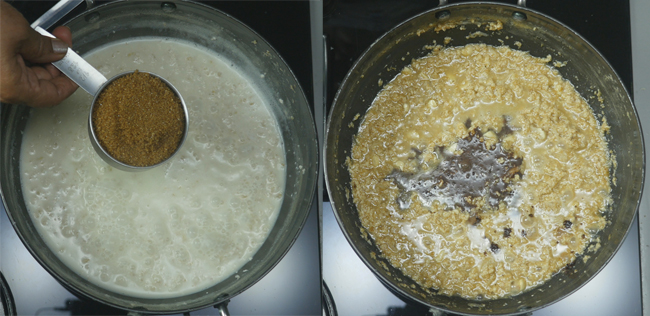 Alternative: You can add white sugar, jaggery sugar, or jaggery itself.
Suggestion: Add brown sugar for color. If in case, you are adding white sugar, then you have to add food color to the dodha mixture.
Take 1 tbsp of milk and mix 1 tsp of cocoa powder in it. Add cocoa mixture to the Kadai to make the Doda mixture darker. Mix prepared glucose syrup and desi ghee in the mixture and cook the mixture till it attains consistency to get set.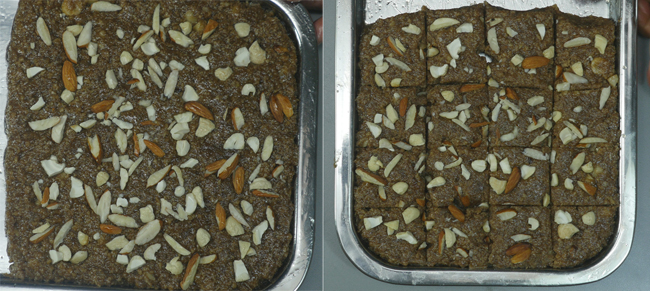 When the mixture starts getting darker and dense, make sure to stir it constantly to avoid it from getting burnt. Grease a barfi with ghee to set the mixture and transfer the mixture to the tray. With the help of a greased spatula, spread the mixture evenly.
Add chopped cashews and almonds to garnish the mixture. Leave the mixture for 2 hours to set. Cut the mixture into pieces as you please. Heat the tray just for 10-15 seconds to take the pieces out.
Dhoda Burfi is ready to be served. So, prepare and enjoy it for a month without refrigerating.
डोडा बर्फी, हरियाणे की खास मिठाई । Dodha Barfi Recipe | How to make Doda Barfi from wheat sprouts

Tags
Categories
Dodha Barfi Recipe | How To Prepare Dodha Barfi From Sprouted Wheat
Nisha Madhulika
Rating:

5.00

out of

5