Peanut & Besan Cheela Recipe | Moongfali Cheela Breakfast Recipe
Cheelas are considered healthy breakfast options. Among variants of cheelas, we have brought you a combination of health and deliciousness, you can call it besan & peanut cheela. Let's get straight to the preparations.
Ingredients required for Peanut & Besan Cheela
Ingredients for Batter:
Peanut - 1/2 Cup
Chickpea Flour - 1 Cup
Carrot - 1/4 Cup
Capsicum - 1/4 Cup
Green Chilli - 2, finely chopped
Ginger - 1 tsp, grated
Black Pepper - 1/4 tsp, coarsely ground
Salt - 1/2 tsp
Green Coriander - 2-3 tbsp
Coriander - 1 cup, chopped
Ginger - 1/2 inch baton
Green Chilli - 4
Cumin Seeds - 1/2 tsp
Salt - 1/2 tsp
Lemon - 1/2 big size
Ingredients for Coriander Chutney:
Coriander - 1 cup, chopped
Ginger - 1/2 inch baton
Green Chill - 4
Cumin Seeds - 1/2 tsp
Salt - 1/2 tsp
Peanut & Besan Cheela Recipe
Take 1/2 cup of raw peanuts, wash thoroughly, and soak for 3-4 hours in water. Add peanuts and enough water for blending to the mixer blender.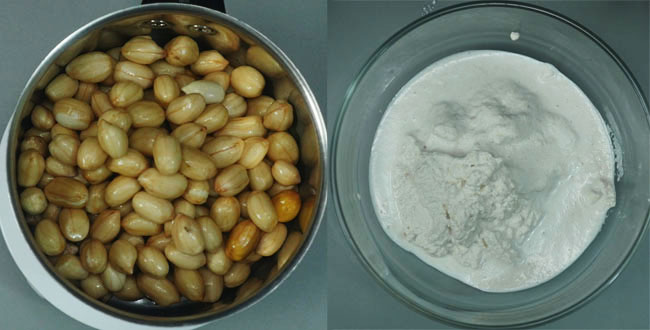 Blend the peanuts into a fine mixture and transfer to a bowl. Add water to the mixer jar, shake, and pour into the bowl.
Mix 1 cup of besan in the prepared peanut mixture. Add water gradually and prepare the batter. We need a batter of runny consistency.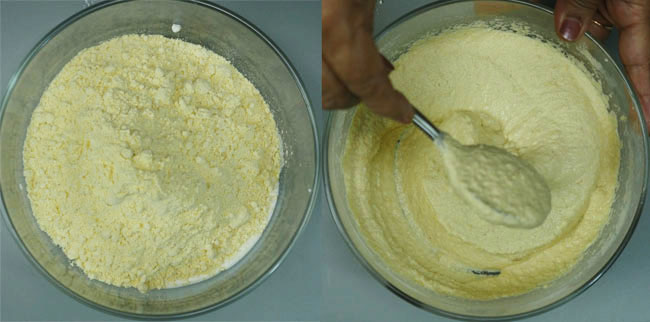 Add 1/4 cup of carrots, 1/4 cup of chopped capsicum, 1 tsp of grated ginger, 2 chopped green chilis, 1/4 tsp of crushed black pepper, a little more than 1/2 tsp of salt, 2-3 tbsp of green coriander to the batter and mix well.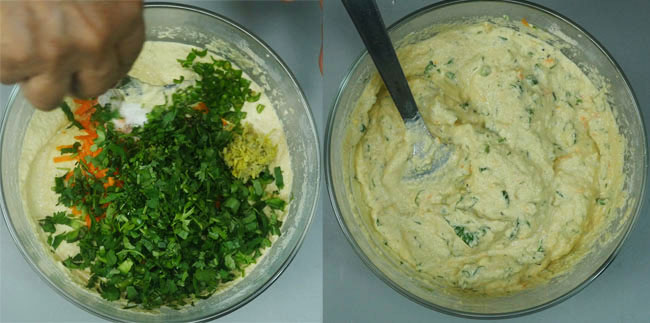 Add water if the batter appears thick. Heat a non-stick pan, add a little oil, and spread it evenly. Turn the flame low and pour a ladleful of batter into the pan.
Spread the batter in a circular motion using a spatula and keep the cheela a little thick. Cook covered over low-medium heat for 3 minutes.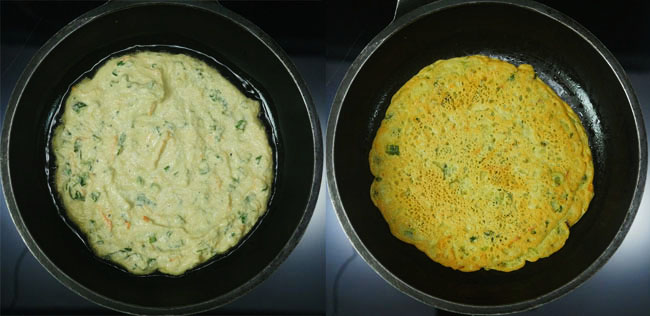 After 3 minutes, drizzle oil over the cheela and flip it. Cook without covering and fry till brown from both sides. Similarly, prepare all the cheela and take them out on a pate. Each cheela will take 6-7 minutes to fry up.
Prepare green coriander leaves chutney
Add 1 cup chopped green coriander leaves, 1/2 lemon juice, 1/2 inch chopped ginger baton, 4 green chilis (cut into halves), 1/2 tsp of cumin seeds, 1/2 tsp of salt, and 2-3 tbsp of water to a mixer jar.
Blend the content and the green coriander spicy chutney is ready. Take the chutney out in a bowl.
Serve peanut & besan cheela with green coriander leaves chutney and tomato sauce. Do prepare it for kids, they will love it with tomato sauce.
हाई प्रोटीन मूंगफली का चीला, सिर्फ बेसन चीला काफी नहीं । High Protein Peanut Cheela Breakfast Recipe

Tags
Categories
Peanut & Besan Cheela Recipe | Moongfali Cheela Breakfast Recipe
Nisha Madhulika
Rating:

5.00

out of

5