Instant Masala Chakli Recipe | Crispy Maida Chakli Recipe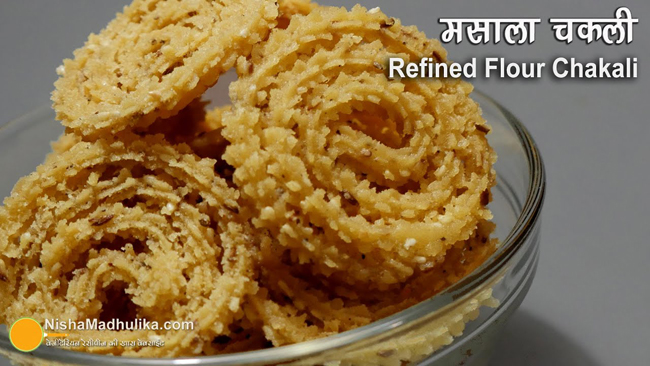 Chakli is originally a perfect blend of lentils and spice often prepared during Diwali. Today, we are going to prepare crunchy spiral-shaped chaklis with Maida. Let's get started.
Ingredients for Refined Flour Chakli:
Refined Flour - 1 cup (130 grams)
Sesame seeds - 1 tsp
Cumin seeds - 1/2 tsp
Carom seeds - 1/2 tsp
Black pepper - 1/2 tsp, crushed
Salt - 1/2 tsp
and
Oil for frying
Crispy Maida Chakli Recipe:
Fold 2 cups of maida in a cotton cloth and put it in a steel bowl. Pour 1 cup water into the cooker and keep a bowl as a stand inside the pressure cooker.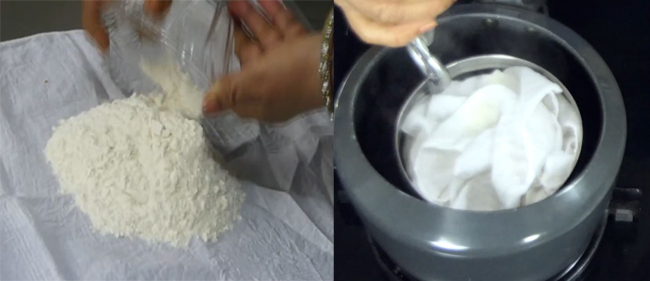 Place the maida bowl in the cooker and wait for a whistle. After a whistle, pressure cook the maida for 15 minutes over low-medium flame.
Turn off the flame after 15 minutes. Once the cooker's pressure clears, take the maida bowl out and pound it with a pestle and untie it.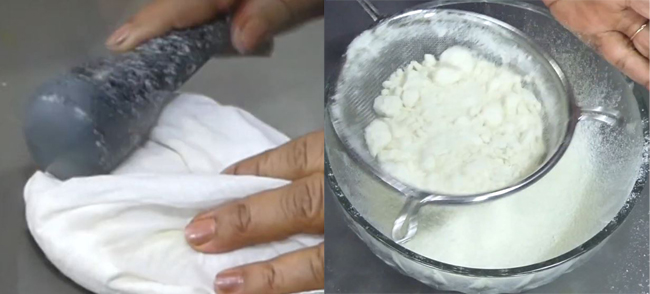 Sift the maida into a bowl to get rid of lumps. Add spices to maida and prepare a dough.
Add 1/2 tsp of salt, 1/2 tsp of crushed black pepper, 1/2 tsp of carom seeds (after crushing between hands), 1/2 tsp of cumin seeds, 1 tsp of sesame seeds to maida, and mix well.
Add water gradually and knead a soft dough. We have used 1/2 cup water for kneading.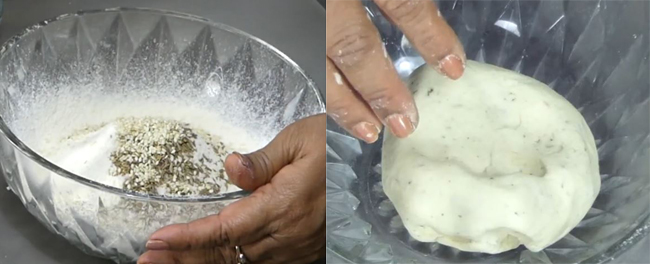 Take a chakli mold and put a portion of dough inside it. Grease a plate with oil. We will prepare chakli on the greased plate.
While pressing the chakli maker, move it in a circular motion to get a spiral shape. Break the dough from the maker's mouth and paste it into the last concentric circle.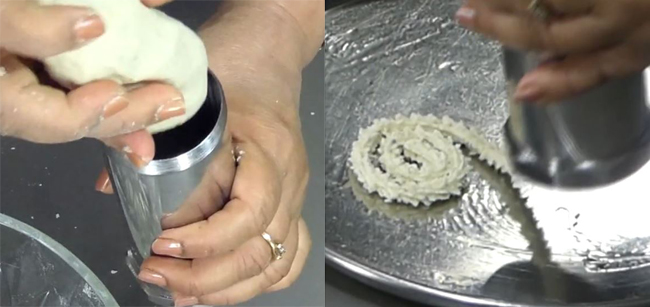 Drop a piece of dough in the oil to check the oil temperature. We need medium-high hot oil for frying, and the flame should be medium too.
When the oil is about perfect, drop the chalki in the oil for frying. When the chalki color changes, turn them upside down and fry the chakli till light brown. Similarly, prepare and fry all the chakli.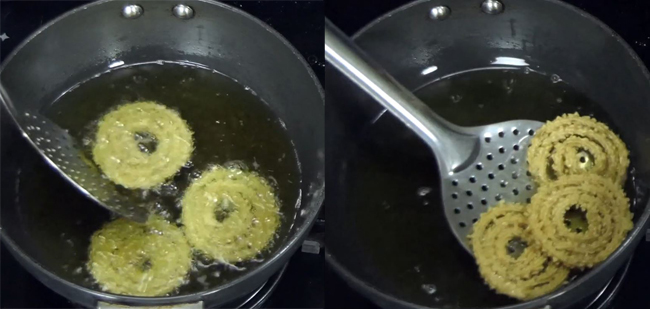 When the chaklis are light brown, take them out and drop another batch. Each batch will take 3-4 minutes.
Crunchy maida chaklis are ready to be served. They are tasty and get ready in no time. So, prepare maida chakli and enjoy them with a cup of tea.
खस्ता मसाला चकली झटपट बनाईये । Instant Masala Chakli Recipe | Crispy Maida Chakli recipe

Categories
Instant Masala Chakli Recipe | Crispy Maida Chakli Recipe
Nisha Madhulika
Rating:

5.00

out of

5