Baked Pizza Puff Recipe | Baked Veg Pizza MC Puff Recipe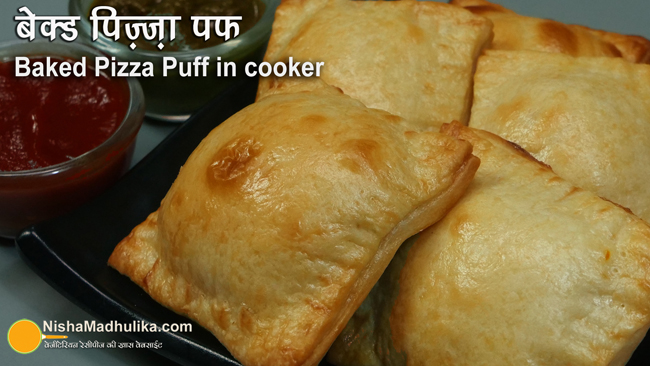 Mc Puffs are like a never-to-be-missed snack on Mcdonald's menu. Inspired by Mcpuff, we have bought you Pizza Puff Recipe.
You can prepare it at home with your choice of vegetables, oregano, and schezwan sauce. Let us get onto it.
Ingredients Require for Pizza Puff
For Dough:
Refined Flour - 2 Cup (250 grams)
Baking Powder - 1 tsp
Salt - 1/2 tsp
Oil - 6 tbsp
For Stuffing:
Oil - 1 tbsp
Ginger - 1 tsp, grated
Sweet Corn - 2-3 tbsp
Peas - 2-3 tbsp
Carrot - 1/2, Chopped
Green Capsicum - 1/2 Cup, Chopped
Tomato - 1/2 Cup, Chopped
Salt - 1/2 tsp
Oregano - 1 tsp
Schezwan Sauce - 1 tsp
Tomato Sauce - 2 tbsp
Frozen Cheese - 1/2 Cup
Baked Pizza Puff Recipe
To prepare pizza puff, let us start with preparing the dough. Take 2 cups of maida in a bowl. Add 1/2 tsp of salt (or as per your taste), 1 tsp of baking powder, 6 tbsp of oil to the maida, and mix well.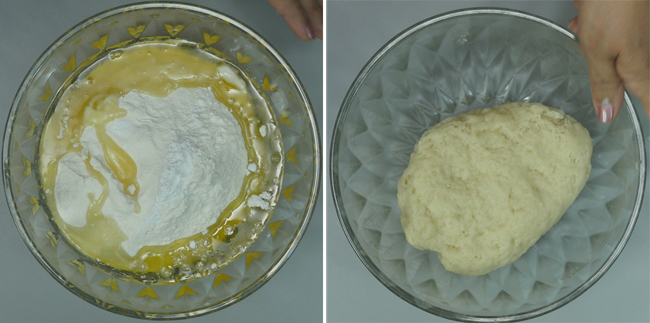 Add water gradually and knead a stiff dough. We used 1/2 cup of water for kneading. When the dough is ready, cover and leave it for 30 minutes to set.
Prepare the Stuffing:
Heat 1 tbsp of oil in a pan. When the oil is hot, add 1 tsp of grated ginger and lightly saute it.
Alternative: You can take ginger paste or finely chopped ginger instead of grated ginger.
Turn the flame low and add 2-3 tbsp of sweet corn, 2-3 tbsp of green peas, and roast them lightly for a minute.
After a minute, add 1/2 cup of finely chopped carrots, 1/2 cup finely chopped capsicum, 1/2 cup of chopped tomatoes (chop 1-tomato & discard the seeds), 1/2 tsp of salt (or as per your taste), 1 tsp of oregano (or mix herbs), 1 tsp of schezwan sauce, and saute the veggies for 2 minutes.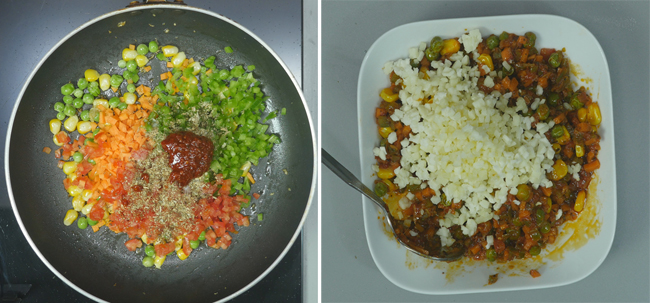 Alternative: If schezwan sauce is not available, you add 1 tsp chili sauce or chili flakes or red chili powder instead.
Alternative: Add vegetables of your own choice. You can add red capsicum, yellow capsicum, onion, garlic, or anything you want.
Add 2 tbsp of tomato sauce to the veggies and mix well. Pour 2 tbsp of water in the sauteed vegetables and cook covered for 2 minutes.
After 2 minutes, turn off the flame and transfer the stuffing to a plate. Once the filling cools, add 1/2 cup of frozen cheese and mix well. Vegetable stuffing is ready.
Alternative: You can add grated mozzarella cheese instead or skip the cheese. You can add paneer if you want.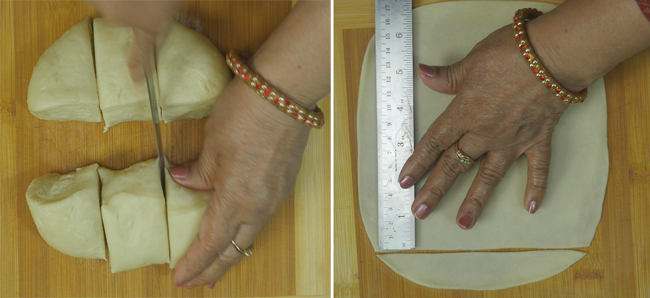 After 30 minutes, knead the dough and divide it into 6-equal parts. Take a piece of dough and cover the remaining ones. Roll the dough into a chapati and cut out a sheet of 6X6 inches.
Divide the cut-out sheet into 4-equal squares and brush the edges with water. Add a little stuffing at the center of the two squares sheets and cover them with the other two.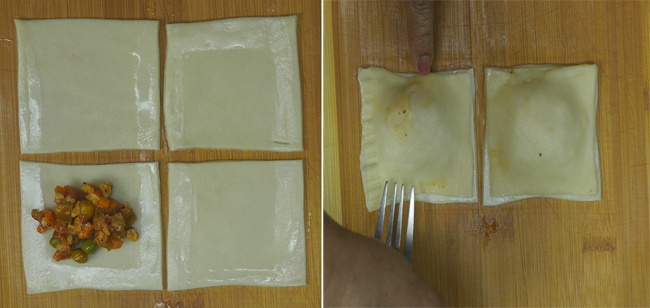 Press the corners of puffs and secure the stuffing in it. Next, press the edges of the puffs with a fork to give it a good design and affix the corners. Similarly, prepare all the pizza puffs.
Pizza Puff in the Oven:
Preheat the oven at 200°Centigrade for 5 minutes. Brush cream over the prepared puffs and keep them on the baking tray.
Alternative: You can use full cream milk instead of cream.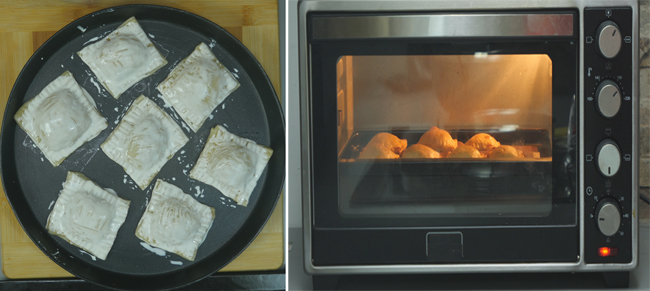 Put the tray in the oven and bake the puffs at 200°Centigrade for 10 minutes.
After 10 minutes, turn the tray around and bake the puffs for 5-more minutes and pizza puffs are ready.
Pizza Puff in the Kadai:
Take a heavy bottom Kadai, add 2 cups of salt, and place a steamer stand. Preheat the Kadai for 7-8 mins over high heat.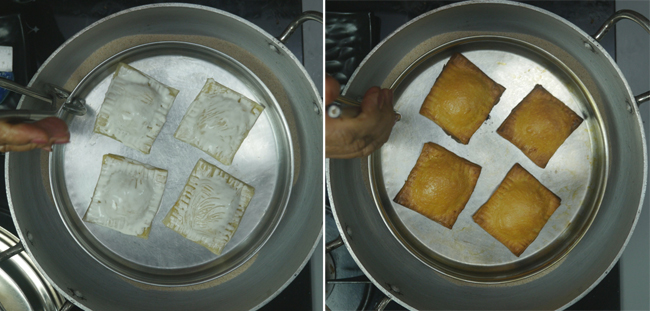 When the Kadai is hot, keep the puffs thali in the Kadai. Cover the Kadai and bake the puffs over medium-high for 30 minutes. Make sure to check the puffs after every 10 minutes.
Pizza puffs are ready to be served. They have a crunchy crust and soft stuffing. Enjoy the pizza puff hot with any of your favorite dip.
बेक्ड पिज़्ज़ा पफ - ओवेन में भी, कुकर में भी । Baked Pizza Puff recipe | Baked Veg Pizza Mcpuff Recipe

Tags
Categories
Baked Pizza Puff Recipe | Baked Veg Pizza MC Puff Recipe
Nisha Madhulika
Rating:

5.00

out of

5