Spicy Masala Vada Recipe | Chana Dal Vada Recipe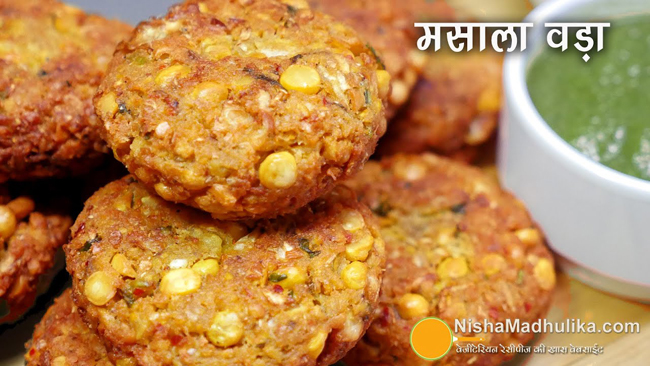 Masala vada is a snack prepared by coarsely blended Chana dal. It is a staple snack during the rainy season. Today, we are going to prepare Masala Vada with Chana dal and cabbage. Cabbage texture and chana dal crunch will make this vada delicious. So, let us get started!
Ingredients required for Masala Vada:
Chickpeas Dal - 1 cup ( 200 grams)
Green Chilli - 4 or 5
Ginger - 1-inch baton
Cabbage - 1 cup, grated
Salt - 1 tsp
Red Chilli - 1 tsp
Coriander Powder - 1 tsp
Cumin seeds - 1/2 tsp
Garam Masala - 1/4 tsp
Green Coriander - 1 tbsp
Chickpea Flour - 1/2 cup (50 grams)
Spicy Masala Vada Recipe:
Take 1 cup chana dal and soak it for 4-5 hours (or overnight). Add 4-5 green chilies cut into half and 1-inch ginger baton to a mixer jar and blend.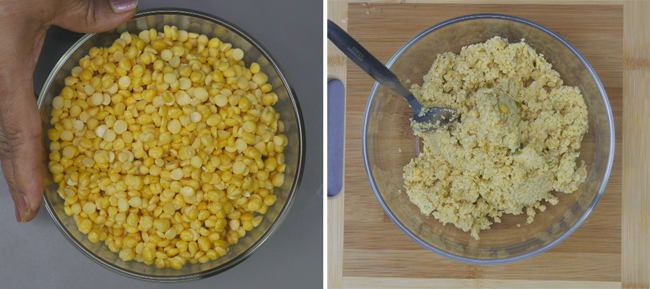 Add dal to the mixer (save ½ cup dal) and coarsely blend it. Add the blend and unground 1/2 cup dal to a bowl.
Add 1 cup grated cabbage, 1 tsp of salt (or as per your taste), 1 tsp of crushed red chili, 1 tsp of coriander powder, ½ tsp of jeera, ¼ tsp of garam masala, 1-2 tbsp of green coriander to the dal, and mix well.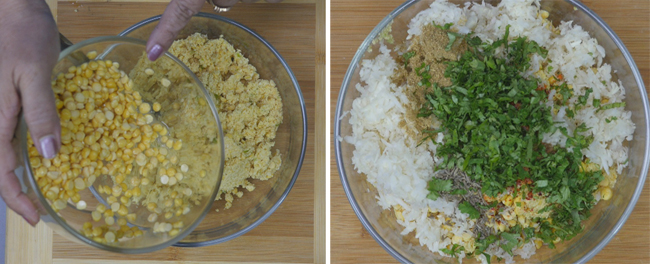 Add ½ cup besan to bring binding. You can use rice flour or sooji instead of besan. The mixture is ready for preparing vada.
Prepare Vada:
Apply a little oil to your hands. Take out a portion of dough in your hands. First, bind the mixture together and make a ball. Then, flatten it between your palms and shape it as vada. Shape the vada as you please, either small or medium-sized. Likewise, prepare all the Vadas.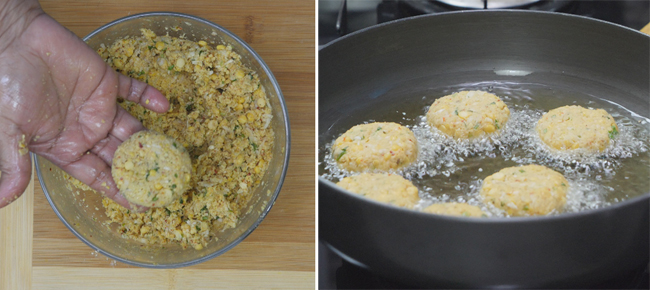 Once all the vadas are ready, heat the oil in the pan. We need medium-high hot oil for frying and keep the flame medium-high too. Use a pan that has a nice width and pour less oil.
We are shallow frying the vada. Place the Vadas in the pan and fry them from the bottom until brown. Pour hot oil above the vada. Once they turn brown from the below, flip them to the other side. Keep the flame medium and crisp them from both sides.
Vadas have turned brown from both sides, and they are well-crisped too. Similarly, fry all the Vadas until brown. One batch takes 6-7 minutes to fry up.
Our Vadas are ready to be served. Serve them hot with green chutney or tomato ketchup. So, prepare this recipe at home and enjoy it with family and friends.
मसाला वड़ा - बारिश के मौसम के लिये खास । Spicy Masala Vada Recipe | Chana Dal Vada | दाल वड़ा रेसिपी

Tags
Categories
Spicy Masala Vada Recipe | Chana Dal Vada Recipe
Nisha Madhulika
Rating:

5.00

out of

5