Bread Cheese Bites Recipe | Mini Cheese Sandwich Fritters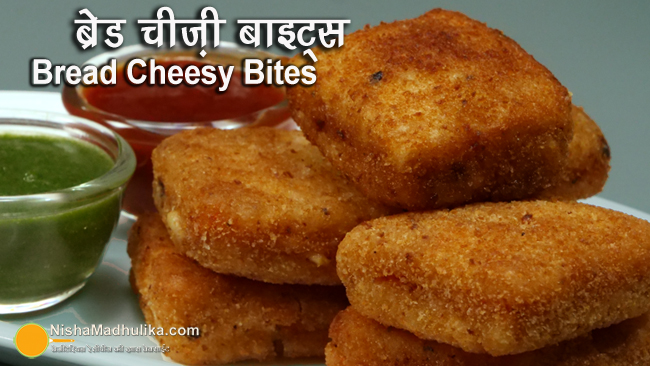 Cheesy bites are going to be your kids' favorite snacks, and definitely, they are going to ask for more. So, make sure to make plenty of them in one go. You can refrigerate the prepared bites and fry them up whenever going to serve. Let's get onto it.
Ingredients for Bread Cheesy Bites:
Bread Slices - 6
Bread Crumbs- 2 slices
Pizza sauce - 1 tbsp
Mozzarella Cheese - ¼ cup
Oil - ½ cup
For Slurry:
Refined Flour - ¼ cup
Cornflour - ¼ cup
Salt - ¼ tsp
Black Pepper - ¼ tsp, crushed
Bread Cheese Bites Recipe:
Take 2bread slices and discard their brown edges. Add a thin layer of 1 tbsp pizza sauce over the bread slice and spread it evenly.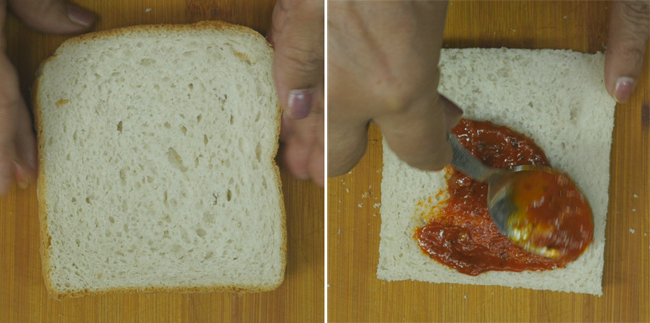 Alternative: If you don't have pizza sauce, then take tomato sauce and mix chili flakes, crushed black pepper, and oregano (or mix herbs) in it.
Take 1/4 cup of frozen cheese. Put 1/2 tsp of cheese at every corner of the bread slice, cover this slice of bread with another bread slice and cut it into 4equal halves.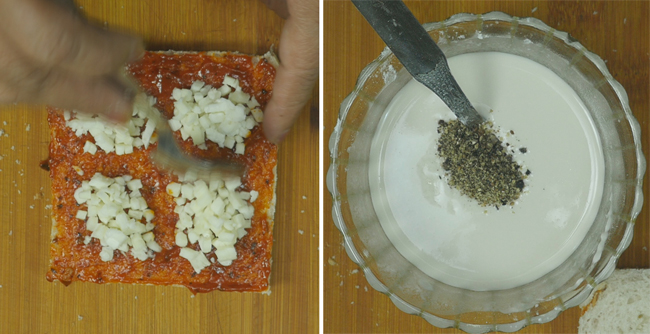 Now, we will prepare the slurry for the bites. Take 1/4 cup of cornflour, 1/4 cup of maida, 1/2 cup of water, and prepare a pouring consistency of slurry. Next, add 1/4 tsp of salt, 1/4 tsp of crushed black pepper, and mix well.
Pick a cheesy bite, dip it in the slurry, and wrap it with bread crumbs. Wrap the cheesy bites from all sides and press it lightly. Similarly, prepare all the cheesy bites.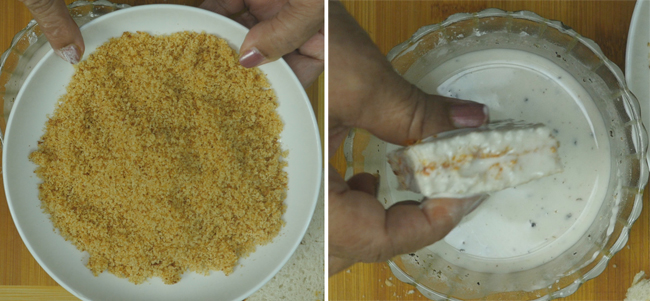 Heat 1/2 cup of oil in a pan for frying the cheesy bites. We need medium-high hot oil for frying, and the flame should be medium-high too.
Put the cheesy bites in the pan in chronological order. Fry them from below until brown. Flip them once golden brown and fry the other side similarly.

When they are golden brown from all sides, take them out. Fry all the cheesy bites similarly and take them out on a plate.
Cheese bites are ready to be served. Enjoy them hot with tomato sauce or green coriander chutney.
ब्रेड चीज़ बाइट्स - वीकएन्ड्स के लिये खास । Bread Cheese Bites Recipe | Mini Cheese Sandwich Fritters

Tags
Categories
Bread Cheese Bites Recipe | Mini Cheese Sandwich Fritters
Nisha Madhulika
Rating:

5.00

out of

5